9.1 SUNDAY: Getting adjusted


We have put together a suggested Sunday through Wednesday walking tour of the various sections of Las Vegas. We assume that you will be staying at one of the center strip hotels that we suggested.
You will arrive at McCarran International Airport if you fly into Las Vegas. (Terminal 1 serves domestic airlines while Terminal 2 is primarily for international flights.) Go to the baggage area to claim your checked baggage . You might even be able to check into your hotel right at the airport.

Some hotels (such as the Ballys, Caesars Palace, Flamingo, the Hilton, MGM Grand, New York-New York, or Paris) have remote check in counters at the airport across from carousels #1 and #2 in the Terminal 1 baggage claim area at the base of the escalators. (Open 9 a.m. to 11 p.m.) You will be able to register, get your room keys and purchase transportation to the hotel there. But they will not accept your bags; you will have to take those yourself on the airport shuttle to the hotel.
Shuttle buses are located just outside the baggage claim area. You'll see several ticket windows right near the outside doors. Cost will be around $10 each for a round trip ticket and you do not need to purchase them in advance. Taxicabs to your hotel are also available outside on the east side of baggage claim near door exits 1-5. If more than two people are traveling together, it is cheaper to take a cab.

Give your bags to the doormen once you arrive at your hotel. They will give you a claim check. Call the bellman once you are in your room; give them the claim check number and they will deliver them. Check in time is normally 3:00 p.m. and they will hold your bags for you if you arrive early. (You also might ask the desk clerk if you can check in early ...sometimes rooms are ready earlier.) Hint: Get a pocketful of $1 dollar bills. You will need them for tips.
Stop by the bellman's and concierge's desk and ask if they have any coupon books or Las Vegas magazines (such as "What's On") that may not be in your hotel room. These offer special deals and advertise "price-off" specials that you may want to take advantage of. (And don't forget to check the yellow pages in your room's telephone book for coupons.)

Sunday afternoon is a good time to plan and "nail down" your daytime activities for the next four days. We will be exploring the Center Strip during the day on Monday, the South Strip on Tuesday and the North Strip and Downtown on Wednesday. If you want to go sightseeing one day to the Hoover Dam or Grand Canyon, we suggest you do it on Wednesday (instead of the North Strip stroll.)
If you get to Las Vegas fairly early, you might want to consider Sunday brunch at the Venetian Brunch ...the city's best brunch features unlimited servings of the best gourmet food imaginable. (3645 Las Vegas Blvd. S., Las Vegas, NV 89109.) Seatings: 9:30 a.m.-1:30 p.m. (Closes at 2:30 p.m.) Reservations: (702) 967-7999. It is a great way to start your vacation. Be forewarned, however, it is very pricey! ($58.00) But it can serve as both your lunch and dinner.)
Another excellent choice is the Champagne Brunch at the Bellagio (3600 Las Vegas Blvd S., Las Vegas, NV 89109) Tel. (702) 693-7111 - Seating: 8:00 a.m.-3:30 p.m. Adults: $27.95 (without champagne: $21.95.) Check this website if you want to spend less money for Sunday brunch.
Checking out the strip
Once you are settled in your room and have had a late lunch (or early dinner) it is time to venture out onto the strip. If you took our advice, you are staying in one of the center strip hotels ...right in the center of all the action.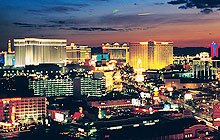 If it is not too hot, and you can find your way out of the casino, let's do a little walking on Las Vegas Boulevard.
My advice is to wait until early evening to venture out on to the strip for the first time. Walking down the strip can be amazing! You will see different parts of the world and all kinds of people.
Where else can you see the canals of Venice, rainforests, Mardi-Gras, sinking British ships, New York City's Empire State Building and Statue of Liberty, the pyramids of Egypt, Roman gladiators, medieval castles, the Eiffel Tower, erupting volcanos, and the South Seas all on the same street!
The entire strip from the Stratosphere Tower to the Mandalay Bay Resort and Casino is about three miles long. But this afternoon (or tonight as the case may be) we will only briefly look around the center strip.
We will start at the northeast corner of the famous "four corners" at Las Vegas Boulevard and Flamingo Road and walk north towards the Venetian; cross the street and walk on the west side of the strip from Treasure Island to the Bellagio; cross the street again and walk from the Planet Hollywood towards Ballys. Round trip is about a mile and a half and an interesting way to start your Vegas vacation. It will take you a couple of hours or more ...depending on the length of your stops along the way.
The major hotels on the center strip
Starting at the northeast corner of Flamingo Road and walking north you will pass several hotels. All have something to offer the first time tourist. For now, let's just walk up and down the center strip without going into the hotels.
The following stroll past thirteen center strip hotels is about a mile and a half long and is a great way to acclimate yourself to Vegas.
Bill's Gambling Hall
3595 Las Vegas Blvd. South, Las Vegas, NV 89109 - (800) 227-2279
The Barbary Coast opened in 1979 with 150 rooms and now called Bill's Gambling Hall which still has less than 200. It is one of a dozen Las Vegas casino properties (including Sam's Town and the Stardust) owned by Boyd Gaming, a publicly owned gaming company that trades on the New York Stock Exchange. With $2 billion in revenues, Boyd Gaming also owns casinos in several other states.
Take note that there is a shuttle pickup area on the Bill's Gambling Hall's south side on Flamingo Avenue (right across from Ballys.) This is where you can get picked to go to other hotels (such as the Rio and Palms) that are west on Flamingo.
3555 Las Vegas Blvd. South, Las Vegas, NV 89109 - (800) 732-2111
The Flamingo is one of four hotels on the Las Vegas center strip owned by Caesars Entertainment.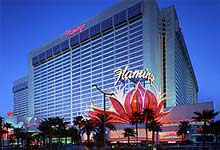 The others are Caesars Palace, Paris and Bally's. Previously known as Park Place Entertainment Corp., Caesars is $4.5 billion public company that trades on the New York Stock Exchange.
Steeped in Vegas history, the Flamingo was one of the first hotel/casinos on the strip originally opening on New Year's eve in 1946.
The 105 room hotel was built on a dusty road in the middle of nowhere by mobster Benjamin "Bugsy" Siegel who was murdered six months later. It became the Flamingo Hilton in 1971 before being sold to Caesar's in 1999. It now has more than 3,500 rooms and one of the best pool areas on the strip.
3535 Las Vegas Blvd. South, Las Vegas, NV 89109 - (800) 634-6441
...is certainly not a luxurious hotel but it has inexpensive room rates and its location is ideal. The oriental-themed hotel built in the shape of a Japanese pagoda has been open for 4 decades. It is famous for its massive vintage automobile collection and its "Legends in Concert" show which has been running for more than 20 years. Originally with 180 rooms, it now has 2,700 rooms which it manages to keep pretty full.
3475 Las Vegas Blvd. South, Las Vegas, NV 89109 - (800) 634-6765
Opened in 1973 as the Holiday Casino, with a river boat theme, the property was converted to Harrah's in 1992. It was completely remodeled in 1997 and reopened with a Carnaval theme and more than 2500 rooms in three towers. Harrahs features the strip's first outdoor lounge: "Carnaval Court."
Harrah's is named after William F. Harrah who opened his first casino in Reno in 1937. Harrah's Entertainment, Inc., now a $4 billion company, operates casinos in 13 states and is listed on the New York Stock Exchange. The corporation is in the process of acquiring Caesars Entertainment in a $9.4 billion deal. While not a luxury hotel, it does offer reasonable room rates and a superb location. We have stayed there and found it more than adequate.
3411 Las Vegas Blvd S, Las Vegas, NV 89109 - (800) 854-7666
...is a small hotel between Harrahs and the Venetian. It opened in 1992 and has 152 rooms and a 24-hour Denny's restaurant. It also has 1¢ slot machines and frequently single-deck blackjack which pays a paltry 6:5.
3355 Las Vegas Blvd. South, Las Vegas, NV 89109 - (888) 2VENICE
...is a very large, upscale and luxurious property with room rates to match. The Venetian has the largest standard rooms in Las Vegas ...and all are suites. Opened in 1999 on the site of the old Sands Hotel. Their new Venezia hotel tower opened in 2003. Venetian owner Sheldon Adelson basically copied the Y-shaped Mirage and Treasure Island hotel architecture from across the street. It now has more than 4000 rooms. The Venetian is a great place to walk around and people watch ...especially in the Grand Canal Shoppes area. The Venetian has indoor gondola rides with singing gondoliers. It cost more than $2.5 billion to build! Many people argue that it is the best hotel complex in Las Vegas. (Next: Cross the street to TI.)
3300 Las Vegas Blvd. South, Las Vegas, NV 89109 - (800) 944-7444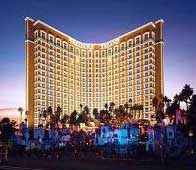 is right across the street from the Venetian. It is now owned by MGM Grand which bought Mirage Resorts (including the Bellagio, Mirage and Treasure Island hotels) in 2000. MGM Mirage, the new merged corporation, is now in the process of a $7.9 billion buyout of Mandalay Resort Group.
TI is home to the legendary Cirque de Soleil show "Mystere" (one of the best shows on the strip) and "Tangerine" (a newer nightclub complete with a late night burlesque show.)To get rid of their pirate image which appealed to kids, Treasure Island with 2900 rooms was renamed "TI" in the fall of 2003. The free pirate battle in the lagoon in front of the hotel now features sexy gals called the "Sirens of TI." The fight between two large ships, the Hispaniola and the HMS Pinafore, has a lot of fire and pyrotechnics. Performances are at: 5:30 p.m., 7:00 p.m., 8:30 p.m. & 10:00 p.m. and it is worth seeing once. Since it is a little bit of a walk, you might want to take the tram that goes from TI to the Mirage next door. (You will have to go inside TI to do that. Just follow the main aisle straight to the back and up the stairs.)
3400 Las Vegas Blvd., Las Vegas, NV 89109 - (800) 963-9634
Now owned by MGM Mirage, this Y-shaped 3000 room Polynesian-themed resort was built by prolific hotel builder, Steve Wynn, in 1989. It is a tourist favorite and is usually very busy! Instead of featuring gambling, the Mirage emphasized entertainment, luxury and pampering the customer ...and became the mold for the next dozen new theme-based resorts built on the strip in the next decade.
The Mirage was previously the venue of world renown Siegfried & Roy's magic show. A large fire-spewing volcano erupts every 15 minutes above the lagoons in front of the hotel beginning at 6:00 p.m. As you walk from The Mirage to Caesar's Palace you will pass the entrance to The Forum Shops, another interesting place to walk around with very upscale retailers. We will do that tomorrow.
3570 Las Vegas Blvd. South, Las Vegas, NV 89109 - (800) 634-6001
Originally opened in 1966. In 2000, Caesars World, the parent company of Caesars Palace was (along with other gaming properties) acquired by Park Place Entertainment Corp. which, in 2004, was renamed Caesar's Entertainment, Inc. The company is now in the process of merging with Harrah's. Caesar's Entertainment also owns Bally's, Flamingo and Paris hotels in Las Vegas. Caesar's Palace has about 3,300 rooms in five towers which range in quality from the "adequate" Centurion Tower to the luxurious Palace Tower and ultra-luxurious "Augustus" towers.
The Colosseum at Caesars Palace, a 4,100-seat, state-of-the art theater opened in 2203, features performances by Celine Dion and Elton John. The Forum Shops, a Roman-themed shopping village, recently expanded to 675,000 square feet.
3600 Las Vegas Blvd. South, Las Vegas, NV 89109 - (888) 488-7111
Created by Steve Wynn at a cost of $1.7 billion in 1998, the 3000 room Bellagio takes its design from upscale Italian Mediterranean resort-hotels. It is one of the highest rated hotels in Las Vegas in terms of luxury, beauty and elegance. Now owned by MGM Mirage, Bellagio features two must-see attractions; the indoor 14,000 sq. ft. Conservatory and Botanical Gardens (which we will investigate tomorrow) ...and the outdoor water ballet.
You must be 18 years old or a registered guest to enter Bellagio. The Fountains at Bellagio is a spectacular computerized choreographed water, music and light show that plays every few minutes during the afternoon and evening in a 9-acre man-made lake in front of the hotel. More than a thousand individually-controlled water fountains shoot up some 200 feet in the air. (Next: Cross the street to the Planet Hollywood Hotel.)
Planet Hollywood
3667 Las Vegas Blvd. S, Las Vegas, NV 89109 - (877) 333-9474
There has actually been two Aladdin hotels. The first one opened in 1966 with 335 rooms. It is also where Elvis and Priscilla Presley were married a year later. The old Aladdin was imploded in 1998 and a completely new $1.4 billion 2,600 room Aladdin reopened on the same site in August of 2000. Aladdin's Desert Passage shopping mall with more than 130 stores encircles the resort. Its Spice Market buffet is one of the better ones on the strip.
Sadly, the hotel complex and the adjoining mall never did well financially and its $700 million bankruptsy – the biggest in Nevada history – ended the 1990's expansion of the strip. The reason most often given is that complex was undercapitalized in a very competitive market. The bankrupt Aladdin has been sold to a joint venture of Starwood Resorts and Planet Hollywood International and is in the process of being renamed, remodeled, and restyled. It will be managed by Starwood's Sheraton brand. Hopefully they will do better. The renovations to Planet Hollywood Hotel and Casino should be complete in 2006. Meanwhile it will remain open.
3655 Las Vegas Blvd. S, Las Vegas, NV 89109 - (888) 226-5687 (888-BON-JOUR)
This hotel opened in 1999 with more than 2900 rooms. It cost $785 million to build and features everything French including a 50 story replica of the Eiffel Tower and a two-thirds scale Arc de Triomphe. Its 200-foot sign out front resembles a hot air balloon. Although not cheap ($24.95) their Sunday brunch in Le Village Buffet is a good way to start your vacation! The Paris is one of the resorts owned by Caesars Entertainment, Inc.
3645 Las Vegas Blvd. S, Las Vegas, NV 89109 - (888) 742-9248
In the 1970's, this resort was the MGM Grand Hotel. It was converted to Bally's (a manufacturer of pinball and slot machines) in 1986. One of the largest resorts on the Strip, Bally's is the home of the long-running Jubilee production show ...a true Vegas (adults only) showgirl extravaganza. The hotel is accessed through a moving sidewalk since it is set back from the Strip. Its two 26-story hotel towers yield nearly 3,000 rooms. The Las Vegas monorail stops at its back door making it convenient to get around the strip.
This ends our opening evening jaunt around the Las Vegas center strip. Tomorrow we will begin checking out some of these hotels in more depth.
NEXT PAGE: 9.2 MONDAY: CENTER STRIP STROLL.... ⇨