7.3 Sunday brunch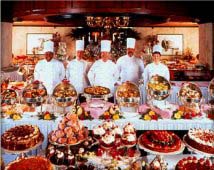 There are many Sunday brunches in Las Vegas. In fact, almost every hotel with a buffet has one. Price ranges from less than $10 to more than $50. Since most vacations seem to start or end on Sunday, a nice brunch it is a terrific way to begin or end your Las Vegas experience. Some Sunday brunches seem to be little more than a regular buffet with inexpensive champagne added. But some are truly elegant with top-of-the line gourmet food!
We are listing here what we feel are the best Sunday Brunches. Be aware that Vegas is priced by supply and demand. Prices may change during large conventions, holidays and special events.
---
Bally's - "Sterling Brunch" - (3465 Las Vegas Blvd. South at Flamingo Rd.) - Reservations are required: Reservations: (702) 862-5138, Last seating at 1:30 p.m. - Served in the Bally's Steakhouse - Hours: 9:30 a.m. - 2:30 p.m. Sundays - At $85 per person, it is the most expensive Gourmet Sunday Brunch in Las Vegas. - Voted Best Brunch by the Review Journal. Expansive Sunday brunch menu with all-you-can-eat caviar, lobster, oysters, shrimp, filet mignon, crab, ostrich, rabbit, rack of lamb, prime rib, sushi, complete dessert bar and extensive drink menu included at no extra cost. Impeccable service. Dress Code: "casual elegant" (no jeans, T-shirts or tennis shoes. A sports jacket is not required, but many wear them.) It's where families and friends go to spend time with each other. Absolutely the best! (Review here.)
Jasmines presents the "Fountains Brunch" at Bellagio - (3600 Las Vegas Blvd S.) - Open: Sun. 11:00 a.m.-2:30 p.m. - Adults: $58.00, Children 6-12: $25.00, Under 6: Free. - Fine glassware, cloth napkins, ice sculptures ...get a table by the window so you can watch the Bellagio dancing fountains. - ( Reservations recommended: (866) 259-7111 or (702) 693-7233. Non-smoking facility.) - The brunch is smaller than your average Las Vegas buffet, but the food is astoundingly better. Such food as: crab & shrimp omelets, beef tenderloin, split King crab legs, leg of lamb, sushi, Peking duck, Kobe beef, prime rib & tenderloin, caviar, truffles, lobster, shucked oysters, shrimp cocktail, a large array of deluxe desserts ...and more. A gourmet culinary experience. Does not include champagne ($12 more for all you can drink.)
Zeffirino "Gourmet Italian Brunch" at the Venetian - (3377 Las Vegas Blvd S.- Tel. (702) 414-3500 - Sunday Brunch: 10 a.m.-2:30 p.m. - Cost: $55.00 - Reservations Optional - Filet mignon, oysters, salmon, prime rib, lobster, shrimp, clams, King crab, lamb, sea bass ...and more. Wide variety of pastries. Gourmet buffet includes champagne, mimosas, bellinis and bloody marys ...great food, impeccable service. - Overlooking the Grand Canal where gondoliers sing opera arias below as they float by. A great choice for special occasions.
Wynn Las Vegas - "The Buffet" & "Weekend Jazz Brunch" - (3131 Las Vegas Blvd. S.) - Tel. (702) 770-3463 - Sixteen live action cooking stations. Declared, "Best Buffet in Las Vegas, 2009" by the Las Vegas Review Journal. Weekend Champagne Brunch (Sat.&Sun.) $38.95 (Without Champagne $31.95. - The Champagne Jazz Brunch: (Sat.&Sun.) $31,95, 8 a.m. to 3 p.m. in the Country Club Grill features soft jazz music by Pyramid. - Both are among the best in Vegas.
Aria Weekend Brunch - Aria Resort & Casino at City Center - (3730 Las Vegas Boulevard S.) - Tel: 877-230-2742 or (702) 590-8509 - The Buffet at Aria serves unlimited Bloody Marys and Champagne and also offers an expanded seafood bar during the weekend. Spectacular views of Aria's beautiful pools and landscaped courtyards. Sat. & Sun. 7:00 a.m.-4:00 p.m. - Cost: $30.95, $24.95 without champagne..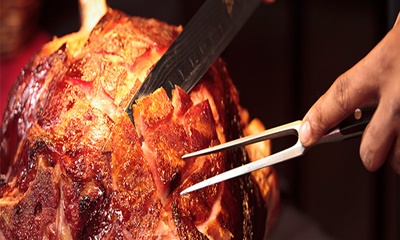 Mandalay Bay Hotel-Casino House of Blues "Gospel Brunch" at the Mandalay Bay - (3950 Las Vegas S.) - Tel. (702) 632-7600.) Features all-you-can-eat New Orleans creole and southern cooking ...and singing by top touring gospel groups from around the nation. Reservations suggested. Adults: $40.00. (Children: $20.) Two seatings: 10 a.m. & 1:00 p.m. - Open bar included in the price. - (What you are paying for here is the show but the food is very good.)
Here is a list of most of the Las Vegas Sunday Buffets and Brunches. The Las Vegas Advisor does a good job of keeping this list up to date.
NEXT PAGE: 7.4 THE FINEST RESTAURANTS.... ⇨