7.3 Sunday brunch
There are many Sunday brunches in Las Vegas. In fact, almost every hotel with a buffet has one. Price ranges from less than $10 to more than $50. Since most vacations seem to start or end on Sunday, a nice brunch it is a terrific way to begin or end your Las Vegas experience. Some Sunday brunches seem to be little more than a regular buffet with inexpensive champagne added. But some are truly elegant with top-of-the line gourmet food!
We are listing here what we feel are the best Sunday Brunches. Be aware that Vegas is priced by supply and demand. Prices may change during large conventions, holidays and special events.
---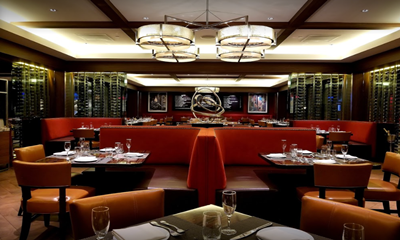 Bally's - "Sterling Brunch" - (3465 Las Vegas Blvd. South at Flamingo Rd.) - Reservations are required: Reservations: (702) 862-5138, Last seating at 1:30 p.m. - Served in the Bally's Steakhouse - Hours: 9:30 a.m. - 2:30 p.m. Sundays - At $85 per person, it is the most expensive Gourmet Sunday Brunch in Las Vegas. - Voted Best Brunch by the Review Journal. Expansive Sunday brunch menu with all-you-can-eat caviar, lobster, oysters, shrimp, filet mignon, crab, ostrich, rabbit, rack of lamb, prime rib, sushi, complete dessert bar and extensive drink menu included at no extra cost. Impeccable service. Dress Code: "casual elegant" (no jeans, T-shirts or tennis shoes. A sports jacket is not required, but many wear them.) It's where families and friends go to spend time with each other. Absolutely the best! (Review here.)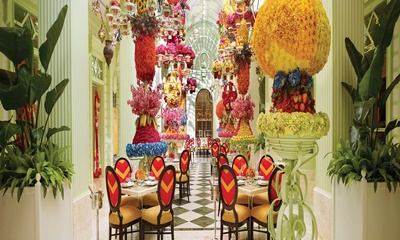 Wynn Las Vegas - "The Buffet" & "Weekend Jazz Brunch" - (3131 Las Vegas Blvd. S.) - Tel. (702) 770-3463 - Sixteen live action cooking stations. Declared, "Best Buffet in Las Vegas, 2009" by the Las Vegas Review Journal. Weekend Champagne Brunch (Sat.&Sun.) $38.95 (Without Champagne $31.95. - The Champagne Jazz Brunch: (Sat.&Sun.) $31,95, 8 a.m. to 3 p.m. in the Country Club Grill features soft jazz music by Pyramid. - Both are among the best in Vegas.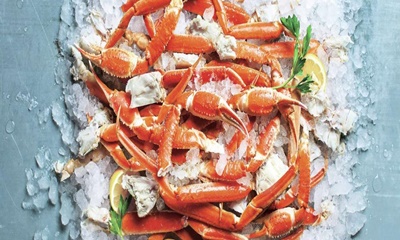 "The Buffet at ARIA" -Aria Resort & Casino at City Center - (3730 Las Vegas Boulevard S.) - Tel: 877-230-2742 or (702) 590-8509 - The Buffet at Aria serves unlimited beer, cocktail, and wine selections and also gourmet recipes filled with market-fresh produce and seafood. Spectacular views of Aria's beautiful pools and landscaped courtyards. Sat. & Sun. 7:00 a.m.-3:00 p.m. - Cost: Adults: $34.99 – Children (5-12) $17.50.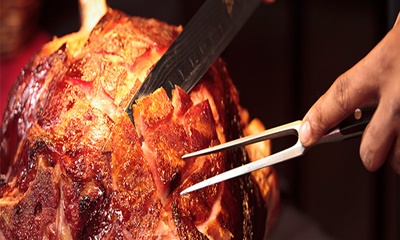 Mandalay Bay Hotel-Casino House of Blues "Gospel Brunch" at the Mandalay Bay - (3950 Las Vegas S.) - Tel. (702) 632-7600.) Features all-you-can-eat New Orleans creole and southern cooking ...and singing by top touring gospel groups from around the nation. Reservations suggested. Adults: $40.00. (Children: $20.) Two seatings: 10 a.m. & 1:00 p.m. - Open bar included in the price. - (What you are paying for here is the show but the food is very good.)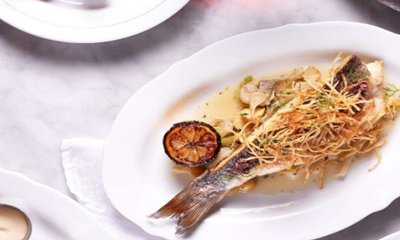 "Bardot Brasserie" Aria Resort & Casino – (3730 S. Las Vegas Boulevard) – Tel: 702- 590-7111. Experience upscale brunch Saturday and Sunday morning with options like French-style eggs Benedict served with sautéed kale and croissants. If you prefer something a little sweeter, sample the brioche French toast topped with mascarpone and almond brittle. You can also order endless rose for only $25. Sat & Sun: 9:30 a.m.- 1:30 p.m.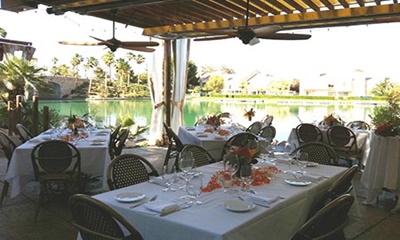 Enjoy Sunday brunch at "Marche Bacchus"– (2620 Regatta Drive) – Tel: 702-804-8008. Order up your favorite dishes like braised pork belly Benedict or poached eggs with ham, mushrooms, shallots, and Bordelaise sauce, all while taking in the sites of Lake Jacqueline. Dine outdoors when the weather allows for a relaxing afternoon of breezy fun. Sun: 10 a.m.-3:45 p.m.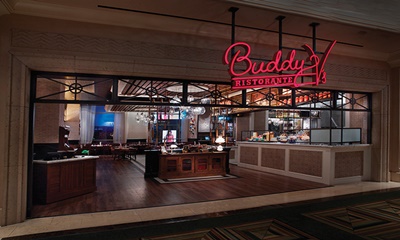 "Buddy V's Ristorante"at The Venetian – (3327 S. Las Vegas Boulevard) – Tel: 702- 607-2355. At Buddy V's Sunday brunch guests can devour a buffet-style meal with special sweets made famous by the 'Cake Boss' himself. Buddy Valastro's restaurant features an elaborate display of brunch favorites, including mac n' cheese carbonara, slab bacon, and Panzanella salad. There are also many sweets to choose from, such as tiramisu, Italian cookie platter, cannoli's, and coffee cake. Sat & Sun: 10 a.m.-2:30 p.m. Cost: $39.95 per person - $14.95 per child under ten – Tax and gratuity not included.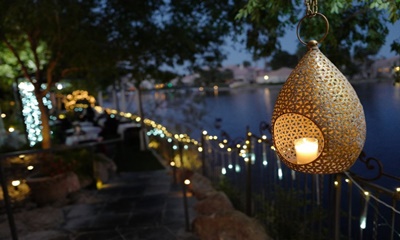 Experience brunch at its best at "Americana Las Vegas"- (2620 Regatta Drive) – Tel: 702-331-5565. Every Sunday, Americana offers an unlimited Sunday brunch for just $42. Enjoy dishes like Pinwheel Danish, Belgium Waffles, Shrimp-n-Grifts, Wild Mushroom Pie, and more. For an additional $17, you can wash it all down with bottomless mimosas, grapefruit palomas, Bloody Mary's, or Red Sangria. Sun: 11 a.m.- 3 p.m.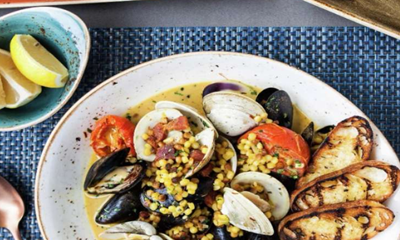 "Herringbone"at Aria Resort & Casino– (3730 S. Las Vegas Boulevard) – Tel: 702-590-7111. Start your day off right with brunch on a comfortable outdoor patio that overlooksthe beautiful Aria pool. At Herringbone, brunch is made simple with a carving station,juice bar, and of course a Blood Mary bar. From orange ricotta chocolate chip pancakesto Panettone French toast, you'll find all your favorites waiting for you. Sat & Sun: 10a.m.-3 p.m. Cost: $35 for everlasting Mimosas and Bellini's.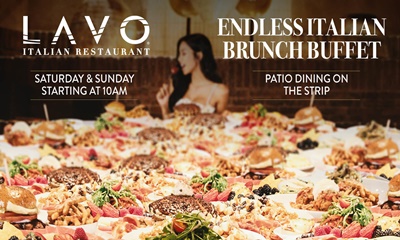 At the Palazzo at The Venetian " Lavo "– (3325 S Las Vegas Boulevard) – Tel: 702-791-1800. For an endless Italian brunch buffet, stop over to Lavo at The Venetian. Thedining experience features unlimited options, as well as live chef stations. Start with themade-to-order pasta station, devour some bespoke eggs, or head to the breakfaststation where bacon, sausage, home fries, pancakes, French toast, and granola awaits.There is also a wide selection of desserts like home-made pastries and cakes. Cost:$49.99.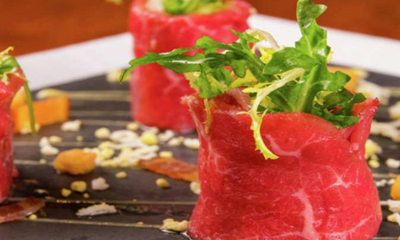 "Fleur"by Hubert Keller at Mandalay Bay – (3950 S. Las Vegas Boulevard) – Tel: 702- 632-9400. This classic bistro features classic French cuisine combined with seasonally- driven dishes. If you're in search of a unique brunch experience, you can't go wrong at Fleur. This restaurant offers a Beer Brunch in which Fleur pairs every entrée with an expertly-selected seasonal beer. Options include dishes like avocado toast and Foie Gras donut. Sat & Sun: 11 a.m.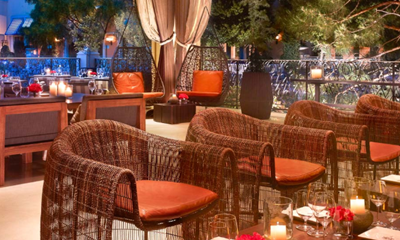 Wynn Las Vegas "La Cave"– (3131 S. Las Vegas Boulevard) – Tel: 702-770-7375. Enjoy meals served butler-style at the upscale La Cave at the Wynn Hotel in Las Vegas. The indoor/outdoor restaurant allows you to take advantage of the extensive menu, all at one fixed price. From veal short rib hash to New York-style egg sandwiches, there's something for everyone. Of course, you won't want to leave without a few bottomless cocktails. Sat & Sun: 10:30 a.m.-2 p.m.
NEXT PAGE: 7.4 THE FINEST RESTAURANTS.... ⇨