4.2 Walking: The Casino Stroll
Walking on the strip is safe and a great way to people watch and get some exercise. It is also the best way to experience a city that has become the adult playground of the world. The city is always changing and what you saw on your last trip may not be there next time, replaced by something new. It is what keeps us going back. We suggest a walking tour to explore many of the hotels and other attractions in Chapter 9.
The Layout of Las Vegas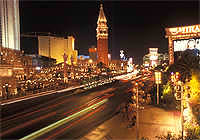 The Las Vegas amusement district extends from downtown Las Vegas nearly 4 miles south along Las Vegas Boulevard South. There are five distinct geographical areas to Las Vegas. They are: (1.) Downtown, (2.) North Strip, (3.) Center Strip, (4.) South Strip and (5.) Off Strip. Within this area are dozens of hotel-casinos containing more than 150,000 rooms ...most of which are filled every night. Most of the action takes place along the 3 ½ mile long "Strip." It extends from the Stratosphere Hotel on the North ...to the Mandalay Bay Resort on the South - a distance of about 3 miles. The following is a list of the currently open Hotel-Casinos in each of the five areas ...along with the date they first opened.
Downtown Hotels
(On or near Fremont Street.)
Main Street Station (1991)
California (1975)
Plaza (1971)
Vegas Club (1931)
Golden Gate (1956)
Binion's Gambling Hall & Hotel (1951)
Golden Nugget (1946)
Fremont (1956)
Gold Spike (2008 Renovated)
Four Queens (1964)
Fitzgeralds (1988)
El Cortez (1941)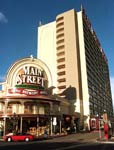 North Strip
(Begins at the top of the strip (near Sahara Ave.) and extends south to Spring Mountain Road.)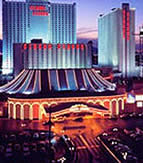 Stratosphere Hotel (1996)
Circus Circus (1968)
Riviera Hotel & Casino (1955)
Slots-A-Fun (1973)
Wynn Las Vegas (2005)
Encore (2009)
SLS 2015
Center Strip
(Extends south from Spring Mountain Road to Harmon Avenue.)
Treasure Island (1993)
The Mirage (1989)
Venetian (1999)
Palazzo (2008)
Harrah's (1992)
Casino Royale (1992)
Imperial Palace (1996)
O'Shea's (1989)
Flamingo Hotel & Casino (1946)
Caesars Palace (1966)
Bills Gambling Hall & Saloon (2007)
Bally's (1986)
Bellagio Hotel & Casino (1998)
Paris Las Vegas (1999)
Planet Hollywood (2003)
Aria (2009)
Cosmopolitan (2010)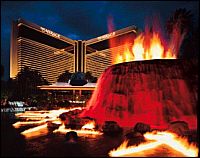 South Strip
(Extends south from Harmon Avenue.)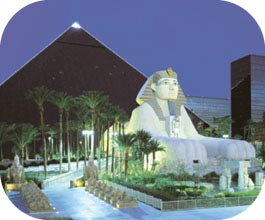 Monte Carlo Hotel & Casino (1996)
New York-New York Hotel & Casino (1997)
MGM Grand (1993)
Excalibur (1990)
Tropicana Hotel (1957, Renovated.)
Luxor Hotel & Casino (1993)
Mandalay Bay/Delano (1999)
Sightly Off Strip
(Within a mile east or west of the Strip.)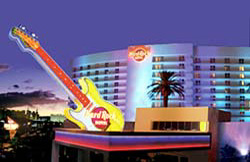 Palace Station (1984)
Las Vegas Hilton (1971)
Rio All Suite Hotel & Casino (1989)
Gold Coast (1986)
Palms (2001)
Terribles (2000)
Hard Rock (1995)
The Orleans Hotel - Casino (1996)
Hooters Hotel-Casino (2006)
---
Porn Pamphlets and Smut Peddlers
Not all is good in Las Vegas. One thing you will come across on the sidewalk are smut peddlers ...or porn "slappers" as they are called since they slap their brochures against their hand to attract attention. They are mostly non-English speaking people who have been hired by questionable advertising services to distribute sexually-oriented booklets and filthy adult brochures.
Many of the handouts end up being tossed on the ground creating a big mess and a safety hazard. This goes on 24 hours a day and the strip gets littered with thousands of these handouts. There are also many metal flyer racks containing this material on the strip.
It is apparently how escort services, "dancers" and hookers advertise. Contrary to what many people think, prostitution is not legal in Clark County. And panhandlers and time share marketers are another annoying problem that you will run into on the strip.
The county enacted an ordinance several years ago banning the distribution of handbills and the harassment of pedestrians on Las Vegas Boulevard. But it was ruled unconstitutional on First Amendment and unfair competition grounds since the ordinance limited the ability of adult entertainers to advertise.
It is a disgrace and bad P.R. ...and Las Vegas is clearly embarrassed by it. But due to all the "freedoms" – speech, assembly, press – that our country guarantees, there is little that can be done to stop this activity since it is conducted on public sidewalks. Just ignore these people and don't take anything from them.
NEXT PAGE: 4.3 CABS ARE AN OPTION.... ⇨