6.8 Seamy side of Sin City
There are more than two dozen "Gentlemen's Clubs" for the men ...and some for the ladies. The Las Vegas Review Journal (local newspaper) in their annual "Best of Las Vegas" list picks Cheetah's, Sapphire and the Olympic Garden as being the best adult entertainment clubs. We have never been to one, but we have asked a lot of questions. Here is what we found out.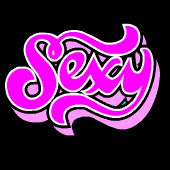 Las Vegas dancers are independent contract workers. They pay a "stagefee" (daily rent of between $15 and $50 ...or a percentage of earnings, such as 10% to 15%) for the right to work at a club. There are also other expenses they have to pay such as $35 for a police work card, tips to the doorman and DJ ...and a share of some services goes to the club. Some girls make $500 to $1,000 a day.
The main thing to remember is that the gals work for tips; if you don't want to tip, don't go. We have tried to include the cover charge, but it changes up and down ...especially during large conventions. The typical cover charge is $20.00 per person. Be aware that if a cab driver brings you to the strip club, he will probably (but not always) be paid a commission (around $10.) So it probably is not a good idea to ask for a club recommendation from a cabbie. Drinks are not cheap at these clubs; usually around $7. You can find a listing and description of all Las Vegas Strip Clubs here.
Gentlemen's Strip Clubs
Cheetah's Topless Lounge is located at 2112 Western Ave. (West of the North Strip.) Telephone: (702) 384-0074. No cover charge if you arrive via your own transportation, $20 if arriving by taxi since the driver gets a kickback. Happy Hour: 7:00 to 9:00 p.m. - Lap Dances: $20.00 - Open 24 hours.
Sapphire is located at 3025 Industrial Road (West of the North Strip, behind the Stardust Hotel & Casino). Telephone: (702) 796-6000. Never closes. (Open 24 hours, 7 days a week.) Three lounges, bachelor-bachelorette parties, VIP Rooms. Billed as the world's largest topless cabaret (71,000 sq. ft.) - Cover charge: $20. (Free if arriving by your own transportation between 6 a.m and 6 p.m.) Like all strip clubs, the cover charge just gets you in the door ...expect to pay much more (for drinks and tips.) Also has the Playgirl Lounge for the ladies with stage performances at 10 p.m. Friday and Saturday, $25.)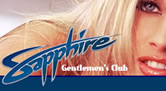 Crazy Horse III Strip Club - (3525 W. Russell Road) - Tel. (702) 673-1700 - Open 24 hours per day, 7 days per week. - Lap dances: $20 - Full food menu - There is no ownership or direct affiliation with the "Crazy Horse Too" which was closed. Upscale.
Olympic Garden Cabaret is located at 1531 Las Vegas Blvd. South. ( near the Stratosphere Hotel/Casino) - Telephone: (702) 386-9200. Open 24 hours. Cover: Free before 6 p.m. (Unless you arrive by taxi), $30 after 6 p.m. - Happy Hour: 3-6 p.m. daily, Buy 2 drinks, get 2 free. (The Men of Olympus perform for the ladies on the second floor. Sun, Wed, & Thur. 9 pm-1a.m., Fri&Sat 8pm-4am. - $20 includes two drinks.) Bachelor & Bachelorette parties.
Treasures Gentlemen's Club & Steakhouse - (2801 Westwood Drive) - Tel. (702) 257-3030 - Open: 24 hours - $30 cover charge - Daily happy hour with $1 well drinks and beer from 4pm-6pm, and 2 for 1 specials from 4pm-8pm. Complimentary food buffet with lap dance. - Gourmet dining.
Club Paradise adult club is a classy, upscale topless club that does not serve food. Located at 4416 Paradise Road. (Across From The Hard Rock Hotel.) More of a nightclub than a strip club. - Telephone: (702) 734-7990. Open: Mon.-Fri. 5 p.m.-6 a.m., Sat.-Sun. 6 p.m.-6 a.m. Cover: $10.

Spearmint Rhino - 3344 S Highland Dr., off Flamingo. Telephone: (702) 796-3600 - Open daily, 11 a.m. - 2 a.m. - Cover: $20 - Happy Hour: 1 p.m. - 8 p.m. $3 beer. - Complimentary Limo Service. - (One of a chain of strip clubs.)
Palomino (Nude) Club is located at 1848 Las Vegas Blvd S. (Across from Jerry's Nugget, past Main St..) Telephone: (702) 642-2984 - Open: 4 p.m.-5 a.m. daily. Cover: $30. Since it opened in 1969 before the "no nude and alcohol law" went into effect, Lap Dance: $20. - Palomino is the only nude club in Vegas that serves drinks. (Nude male dancers upstairs for the ladies.) Call the club for a free shuttle ride.
Strip Shows for the Ladies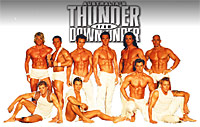 Thunder from Down Under - Located in Merlin's Theater at the Excalibur Hotel/Casino - Shows: Nightly at 9pm and 11:00 (Fri & Sat.) - Tickets: $40.95 - (VIP seating: $50.95.) - Plus tax/fee -Telephone: (702) 597-7600 or (800) 933-1334 - For the ladies, but gentlemen welcome. Voted best male strip show. - Review here.
Chippendales - Appearing in the Chippendales Showroom at the Rio All-Suite Hotel/Casino (3700 West Flamingo Road) - Telephone: (702) 777-7776. - Showtimes: 8 p.m. nightly, 10:30 p.m. Friday-Saturday (Dark Wednesdays) - Tickets: $49.95 plus tax/fee.. - Review here.
Prostitution in Las Vegas
While it is pretty much common knowledge that prostitution is legal in Nevada, it is illegal in Las Vegas. This is because Nevada state law prohibits brothels in any county with a population greater than 400,000, a provision that applies only to Clark County where Las Vegas is located. The nearest licensed brothels are in Nye County (northwest of Las Vegas) about an hour's ride away. Street-solicitation is illegal everywhere in Nevada. Information on licensed establishments is here. Reno, Nevada's second largest city (200,000 population), has brothels located within minutes of the tourist hotel-casinos.
NEXT PAGE: 6.9 BACHELOR PARTY VEGAS.... ⇨