4.6 Rental Cars Can be a Burden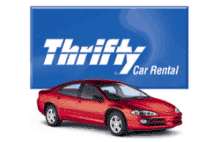 If you must rent a car, there are several large rental operations in Las Vegas. Advantage, Alamo, Avis, Budget, Dollar, Enterprise, Hertz, National, Payless, Savmore and Thrifty are at McCarran Airport. Be aware, however, that it is often cheaper if you can avoid picking up your car at the airport. By picking it up at your (or a nearby) hotel, you can often eliminate one day's rental and airport surcharges. (There is a $3 per day "consumer facility fee" for rentals made at the airport.)
To rent a car, you must be 21 years of age, have a major credit card and a valid driver's license. (Drivers 21 to 24 years of age are assessed an additional charge.) And many rentals do not include taxes or surcharges which can add another 25% or more to the cost. Be sure you are quoted the total cost before you leave the rental counter so that there will be no surprises.
The car rental business in Las Vegas is VERY competitive and prices vary widely. Let it be known that you are shopping for the lowest price. Cost is normally around $30 to $40 per day (or $150 to $200 a week) for a mid-size automobile with unlimited mileage and you pay for the gas.
Although most rental companies will try to sell you insurance, your own car insurance may cover a rental car while you are driving it. Ask your auto insurance agent before renting a car and paying for unnecessary insurance.
Kayak has a neat car rental page that compares one car rental agency's rates against others. Hotwire has a similar site. Expedia also has one and so does Orbitz. (Note that these sites include all taxes/fees.)
You can check sample Las Vegas car rental costs here. Always fill the tank before returning the vehicle, as rental car companies will charge substantially more for gas than if you filled it yourself.
Car rental shuttles depart approximately every five minutes from the airport to the new McCarran Rent-A-Car Center. For information about the McCarran Rent-A-Car Center, call 702-261-6001.
Advantage - (800) 777-9377
Hertz - (800) 654-3131
Alamo - (800) 462-5266
National - (800) 227-7368
Avis - 800- 331-1212
Payless - (800) 729-5377
Budget - (800) 922-2899
Savmor - (800) 634-6779
Dollar (800) 800-4000
Thrifty - (800) 367-2277
Enterprise - (800) 736-8222
NEXT PAGE: 5.1 THINGS TO DO ON THE STRIP ...OR CLOSE BY.... ⇨