1.2 How things have changed! Las Vegas today
Today, a half a century later, Las Vegas hosts nearly 38 million visitors annually, with about half (100,000 people a day) going through McCarran airport, the world's 7th (and U.S. 5th) busiest airport. (It is located less than a mile from the strip.) A useful map of McCarran's proximity to the strip is located here.
The Las Vegas Convention and Visitors Authority (LVCVA) says that 1 person in 5 (6.5 million) people visit Las Vegas for the first time every year.
About one quarter of all visitors come from Southern California, 18 percent arrive from a foreign country.
The average age of a Las Vegas visitor is nearly 50 and only 1 in 10 is under age 21. The average stay is 3.6 nights; average room rate: around $95 per night.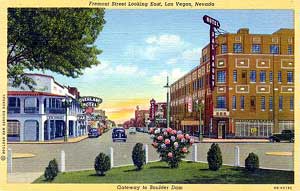 More statistics on the average Las Vegas visitor: Two thirds are working; college educated; 60% are married and have an average househood income of $50 thousand. More than half have Internet access.
Nearly one half of Nevada's funding comes from gambling taxes. All casinos pay a 6.75% state tax on gambling revenues. And more than a third of the state's general fund goes to public education. Thanks to gambling and sales taxes paid by tourists, taxes are low ...and there are neither city, state or corporate income taxes. It is the only state where local taxes are primarily paid by non-residents. Nevada's casinos rake in nearly $10 billion a year, by far the highest amount of any state. Las Vegas area gaming revenue is nearly $9 billion annually.
In recent years there has been a trend towards hotel consolidation. Three publicly owned gaming companies in Las Vegas now -- or shortly will -- control the majority of the dollars gambled on the strip. Each owns multiple gaming properties, with each appealing to different clientele.
Las Vegas' nearly 150,000 hotel rooms are, on the average, 80% occupied year round. (The average U.S. national room occupancy is less than 60%).
In fact, the ten largest hotels in the United States are all located in Las Vegas, the largest being the Venetian & Palazzo with over 7,000 hotels and second largest being the MGM Grand with near 6,800 rooms! Several have more than 4,000 rooms; Wynn with 4,750 rooms, Mandalay Bay & Delano with 4,426 rooms, Luxor with 4,400 rooms, Excalibur with 4,000 rooms, Caesars with 4,000 rooms, Bellagio with near 4,000 rooms, Aria with 4,000 rooms and some other strip joints such as Cosmopolitan, Mirage, Flamingo all have more than 3,000 rooms capacity.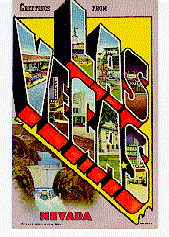 Amazingly, the city is sold out nearly half of the time ...especially during major conventions, sporting events and holidays.
Casino ownership changes frequently and you almost need a scorecard to keep track. Three companies (MGM, Caesars and Las Vegas Sands) control more than half of the rooms on the Las Vegas Strip.
Does this all seem a little mind boggling? All of these properties are within a two mile area on the same street! The question becomes: when do you go, where do you stay. And how do you get the best deal. We will cover that in upcoming chapters.
NEXT PAGE: 1.3 WEATHER IN THE DESERT....⇨