6.4 Other shows and special deals

The Las Vegas entertainment lineup is constantly changing. Besides attending one major show, you will also want to see at least one of the lower cost shows. As a general rule, buy tickets from the show's box office. (Some ticket services sell tickets for more than face value!)

Note that many shows offer promotional "price off" or "two-for-one" Specials! (Find them on the web or in an ad in the "What's On" magazine in your hotel room.) And don't overlook the half-price show booths.
Tip: Be wary of any show that is at a small or old hotel ...or one that you would not want to stay in (that is, the lower rated hotels.) The following are some recommended lower price shows that are currently running.
LEGENDS IN CONCERT at Harrahs - (3475 Las Vegas Blvd.) - Tel. (702) 369-5111 - Show times - Sun to Fri. Sat: 7:00 p.m. and 9:30 p.m. - Dark Saturday - Ticket Prices: $62.54 & $72.54. (Plus tax/fees) Features live concerts paying tribute to musical icons of today and yesterday. The show boasts a wide collection of musical impersonators who resemble and sing like the original artists while being backed by a live band and dancers. A crowd pleaser; the best of the celebrity impersonator shows. Has been running for nearly 30 years! Performers constantly change. (Legends website.).)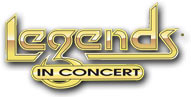 RITA RUDNER at the Venetian - (3355 Las Vegas Blvd) - Tel. (866) 641.7469 or (702) 414-9000  - Show times: Every night at 8:30 p.m. - Tickets: $53.90 to $108.90 (plus tax/fees.) - Las Vegas best female stand-up comedienne. - (Video preview.) - Rita has been entertaining audiences for a decade with her trademark clever observations, sharp timing, and soft-spoken humor. - (Rita Rudner website.)
V: THE ULTIMATE VARIETY SHOW at Planet Hollywood in the Miracle Mile Shops - (3663 S. Las Vegas) - Tel. (866) 932-1818 or (702) 892-7790 - Has been playing for 8 years and is basically a variety show with a wide assortment of constantly changing speciality acts. Showtimes: Every night at 7:00 p.m and 8:30 p.m. - Ticket prices: $76.69 & $98.69 - Look for price off coupons or get your ticket at the half price ticket booth. (V Show website.)
CARROT TOP at the Luxor - (3900 Las Vegas Blvd) - Tel. (800) 557-7428 or (702) 262-4400 - The award-winning comedy of Scott "Carrot Top" Thompson keeps his audience in stitches as he unpacks trunk loads of crazy props and wacky inventions. - Must be 18 or older. - Ticket prices: $59.95 and $70.95 (plus tax/fees) - Showtime: Wed-Mon at 8:30 p.m. Dark Tuesday - (Carrot Top website.)
SANDY HACKETT'S RAT PACK SHOW at the Las Vegas Hilton - (3000 S. Paradise Rd., Off strip) - Tel. (800) 222-5361 or 702-732-5111 - Show takes audiences back to when Frank Sinatra, Dean Martin, Sammy Davis Jr. and Joey Bishop, known as the Rat Pack, ruled the Las Vegas Strip. - Sandy Hackett (the son of Buddy Hackett) has put together some of the finest talent ever seen! - Ticket prices: $60.90 to $104.90 (plus tax/fees) - Showtimes: 6:45 and 8:30 p.m. on Tuesdays. - (Rat Pack website.)
What's happening in Vegas?
The Las Vegas Convention and Visitors Authority (LVCVA) has an excellent search engine that will let you know the various shows and events that will be taking place while you are in Las Vegas. It is particularly valuable since (1.) it is kept up-to-date (...many show listings and ticket pricing on the Internet are NOT) and (2.) it gives the box office price (...generally the lowest price unless a coupon special is available.) Many other listings are agents that add fees to the base price.

Always start with this search engine when planning your vacation! You merely enter the dates of your trip to get an exhaustive list.
The Exploring Las Vegas Shows Guide is also good ...and one of the few that seems to be accurate and kept up to date.
Las Vegas Events Calendar - lists all attractions, shows, concerts, sporting and special events that are taking place in Sin City on a specific day. Just click on a month and day to get that day's happenings. Events are listed up to three months in advance. Very handy to line up things you might want to do on your trip.
US Airways Vacations has an excellent listing of current shows - each with a short review. They also list the prices. As a general rule, the higher the price the better the show (...and the harder it is to get tickets.)
Looking for an accurate review of a Las Vegas Show. I suggest the IGO Shows.com website. They not only have most of the Vegas show reviews, but tell when they are playing, the ticket prices and list the official website of the show.
The half price show booth
TIX4Tonight - Tel. (877) 849-4868 - offers Las Vegas show tickets for up to half the box office price ...including headliners, variety, magic, comedy, and showgirls. Tix4Tonight offers over 75 shows and attractions every day and has distributed over 6 million tickets over the past two decades. .
They have eleven locations along the Vegas strip and downtown Las Vegas.
(1.) Bills Gambling Casino (Inside hotel, corner of Flamingo Road and strip.)
(2.) The Hawaiian Marketplace(Across from City Center, in front of Polo Towers.)
(3.) Casino Royale Hotel (next to Denny's, across from Mirage Hotel.)
(4.) O'Shea's Casino (next to The Flamingo and across from Caesars Palace.)
(5.) The Fashion Show Mall (near Neiman Marcus across from Wynn Hotel.)
(6.) The Showcase Mall (at the base of the giant Coke Bottle.)
(7.) Near the Peppermill (close to the Riviera on North strip.)\
(8.) Slots Of Fun Casino (on the north end of strip.)
(9.) Circus Circus Hotel (by the registration desk, north strip.)
(10.) The Four Queens (Downtown Las Vegas.)
(11.) Town Square Mall (at far south end of strip.)
You must go to these locations to pick up the discounted price show tickets. You can, however, call their hotline at (877) 849-4868 to check availability of any show and order tickets by phone. The seating of these tickets is often not the best. (But slipping the host $10 at the show should get you an improvement!)
They sometimes have last minute tickets to some "always sold-out" Las Vegas shows at a smaller discount. Opens every day at 10:00 a.m. and closes at 7 p.m. (Shows are posted at 9:30 a.m.)
TIX4Tonight takes all major credit cards, travelers checks and cash, but not personal checks. (
TIX4Tonight website
.)
Sexy Las Vegas Shows
CRAZY HORSE PARIS (formerly La Femme) at the MGM Grand - (3799 Las Vegas Blvd.) - Telephone: 866-740-7711 or (702) 891-7777 - Direct from the Crazy Horse Cabaret in Paris, all 12 dancers are members of the original Parisian dance troupe. - Topless and nearly bottomless. - Showtimes: Wed\nesday to Monday at 8:00 p.m. & 10:30 p.m. Dark Tuesday. - Ticket prices are $55.95 and $72.50 - No one under 18 years of age. - (Crazy Horse website.)
FANTASY (formerly Midnight Fantasy) at the Luxor Hotel/Casino (3900 Las Vegas Blvd.) - Tel. (800) 557-7428 or (702) 262-4400 - A provocative adult dance revue. Eleven years on the strip. - Topless (and almost bottomless.) - "Fantasy" is an erotic and sultry show that celebrates the female form while showing the fantasies those bodies create - Showtimes: Nightly at 10:30 p.m. - Tickets: $47.90 to $69.90. - Must be 18 years or older - (Fantasy website.)
CRAZY GIRLS at the Riviera Hotel Casino - (2901 Las Vegas Blvd.) - Tel. (800) 634-6753 or (702) 734-5110 - Billed as "Las Vegas' Sexiest Topless Revue," show has been running nearly two decades. - Crazy Girls is a fun-loving adventure through the world of beauty, music, dance and comedy. - Hours: Wednesday to Monday at 9:30 p.m. (Dark Tuesdays.) - Must be 18 years or older. - Tickets: $55.95 and 72.50 (Plus tax/fee.) (Crazy Girls website.)
X-BURLESQUE at the Flamingo - (3555 S. Las Vegas Blvd.) - Tel. (800) 221-7299 or (702) 733-3333 - Sexy 90-minute topless revue with some of the hottest dancers on the Las Vegas Strip! - Must be 18 or older. - Ticket price: $57.56 to $96.06 - Showtimes: Monday to Sunday at 10 p.m. - (X-Burlesque website.)
NEXT PAGE: 6.5 HEADLINERS & CONCERTS: WHO'S PLAYING NOW.... ⇨