CHAPETER 6: Las Vegas Shows - Top 5
If you're in Las Vegas, you won't want to miss the chance to experience the city's world-class shows. From music and magic to comedies and adult shows, Vegas is the epitome of entertainment at its finest. Discover some of the top-rated Las Vegas shows.
And If you are looking for a good website to buy tickets and save visit this Viator Website. Ones you book your ticket, you will get an email with a voucher, then you will bring this voucher and pick up your tickets at the ticket office. In your email confirmation you will have all the information you need.
PRODUCTION SHOWS
Las Vegas is famed for its big-time production shows that offer something for everyone. Nowhere else in the world can you go and see such a wide variety of shows that cater to children and adults of all ages. Las Vegas is constantly bringing in new shows to entertain the masses, and performing classics that people love to see again and again.
TOP 5 LAS VEGAS PRODUCTION SHOWS: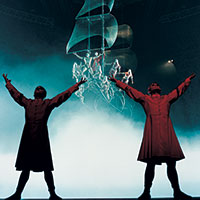 1. O by Cirque de Soleil
Located at the world-famous Bellagio Resort in Las Vegas, "O" from Cirque du Soleil remains one of the Strip's most popular shows, featuring the elements of air, fire, and most importantly water.
Official Website
2. Michael Jackson ONE
Michael Jackson's music has touched millions of people, and to pay tribute to the man himself, Cirque du Soleil offers cutting-edge technology, enhanced audio, and a visually stunning pyrotechnics show at the Mandalay Bay.
Official Website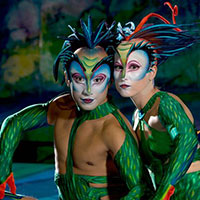 3. Mystère
Mystère by Cirque du Soleil combines street performance with circus-like artistry. Contortionists, clowns, singers, dancers, and acrobats are all part of the international cast of 75 performers.
Official Website
4. Absinthe
Absinthe is a live show that incorporates incredible acrobatics, a cabaret, and outrageous comedy. Hosted by the one and only Gazillionaire, the show is essentially an adults-only circus-like performance that everyone should see at least once.
Official Website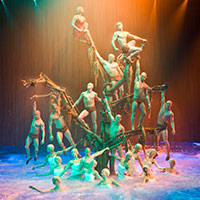 5. Le Rêve – The Dream
Le Rêve was voted "Best Production Show in Las Vegas" for five consecutive years. Housed at Wynn, the in-the-round show features a dreamlike atmosphere, gravity-defying stunts, and an exciting aquatic ballet.
Official Website

MUSICALS
Las Vegas is home to some of the most critically acclaimed musicals in the world. Live music, incredible dancers, and expertly-trained singers are just the tip of the iceberg at many of these Las Vegas musical shows. Rock out, sing along, or get up and dance to some of Vegas' hottest musicals.
TOP 5 MUSIC SHOWS
1. Jersey Boys
Jersey Boys is a Tony-Award winning Broadway musical that tells the rags to riches story of Frankie Valli and the Four Seasons. See the group perform some of the greatest songs from their heyday, including "Walk Like a Man", "Big Girls Don't Cry", and "Sherry".
Official Website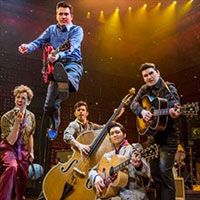 2. Million Dollar Quartet
Inspired by the true story of a recording session that united music legends Elvis Presley, Johnny Cash, Jerry Lee Lewis, and Carl Perkins, Million Dollar Quartet gives a glimpse of the events that led up to one of the most memorable nights in music history.
Official Website
3. Rock of Ages
Rock of Ages can be found nightly at The Rio All-Suite Hotel & Casino, and features an insanely fun mix of 28 great rock songs from the '80s. The show plays seven nights a week in Las Vegas.
Official Website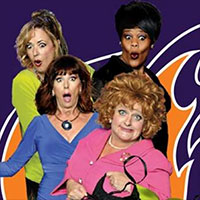 4. Menopause the Musical
Debuting at The Improv at Harrah's Las Vegas, Menopause the Musical features a good-humored musical parody set to classic tunes from the '60s, '70s, and '80s. Along with an expanded stage, the show also features new costumes and upgraded sound and lighting.
Official Website
5. 50 Shades! The Parody
50 Shades! The Parody is a little bit naughty and a lot bit hilarious. The Vegas show explores the sensual relationship between Anastasia Steele and Christian Grey, as seen through the eyes of the girls reading the novel at a book club gathering.
Official Website

ADULT SHOWS
For singles or couples who prefer shows that err on the X-rated side, Las Vegas is the place to be. From six-pack hunks to scantily-dressed young ladies, these shows will bring out your sinful and sensual ways. Check out these steamy Las Vegas adult shows designed for mature audiences only.
TOP 5 ADULT SHOWS & MALE REVUE: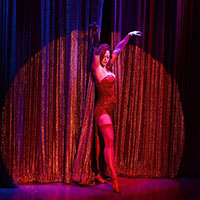 1. Fantasy
Named the "Best Showgirls" in 2015, Fantasy features a talented cast of beautiful dancers showcasing 15 high-energy numbers to various top music genres. As the gorgeous girls do their thing, some comic relief is provided by Sean E. Cooper.
Official Website
2. Chippendales
The world-famous Chippendales offers Las Vegas patrons one of the sexist male revue shows on the planet. Spend a night with the Chippendale dancers, a group of 10 hunky men who wear little more than jeans, wrist cuffs, and bow ties.
Official Website
3. Thunder from Down Under
Thunder from Down Under is an interactive Australian male strip show with chiseled male dancers performing seductive routines. Combined with their cheeky humor and boy-next-door charm, Thunder from Down Under is the ultimate Vegas stage show.
Official Website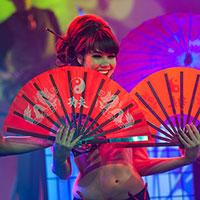 4. Pin Up
Pin Up at the Stratosphere pays homage to the 1940s calendar girls. Complete with song and dance, the sexy adults-only show incorporates group dance numbers as well as individual numbers that show off each girl's special talents.
Official Website
5. Crazy Girls
Crazy Girls in Las Vegas is a fantasy show designed to showcase the female form. Get up close and personal with the beautiful women who offer topless revue performances at Planet Hollywood.
Official Website

MAGIC SHOWS
From Las Vegas comes some of the world's most well-known magicians. If you enjoy jaw-dropping illusions and tricks that leave you baffled, come to Vegas for an entertaining magic show. Las Vegas magic shows offer incredible illusions, gorgeous showgirls, and hilarious comedy for a show that will keep you on the edge of your seat.
TOP 5 MAGIC SHOWS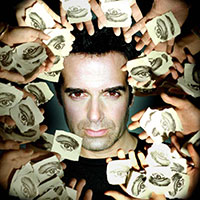 1. David Copperfield
David Copperfield has long been hailed one of the greatest illusionists of all time. Now you can see his critically acclaimed show in person at the MGM Grand in Las Vegas. Allow the amazing magician to dazzle and delight you with his charming stories and unbelievable illusions.
Official Website
2. Criss Angel Believe
Criss Angel, in partnership with famed Cirque du Soleil presents an illusion spectacular you must see to believe. The popular magician performs 40 mind-blowing illusions on stage that will have you believing in real magic.
Official Website
3. Dirk Arthur Wild Magic
American magician Dirk Arthur introduces his Las Vegas show in the International Westgate Theater. The fast-paced show incorporates bits of comedy, big cat magic, and beautiful dancers all under one roof.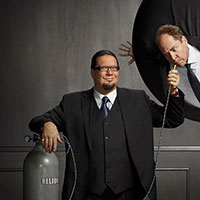 4. Penn & Teller
Penn & Teller is known for its blend of outrageous magic and comedy. Much more than just your average rabbit-in-hat magic tricks, the duo perform incredible acts that have helped them earn the claim of "…the single best show in Vegas."
Official Website
5. Piff the Magic Dragon
Piff, alongside Mr. Piffles, the world's only magic performing Chihuahua, perform a selection of their greatest hits on the big stage. Experience this unique brand of comedy at the Flamingo Las Vegas and be wowed.
Official Website

HEADLINERS & CONCERTS
Come to Las Vegas to see some of the best entertainers on the planet perform in front of a live audience. Whether you prefer the tempo of classic country or the upbeat sound of R&B vocals, you won't be disappointed when face-to-face with some of the most talented voices in the business.
TOP 5 LAS VEGAS HEADLINERS AND CONCERTS:
1. Britney: Piece of Me
Britney: Piece of Me is undoubtedly one of Las Vegas' hottest shows. Hosted in The Axis at Planet Hollywood, Britney performs all of her most popular dance songs, as well as some tracks from her new album.
2. Celine Dion
Celine Dion is one of the most respected performers in pop music history. See her live at The Colosseum at Caesars Palace for her glamourous show featuring her biggest hits.
3. Mariah Carey #1 to Infinity
In #1 to Infinity, Mariah Carey showcases some of the biggest hits of her music career. See Mariah perform live at the Colosseum at Caesar's Palace in Las Vegas. Come see the best-selling female artist of all time perform live.
4. Donny & Marie
Donny and Marie present a variety show spectacular, featuring a large cast of talented dancers in addition to the dynamic duo themselves. The show follows their family-friendly TV program from the '70s, and incorporates humor, dancing, and hit songs.
5. Raiding the Rock Vault
Raiding the Rock Vault is an epic rock concert experience. Named 'Best of Las Vegas' for two consecutive years, the classic rock show will have you reliving memories of rock n' roll music from the '70s and '80s.

DINNER SHOWS
Turn your evening into a memorable event you won't soon forget with a Las Vegas dinner show. Dinner and show packages offer a mix of delicious cuisine and interactive live shows that will keep you engaged as you chow down. Dinner shows range from funny improve comedies to classic murder mysteries.
TOP 5 DINNER SHOWS:
1. Australian Bee Gees Show
The Bee Gees Show is one of the most adored tribute acts in Las Vegas. The 75-minute multi-media event features some of the band's greatest hits, such as "Staying Alive", "How Deep Is Your Love", and "You Should Be Dancing".
Official Website
2. Legends in Concert
Found at Flamingo Las Vegas, Legends in Concert features some of the world's greatest tribute artists singing live on stage. Come see the recreations of some of the greatest superstars of yesterday and today.
Official Website
3. Marriage Can Be Murder
Marriage Can Be Murder is a long-running dinner theater that offers an engaging and interactive show with a comedic murder-mystery plot that dinner guests are encouraged to solve.
Official Website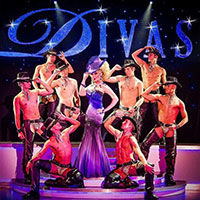 4. Divas Starring Frank Marino
Come to Vegas for an unforgettable Vegas show experience. The 75-minute production features long-standing headliner Frank Marino, as well as women in drag dressed like big-name stars like Britney Spears, Katy Perry, Rihanna, and Lady Gaga.
Official Website
5. Tournament of Kings
Tournament of Kings is a kid-friendly theater production with an Excalibur theme. See jousting nights, dancing maidens, and live action performances reminiscence of the King Arthur period.
Official Website
COMEDY SHOWS
In need of a laugh? Vegas has numerous comedy shows that will keep cracking up from start to finish. Whether it's a rising star comedian or long-running comedy performance, Las Vegas' entertainment lineup is second to none. The saying "laughter is good for the soul" is true, and Sin City is the perfect place to lift your mood and get happy.
TOP 5 LAS VEGAS COMEDY
1. Carrot Top
Las Vegas presents the award-winning comedy of Scott Thompson, famously known as "Carrot Top". Referred to as the "Entertainer of the Year", Carrot Top pairs his dark humor with loads of crazy props and wacky inventions.
2. Jeff Civillico: Comedy in Action
For family-friendly fun at Flamingo Las Vegas, Jeff Civillico offers his unique blend of comedy, coupled with world-class juggling, audience interaction, and crazy tricks.
3. Brad Garrett's Comedy Club
Brad Garrett, alongside some of the hottest stand-up comedians, performs comedic shows that will leave you in stiches. Come to the MGM Grand to see some of the most established stars in comedy.
4. Defending the Caveman
Defending the Cavemen features comedian Keven Burke as he draws hilarious comparisons between 21st century couples in a modern day battle of the sexes. Official website
5. Harrah's Improv
Improv at Harrah's, located at Caesars Palace, hosts three new comedians every week for a fresh and amazingly funny show.
TRIBUTE SHOWS
Tribute shows have become highly popular in Las Vegas as of late. The city hosts tributes to some of the best entertainers of all time. Each show combines an interesting combination of history, performances, and nostalgia that will keep you engrossed throughout the show. If you enjoy tribute shows, there's many great ones to pick from.
TOP 5 TRIBUTE SHOWS:
1. MJ Live
If you're a Michael Jackson fan, head to the Stratosphere in Las Vegas for a tribute to the man himself. MJ Live is a high-energy musical show that includes some of Jackson's greatest hits, including "Smooth Criminal", "Billie Jean", and "Bad".
2. The Rat Pack is Back!
The Rat Pack is Back! is an award-winning tribute show that honors the original Rat Pack, Frank, Dino, and Sammy.
3. All Shook Up
All Shook Up pays homage to one of the most legendary artists of all time, Elvis Presley. Get to really know The King as you sit back and listen to some of his greatest hits.
4. Purple Reign, The Prince Tribute Show
Purple Reign has quickly risen to international recognition as the world's #1 Prince Tribute. The show recreates the memorable performances and energy of the star.
5. Beatleshow Orchestra
Beatleshow Orchestra is the ultimate tribute show for any fan of The Beatles. During the show, you'll get the opportunity to hear some of the band's greatest hits.
HYPNOSIS & PSYCHIC
Even if you're not a believer in hypnosis, mind-reading, or psychics, a trip to see a Las Vegas show will not disappoint. Las Vegas hypnosis and psychic shows pair supernatural powers with comedy for an unforgettable night of entertainment. If you're in the mood to experience something you don't see every day, come to Vegas.
TOP 5 HYPNOSIS & PSYCHIC:
1. Anthony Cools – The Uncensored Hypnotist
The Anthony Cools – The Uncensored Hypnotist is not your run-of-the-mill hypnotist show. The 90-minute show features R-rated subject matter, audience interaction, and a little naughty humor.
2. Hypnosis Unleashed Starring Kevin Lepine
Hypnosis Unleashed is the longest running show on the Las Vegas Strip. This adults-only show takes comedy hypnosis to a whole new level with mind-blowing hypnosis and hilarious audience interactions.
3. Marc Savard Comedy Hypnosis
Marc Savard Comedy Hypnosis at the V Theater at Planet Hollywood presents big laugh performances that turn audience members into the stars of the show. During the show, audience members are brought on stage and hypnotized.
4. The Mentalist, Gerry McCambridge
The Mentalist, Gerry McCambridge combines magic, mindreading, and comedy all in one phenomenal show. The show can be seen at the V Theater inside the Planet Hollywood hotel and casino.
5. Paranormal – The Mindreading Magic Show
Paranormal – The Mindreading Magic Show features international mentalist Frederic Da Silva as he brings magic, mystery, mind-reading, and hypnosis to the main stage. To see the show, head to Bally's Las Vegas.
Las Vegas is widely known as the entertainment capital of the world – and for good reason. No other city in America can compete with the shows, concerts, and events that take place on stages across Vegas. Don't miss out on the opportunity to see one of these amazing shows in person during your next trip to the city.
NEXT PAGE: 6.1 GETTING MARRIED IN LAS VEGAS.... ⇨