9.4 WEDNESDAY: North strip stroll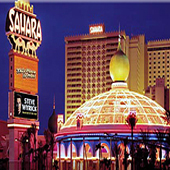 Today, we are going to check out the North Strip ...and later on this evening, the downtown area. The North Strip extends from the Stratosphere on the North to the Fashion Square Mall at Spring Mountain Road. The major hotels along this route are the Stratosphere, Sahara, Circus-Circus, Riviera, Westward Ho, Stardust, New Frontier, and the New Wynn Las Vegas. Except for the Wynn, they are all older hotels and their room cost is generally in the $30 to $75 per night range.

Let's start today with a breakfast at the Center Strip Paris Las Vegas' "Le Village Buffet." The cost will be $12.95 each. It is one of the better Las Vegas buffets.
After breakfast, walk (to the left) to the walkway that leads to Ballys next door ...and the monorail at the back of the hotel. Take the monorail ($3.00) to the Sahara Hotel, the last stop going north.
9:00 a.m. The Sahara Hotel-Casino is an older Moroccan-themed hotel that first opened more than 50 years ago. Johnny Carson, Tina Turner, the Beatles, Frank Sinatra, Dean Martin, Ann-Margaret and Jerry Lewis have all performed live here. Automobile race fans will like the hotel's affiliation with NASCAR. You can drive a high speed race car at their Las Vegas Cyber Speedway, eat in the NASCAR Café and ride "Speed" ...their roller coaster which launches from inside the NASCAR entertainment complex. ($10 - opens at 11:00 a.m.)
The Platters, Coasters and Drifters perform top 20 hits from the 50s and 60s in the Congo Room nightly at 7:30 p.m. (Tickets: $36.50 plus tax/fees.)
Head out to the street, and (right) to the Stratosphere Hotel-Casino ...about a 5 minute walk.
10:00 a.m. - The Stratosphere is the only hotel on the Strip that is actually in Las Vegas. (The rest are in an unincorporated area of Clark County.) It opened in 1996 as a replacement for the old (Bob Stupak) Vegas World, a casino known for its crazy promotions. It filed for Chapter 11 bankruptcy less than a year later. It was scooped up by deep-pocketed financier, Carl Icahn (a multi-billionaire) and doing well.

The main attraction here is the 1,149 foot tower, observation deck, rotating "Top of the World" restaurant and four thrill rides. At over 100 stories above the ground, the Stratosphere boasts the world's four highest rides; the Big Shot, X Scream, the High Roller coaster and Insanity the Ride. Trust me! These rides are not for the faint at heart!
They cost $8 each to ride (except High Roller is $4) after you pay $9.95 (Seniors, Hotel Guests and Children $6.00) to get to the observation deck. The tower opens at 10:00 a.m. daily. The view from the tower is breathtaking and a great photo opportunity.
Daytime show, "Viva Las Vegas" has been running for more than ten years. (...with singing, dancing, comedy and specialty acts.) Tickets at the door are $16.85 (Mon.-Sat. at 2:00 and 4:00 p.m.) But here is a better deal! Print out this coupon (valid for up to 4 people) and you can get in free with the purchase of one $6.95 drink. The American Superstars (celebrity impersonator) Show plays here evenings and it is very good. (Tickets: $38.75.)
Go out to the street and take the No. 301 (local) or 302 (express) Strip bus (south) to Circus-Circus. You could walk it but it is a little far. Fare is $2.00 for adults, $1.00 for seniors 62 and older, 60¢ children. (You must have exact amount, since the drivers can not make change.)
If you do not have children ...or want to spend more time at the Fashion Show Mall and/or Wynns Las Vegas (two great places to snoop around in), you might just continue on the (local 301) Strip bus to the New Frontier Hotel-Casino. The Fashion Show Mall is the next building going south. It will be on the west side of the Strip.
11:00 a.m. - The Circus-Circus hotel-casino as you might guess is circus-themed. It is one of the older (and somewhat run down) properties having opened in 1968 as a slot casino in a two-level red and white tent. Circus acts performed on the second "Midway Stage" level ...and continues to do so to this day.
A 400 room hotel was added in 1972. The Circus-Circus is the only Las Vegas property that features attractions for children ...and the only hotel on the Strip with an RV park. After several expansions, the Circus-Circus complex now has nearly 3,800 rooms and is owned by the MGM Mandalay Group. They also own the Slots-A-Fun casino next door.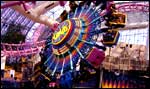 Encased in a five and a half-acre glass dome, its Adventuredome is the largest temperature-controlled indoor theme park in the U.S. It opened in 1993. (Open daily 10:00 a.m. until midnight.) There are 21 rides inside the Adventuredome including a roller coaster. Entry into the park is free. Ride tickets range from $3-$5. All day passes range from $12.95 to $16.95.
The Riviera Hotel-Casino is directly across the street from Circus-Circus. Their shows include Splash, LaCage (female impersonators) and Crazy Girls ...none of which (in my opinion) are all that great. This hotel opened in 1955 with 300 rooms and starred Liberace. After several remodelings, expansions and additions, it currently has 2,100 rooms in four towers. There really is not a not to see in this hotel and you might want to skip it. It remains an old hotel. (We understand that a new 4,000-room Fontainebleau Las Vegas hotel-casino will be built on the Strip just north of the Riviera.)
The Westward Ho, Stardust and New Frontier are the next three hotels on the west side of Las Vegas Boulevard. Like the Riviera, they are old and badly need updating. An advantage of these older properties is that, in order to compete, their room prices and table minimums are low ...and slot payouts are better than the high dollar Strip properties. They offer penny and nickel slots ...and some have $1 or $2 blackjack. But they offer little in the way of classy amenities or sight-seeing opportunities ...and they don't seem to attract young people.
12:00 noon - The Westward Ho Hotel-Casino was the strip's only (two floor) motel-casino. It was built in 1963 (remodeled in 1991) and located between Slots-A-Fun and the Stardust Hotel. This property was recently sold and will close on November 17, 2005. We heard that the buyer is a Dallas-based builder that will tear down the Westward-Ho and construct one or more high rise condominiums on the site.
The Stardust Hotel-Casino dates back to the 1950's and is one of three of the larger hotels still in operation from that era. (The other two are the Riviera and Tropicana.)
It was the first hotel to have a showgirl production show as its centerpiece. (It imported the French Lido de Paris which ran for 31 years.) Previously the home of Wayne Newton, its Stardust Theatre now has a mix of ever-changing headliners and production shows ...some very good.
The Stardust is now owned by Boyd Gaming Corporation, a successful casino operator. We heard that the property will be demolished and redeveloped.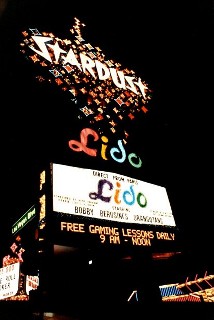 The New Frontier Hotel-Casino is another aging property that (if you believe he rumors) is slated for implosion. We heard that a new ($1.3 billion) upscale 3000-room (all suites) San Francisco-themed hotel-casino will be built on the property by its current owner, Kansas billionaire Phil Ruffin. He also has a joint venture going with Donald Trump to build a twin-tower high-rise condominium (with no casino) behind the New Frontier and next to the Fashion Show Mall. The $500 million 64-story condo, named the Trump International Hotel & Tower Las Vegas, has already sold out all of the 1,282 units at $600,000 to $6 million each.
1:00 p.m. - The Fashion Show Mall is an upscale shopping and entertainment venue that comprises 2 million square feet with over 250 boutique, specialty and brand name retailers including 8 department stores: Neiman Marcus, Saks Fifth Avenue, Macy's, Dillard's, Robinsons-May, Bloomingdale's Home, Nordstrom and Lord & Taylor. There are three levels, the third level being a food court. Here is a list of the stores.
There are daily live fashion shows on an elevated stage and runway in the "Great Hall." (Begins at 1:30 p.m. and hourly thereafter until early evening.) Fashion Show's most recognizable landmark is a weird 4,000 ton (ton! Not pound) steel canopy called the "Cloud." It stretches nearly 500 feet along Las Vegas Boulevard and 128 feet above ground. The Cloud provides shade during the day and becomes a giant projection surface at night. (Hours: 10:00 a.m. to 9:00 p.m. Open Sundays from 11:00 a.m.) A new over-street bridge joins the Fashion Show Mall with Wynns Las Vegas.
2:00 p.m. - Wynn Las Vegas, a 50-story, curved tower covered in bronze glass, is the newest and most luxurious hotel in Las Vegas ...with prices to match! The average daily room rate is $300 per day, but there are bargains if you look around.
Wynn Las Vegas opened to the public on April 28, 2005 and cost nearly $3 billion to build. It has 2,716 guest rooms and suites; an 111,000 square foot casino; 22 food and beverage outlets and an on-site 18-hole golf course.
Their gourmet restaurants feature the world's most renown celebrity chefs. It even has a Ferrari and Maserati dealership. Its Esplanade shopping area has 76,000 square feet of upscale retail space and a separate entrance from the strip.
Created by Franco Dragone, Cirque du Soleil's former creative director, "Le Rêve" is an aquatic spectacular performed in Wynn's 2000 seat domed theater in the round. (Tickets: $121, show at 7:30 p.m.)Broadway Theatre tickets for "Avenue Q," winner of the 2004 Tony Award for Best Musical, are $75.90-$86.90. ("Spamalot," winner of the 2005 Tony Award for Best Musical, is slated to open in 2007.)
Wynn Las Vegas was built by Las Vegas' visionary Steve Wynn who also developed Bellagio, The Mirage, Treasure Island and the Golden Nugget. In 2000, Steve Wynn sold all these properties to MGM Grand, Inc., for more than $6 billion.
Wynn already has broken ground on still another 2,000 room $1.4 billion resort, called Encore. It will be built on 20 acres next to Wynn Las Vegas and open in late 2008. We heard that it will have 1,000 square foot rooms renting for $350 to $400 a night and will be the most luxurious in Las Vegas.
That ends our North Strip jaunt. Later on tonight we will check out downtown Las Vegas.
NEXT PAGE: 9.5 DOWNTOWN STROLL ..OLD LAS VEGAS... ⇨