2.7 Las Vegas Arrival ...and Getting to the Hotel from Airport
Upon arrival at McCarran International Airport, head to the baggage area to claim your checked baggage. Be sure to check the claim check number and name tag to make sure it is yours. Many pieces of luggage look alike, and you don't want to walk off with someone else's.
Immediately notify your airline if your luggage is damaged or does not arrive as scheduled. (See the previous section about dealing with lost luggage.) As a general rule, claims must be filed, in person, within four hours of your flight's arrival.
There are three terminals at McCarran. Terminal 1 serves domestic airlines while Terminal 3 is primarily for international and charter flights. You will find a handy airline arrival/departure list here.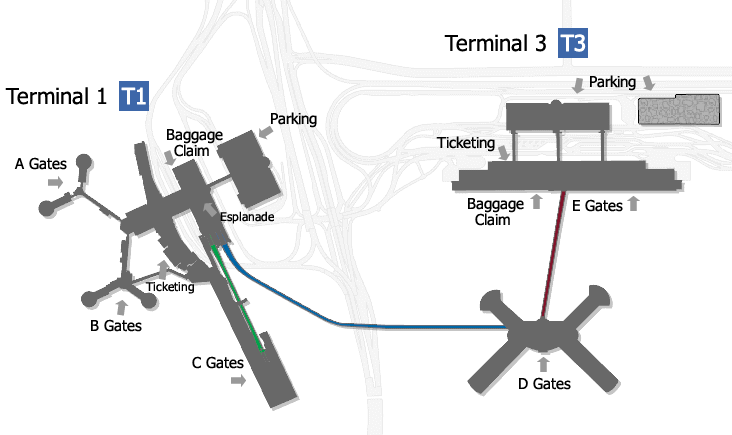 Terminal 1
There are four sets of gates in Termnal 1: Concourse A, B, C and D. If you flew US Airways, you will arrive at Concourse A. Terminal 1 Airlines are:
Allegiant
American
Delta
Omni
Southwest
Spirit Airlines
Terminal 3
The newest add-on to terminal to McCarran Airport Terminal 3 hosts most international and some domestic flights as fallow:
International Airlines

Aeromexico
Air Canada
British Airways
Condor
Copa
Edelweiss
Interjet
Korean Air
MagniCharters
Norwegian
Sunwing
Thomas Cook
Virgin Atlantic
VivaAerobus
Volaris
WestJet

Domestic Airlines

Alaska
Frontier
Hawaiian
JetBlue
Sun Country
United
Virgin America

Southwest flights come in on Concourse B or C. You will probably arrive on Concourse D if you fly American, Delta, United or another airline. Check the airport guide if you flew any other airline.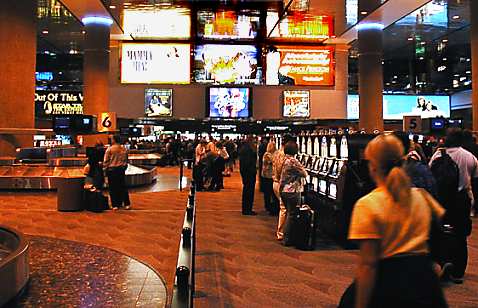 One of the first things you will notice when you get off the plane is that you can gamble in the airport lobbies and baggage area. Get used to seeing banks of jingling slot machines everywhere, sometimes even in the bathrooms! It is a way of life in Las Vegas. But refrain from playing any of them at the airport. Their captive audience has the worst slot machine odds in Las Vegas. There are no table games (craps, roulette, blackjack and such) at the airport.
It is a long journey to the main airport terminal area and you can take the tram or walk. If you walk you'll enjoy the luxury of moving sidewalks every so often. Make your way towards the main terminal and baggage claim area which will be down stairs. Be sure you have your claim tickets with you which may or may not be checked.
Uber and Lyft
Yes you can call Uber or Lyft taxi using your cell phone app to be picked up from the Airport's designated area.
From Terminal 1: From Baggage Claim, take the elevator near door #2 up to level 2. Cross the pedestrian bridge on level 2 to the Terminal 1 Parking Garage. The Uber/Lyft pick up is located on level 2M of the parking garage.
From Terminal 3: From Baggage Claim, take the elevator near door #52, #54 or #56 up to level 1. Cross the pedestrian bridge on level 1 to the Terminal 3 Parking Garage. The Uber/Lyft pick up is located on the Valet level of the parking garage.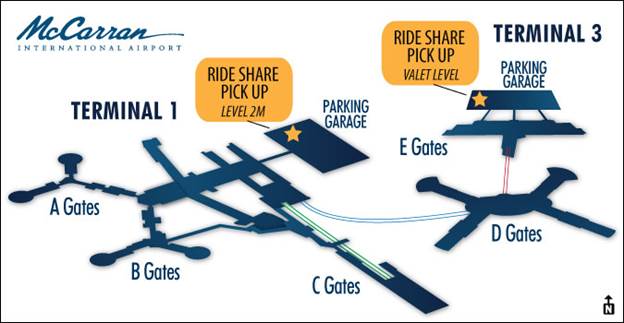 Beware: A little known service was that the MGM Grand and Signature hotels have remote check in counters at the airport near the baggage claim area in Terminal 1. IT'S LONG GONE!!! It used to operate open from 9:00 a.m. – 6:00 p.m..Tuesday & Wednesday; 9:00 a.m.-- to 10:00 p.m. Thursday to Monday. Guests staying at these hotels used to check in right at the airport.
Car Rentals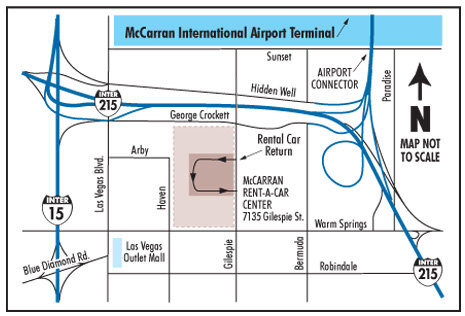 The rental cars companies have moved to their new center called "McCarran Rent-A-Car Center" located at 7135 Gilespie Street, just three miles from the airport with easy freeway access to Interstates 15 and 215 and the Strip and it's open is open 24 hours. You'll have to ride a free shuttle service between the terminals and the center to get to the various rental car rentals kiosk. We do not recommend that you rent a car in Las Vegas unless you are planning to travel surrounding area of the city by car. Public transportation is more efficient and easier to deal with. More on this later.
Shuttles to your Hotel
You will find taxis and the shuttle buses that run to the Strip or downtown just outside the baggage area. We recommend purchasing a round trip shuttle bus ride.
The shuttle buses are located at west side of baggage claim, outside door exits 7 - 13 of the Terminal 1 and outside on Level Zero on the west end of the building of the Terminal 3.
Airport shuttle coaches and buses run seven days a week every ten to fifteen minutes from 4 a.m. to 11 p.m. It takes about 30 minutes to get to your hotel on The Strip. You'll see several ticket windows right near the outside doors. Cost will be around $10-$15 each for a round trip ticket and you do not need to purchase them in advance. Be sure to ask the driver for a telephone number to call to be picked up for return to the airport.
Taxicabs are available outside on the east side of baggage claim, outside of door exits 1-4 on Terminal 1 and at Terminal 3, taxis are conveniently located outside on Level Zero. We recommend, however, that you take the shuttle. There is no direct city bus service from the airport to the Vegas Strip.
The Las Vegas Strip is a little more than 3 miles long and extends from the Stratosphere Hotel-Casino on the north to the Mandalay Bay Resort-Casino on the south.
NEXT PAGE: CHAPTER 3: SORTING OUT THE HOTELS....⇨