10.3 Casino games you should not play!

There are many ways to gamble in Las Vegas. The main games of chance are slot machines (and we consider video poker a slot machine), blackjack, craps, keno, poker, roulette, baccarat, vertical wheels of fortune, bingo, and sports betting. But there are many others. The two most popular are slot machines and blackjack.
It is not the intention of this website to try and make you an expert on casino games ...nor are we qualified to do so. There are thousands of books on the subject. Frankly, most are a total waste of money. Simply stated, winning "systems" and complex betting strategies do not work. Over time, the house always wins. Except for card counting in Blackjack, casinos welcome system players with open arms. There are no "Secrets that casinos don't want you to know!"
Frankly, we don't think vacationers should go to Las Vegas with the belief that they are going to make money gambling. Visit Las Vegas with the idea of having fun ...going to a show or nightclub, sightseeing, lounging at the pool, shopping, ...eating at nice restaurants.
The average Vegas visitor spends $500 gambling on slots, table games or betting on sports. Most lose. Casino betting should be considered as just another form of entertainment. Your objective should be to bring as much of that $500 back home with you as you can ... and hopefully (but not likely) more.
You'll have just as much fun playing in casinos that have small minimum tables and you will play longer and lose at a slower rate. Minimums in casinos on the Strip (especially those that are newer and more luxurious) are almost always higher than those downtown or at casinos frequented by "locals" (Las Vegas residents.) The off-strip Sam's Town is worth a side trip and they have free shuttles from the center and south strip ...also downtown.
Some games are better than others. That is, the house odds are lower. Some you should not play. First off, do not play a game you do not understand. Two games that you want to skip entirely are Keno and those vertical spinning "Wheels of Fortune." The odds on these games are heavily in favor of the house.
Keno
Every casino has a Keno lounge. But you can also play Keno in hotel restaurants or lounges where tickets are collected and winnings delivered by Keno runners. You watch the progress of the game over a television monitor. Keno is very much like a lottery.

To play Keno, you select at least 4 and no more than 10 numbers between 1 and 80. You mark your ticket with a crayon and give it to the Keno clerk. You get a duplicate ticket.
Twenty numbered balls out of 80 are randomly drawn and they are posted on keno boards throughout the Casino. The amount you bet is low ...as low as $1 per ticket (sometimes even less) and you can play as many tickets as you wish.
A chart tells you how much you win if you catch some or all of your selected numbers. (Different casinos have different payoffs.) In some cases, you win if none of the numbers are chosen The big attraction is the amount you can win can be huge ...as much as $50,000 on a $1 wager in some casinos. There is a new game every five minutes or so.
The problem is that the house advantage on Keno is also huge. The casino keeps about 30% of each dollar wagered ...generally making it the worst casino game you can play. There are a variety of strategies for selecting numbers. None of them work.
In an article on Keno written by Andrew Glazer, a professional who teaches gambling seminars and author of "Casino Gambling the Smart Way," Andrew said "The best way to play keno is not to play, because the odds are terrible. ...casino keno has a 25 percent to 30 percent house edge."
But he also added: "If you substitute playing casino keno at $1 per ticket for other forms of gambling, you are making a good decision: Despite the huge house edge, the game moves so slowly that you will lose very little money in an evening, but you might die of boredom."
Big Six "Wheel of Fortune"
These are vertical spinning wheels ...about six feet in diameter that are adorned with various symbols and currencies. It is also called the "Wheel of Fortune" ...or just the "Big Wheel." (The Wheel of Misfortune is a better name.) Like on all spinning wheel games, you bet on where the wheel will stop. To play, you select any of 5 currency denominations: $1, $2, $5, $10 or $20 plus the joker or another symbol (such as the casino's logo.) You get the amount it lands on if you bet it, $40 if it stops on the Joker or logo.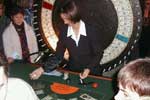 Here is the fine print. The wheel is divided into nine areas with each containing six sections, a total of 54 stopping spots. (Which is why it is called the Big Six.) The sections have $1, $2, $5, $10 or $20 dollar bill symbols scattered around them. There are also two different $40 payout symbols.
There are twenty-four $1 spots, fifteen $2, seven $5, four $10, two $20, one $40 Joker and one $40 symbol. The house advantage on the Big Six wheel is between 11 and 24 percent ...making it the second worst game to play in a casino.
Other Games to Avoid

Avoid blackjack games that pay only 6 to 5 (or worse yet, even money) for blackjack (an Ace and a ten or face card.) Do not play any blackjack that does not pay 3-2.
Forget all those weird poker and blackjack game variations and side bets. Casinos only install them if it is to their advantage. Let it Ride (based in five card stud poker), Caribbean Stud, Three-Card Poker, Wild Hold'em Fold'em, Spanish 21 (blackjack played with no 10-cards), and Casino War (which pits a player's card against the dealer's) all have big house advantages or are confusing to play. Some are played very quickly (such as Casino War ...about 2 hands a minute.)

There ARE low limit ($5) single zero roulette wheels in Las Vegas where the house advantage is half that of the double-zero wheel. We have seen them at the Mirage, Treasure Island and the Monte Carlo ...but there are others. A double-zero roulette wheel has a house advantage of 5.26% making it a big casino money-maker.
Most casinos offer free lessons during the day for many table games especially black jack, craps, roulette, and baccarat ...and it is fun to see what they are about. If you are confused at all the options, do not play the game.
---
The Race & Sports Book
Sports betting is where you predict the results and place a wager on the outcome. In Las Vegas you can bet on almost anything. A "Sportsbook" is a section of a casino that handles these bets. The sportsbook accepts bets and maintains a spread which will ensure a profit to the casino regardless of the outcome of the wager.
Over the long haul, you will lose betting on sports. This is because the odds are stacked in favor of the casinos. This built in advantage (about 10%) guarantees the gambler will lose money. There are all sorts of bets you can place but, as a rule, you must bet $11 for every $10 in potential winnings. There are more than fifty licensed sportsbooks in Las Vegas. The Wynn, Hilton, Mandalay Bay, Palazzo and Caesars Palace are perhaps the most popular.
NEXT PAGE: 10.4 BLACKJACK ...A GOOD GAME TO PLAY... ⇨