8.4 Souvenirs ...for the folks back home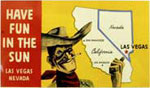 Most Las Vegas visitors want to bring a few trinkets back to the folks at home and gifts and souvenirs are big business in Sin City. Many are available free! Just about all of the casinos have free giveaway items just for joining their player's club. Ask for them at the join-up booth. Some have free decks of cards, dice, coffee mugs, key chains and other freebies. (And be sure to ask for their free coupon book.) Every hotel has a gift shop where you can purchase souvenirs. (The Showcase Mall on the South strip near the MGM Grand Hotel has tons of souvenir shops.) And if all else fails, you can always get them at the airport on your way home.
A few suggestions...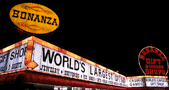 Bonanza Gift Shop (2460 Las Vegas Blvd.,S; Las Vegas, NV 89104) - Tel: (702) 385-7359 - specializes in souvenirs and they bill themselves as the "World's Largest Gift Shop." (Over 40,000 square feet) - It may not be the world's largest, but it is certainly the citiy's best. They are located on the North strip across the street from the Sahara Hotel. (The Sahara is the last stop on the monorail.) - It is a neat place to wander around and many items are inexpensive. Open: 8 a.m. until midnight.
The Gamblers General Store is located in downtown Las Vegas at 800 S Main St. Phone: (702) 382-9903. They have all sorts of gambling stuff ...such as used casino playing cards, dice, strategy books and a ton of souvenirs. (You can even buy used slot machines there.)
Arrive Las Vegas is an online souvenir shop - Leanne Hall (a local Las Vegas photographer) will even personalize your selections. They have all sorts of souvenirs, photos, posters and personalized gifts. Check out her website.
Did you buy too much?

There is a UPS Store in the Flamingo Hotel-Casino (at 3565 S. Las Vegas Blvd., Las Vegas, NV 89109) if you need to ship something back home. Phone is: (702) 457-2777. (Open weekdays 7 a.m. to 7 p.m.; Sat.-Sun 8 a.m.-5:00 p.m.) It is located near the east entrance in the rear of the hotel next to the escalators going to the monorail station. They will pack and box up your shipment for you. Be sure to get the package tracking number so you can track the shipment on your home computer.
NEXT PAGE: 9.1 SUNDAY: GETTING ADJUSTED... ⇨