3.4 Hotel ratings ...what to believe
AAA Five Diamond Las Vegas Hotels
Six Star, AAA 5 diamond, Mobil 5 star ....what does it all mean? Both Mobil and Triple A award from 1 to 5 rating points (5 being the best.) Both conduct on site inspections. They support their rating service costs as part of the AAA membership or they sell travel guides. The hotels do not pay for their rating. Both are very reputable and objective and a good AAA and Mobil rating is eagerly sought by hotels and restaurants since good ratings are sure to bring customers.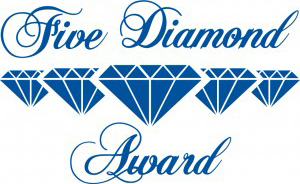 There are five AAA Five Diamond Award resort-casino winners in Nevada, ...all are in Las Vegas: The Aria at City Center (2010), ARIA Sky Suites (2011), Bellagio (2001) - a four time winner, Four Seasons Hotel Las Vegas (1999), Mandarin Oriental Las Vegas (2010), SKYLOFTS at MGM Grand (2006), Wynn Tower Suites (2013). There are no Mobil Five-Star resort-casinos in Nevada, but Mobil does name three lodgings: the Skylofts at MGM Grand, and the Tower Suites at Wynn Las Vegas..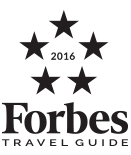 Triple-A lists these seven hotel-casinos as AAA Four Diamond Award winners: Caesars Palace, Golden Nugget Hotel, Mandalay Bay Resort & Casino, MGM Grand Hotel & Casino, Monte Carlo Resort & Casino, The Mirage and Treasure Island-TI Hotel & Casino.
Most other ratings seem to be based on "someone's" opinion and they vary widely. Some are based on user reviews. Many seem to be higher (or lower) than they should be ...probably to influence buyers. I personally like a simple overall rating of 1 through 5 based on location, quality, service and value.
Five Stars: A luxury hotel with the highest overall level of quality.
---
Four Stars: A very good to excellent hotel.
---
Three Stars: A good acceptable hotel. Represents an excellent value.
---
Two Stars: An average hotel at best ...or below average.
---
One Star: A poor hotel. May be old with small rooms, in rundown areas or poorly maintained.
Of the nine hotels we recommend for the first time visitor, we give Five stars to The Bellagio, Wynn, Cosmopolitan, Aria, Encore, Venetian and Caesars Palace; Four stars to the Mirage, Paris and Planet Hollywood; and Three Stars to Bally's, Luxor, Flamingo and Harrahs.
EXPEDIA HOTEL RATINGS
Expedia.com rates Las Vegas hotels based on independent ratings and customer surveys. They analyze up to a dozen pieces of data and a star rating is calculated. Their ratings appear reasonable to me.
They say on their website "Because we take great pride in the objective nature of our ratings system, we neither take business considerations into account when computing any given rating, nor do we use ratings as a negotiating strategy with suppliers."
One Star - Economy establishment is expected to offer clean, no-frills accommodations with minimal on-site facilities for the budget traveler for whom cost is the primary concern. Guestrooms generally are small, functionally decorated, and may not have a private bathroom, in-room telephone, or amenities. On-site dining is usually not available. Public access and guest reception may not be available at all hours.
Two Star - Value: These limited-service establishments are expected to offer clean, basic accommodations. These properties may offer some business services but generally lack meeting rooms, baggage assistance, and full fitness and recreation facilities. On-site dining is usually limited to coffee or Continental breakfast service. Guestrooms generally offer private bathroom, telephone, TV, and limited amenities.
Three Star - Quality: Three-star establishments place a greater emphasis on style, comfort, and personalized service. They generally feature on-site dining room service, a pool and/or fitness center, a gift shop, and may provide baggage assistance. Conference rooms for meetings and extended services for business travelers are usually offered. Guestrooms offer more extensive amenities and more careful attention to decor and comfort.
Four Star - Superior: These upscale establishments usually offer a fine-dining restaurant, lounge, and room service with extended hours. Service features usually include baggage assistance, concierge service, and valet parking. A conference center with up-to-date technology and full business services are usually offered. Public spaces and guestrooms are thoughtfully designed and constructed with high-quality materials. Guestrooms generally offer stylish furnishings, high-quality bedding and bath products, and a wide array of amenities.
Five Star - Exceptional: The finest hotels in the world. Five-star lodging is characterized by luxury appointments, superlative service, and the highest standards of comfort. Five-star hotels offer originality in architecture and interior design, high-grade materials in construction and decor, and such special touches as fresh flowers and plants in abundance. These properties also maintain a high staff-to-guest ratio, gourmet dining, and 24-hour room service.
Guestrooms offer ample space, the finest furnishings and decor, premium bedding, and luxury bath products. Room amenities generally include high-speed Internet access and CD and/or DVD players. Five-star resorts may offer additional recreation facilities such as tennis courts and golf-course access. On-site spa services, a top-notch fitness center, and a pool are generally available, as well.
Not rated: These hotels have not yet been rated.
A final comment on hotel ratings...
It should also be clearly pointed out that just about all Las Vegas hotels have various room quality levels. A Three Star hotel (such as Harrahs) is certain to have some luxurious rooms for the high rollers. And a Five Star hotel (such as Caesar's Palace) definitely has some small lower quality rooms. So we take not only the quality of the room into consideration, but also the various amenities, service, location and overall quality of the hotel complex itself.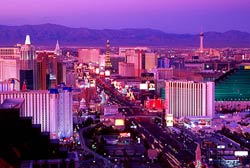 You will find guests at virtually every hotel in Las Vegas who are pleased with the quality, service and amenities of their hotel. And you will find some that are displeased ...even at a Five Star hotel. Ratings should, therefore, be taken merely as "information" ...the overall average opinion of a resort.
I have been in every hotel on the strip and most downtown. For what it is worth, in the "Recommended Hotels" section, I will give you my opinions and point you toward other websites that rate Las Vegas hotels.
NEXT PAGE: 3.5 GETTING A LOW PRICE AT A GOOD HOTEL....⇨