Chapter 3: Sorting out the Hotels
Where should I stay? ...and why!
Las Vegas has over 350 hotels providing some 150,000 rooms to visitors ...more than any other place on earth. The biggest problem for vacationers - especially those who are new to the city - is to decide where to stay. There are all sorts of room qualities, rates, locations and themes to choose from. Some charge resort fees, some don't. You can easily book vacation packages and room reservations at most hotels online using your computer. This Google Map link displays all the hotels on the map along with price and reviews.
In the early 1990's, Las Vegas re-invented itself. The emphasis had been on gambling. But with Atlantic City emerging as a gambling destination and the proliferation of gambling in many other states, Las Vegas came up with a new direction.
Las Vegas would now become a family vacation and entertainment hub complete with lavish shows ...many free, right outside in front of the hotel. Today, most vacationers spend more on shopping and eating than on gambling. The entrepreneur most closely associated with this transformation was Steve Wynn, a Las Vegas legend.
No new hotel had been built on the Las Vegas strip since the early 1970's. Wynn started by remaking the downtown Golden Nugget Casino in 1987. He next designed and built the Mirage hotel next to Caesar's Palace. It opened in 1989 and became the first of about a dozen new huge, "themed" hotels built on a two mile stretch of Las Vegas Boulevard. The Mirage hotel (with over 3,000 rooms) featured a tropical rainforest design complete with a large volcano that erupted every 15 minutes. The 1990's building boom and the age of the Las Vegas "mega-resort" was underway!
The next decade saw the number of hotel rooms on the Las Vegas strip more than double. Each had a different theme. The Mirage was followed by the medieval Excalibur, the Luxor (with its giant Egyptian pyramid and Sphinx), and the MGM Grand Hotel which featured the Emerald City, the yellow brick road and the Wizard of Oz ...complete with an amusement park. The "Roman" Caesar's Palace expanded and added the high-end Forum Shops. The European Monte Carlo, Italian Venetian, Manhattan-themed New York-New York, Pirate-themed Treasure Island, the Bellagio (and its dancing waters), the French-themed "Paris", the desert-fantasy Aladdin (now Planet Hollywood) and South Seas Mandalay Bay hotel resorts all opened between 1991 and 2000.
Among the largest in the world, these hotels combined had a total of over 40,000 rooms ...an average of 3,000 rooms each! That's a lot of rooms to keep filled year round. Since the average stay in Las Vegas is only 3.6 days, that is more than 4 million transactions annually.
Today, more than 40 million vacationers, gamblers and conventioneers visit Las Vegas every year. The more than 18 thousand conventions held annually bring more than 9 million visitors. Clark County (where Las Vegas is located) accounts for nearly $9 billion in gaming revenue - two-thirds of that come from the strip.
The average visitor's gambling budget is $500 for a 3 or 4 day trip. Hotel occupancy is around 85% - nearly 90% on the weekends. The average nightly room rate is $95. The average age of a visitor is nearly 50, only 7% of the visitors are under 21. One in five is a first timer ...a "newbie." More than 6 million people travel to Las Vegas from other countries. (Statistics are from the Las Vegas Convention and Visitors Authority Research Department.)
Newest Luxury Strip Hotels
These four hotels are the newest and best in Las Vegas. But they are expensive!
The Cosmopolitan - Opened on December 15, 2010, with 2995 rooms. It is the newest hotel and resort in Las Vegas. 75,000 sq. ft. casino. Cost $3.9 billion to build. Two high rise towers; 53 floors. (3708 Las Vegas Blvd.) Tel: 877-551-7778 ($34/night resort fee.)
Aria Resort & Casino - This 4,004 room resort in City Center opened on December 16, 2009. Casino: 150,000 sq. ft. Its 1,800-seat theater currently hosts Viva Elvis by Cirque du Soleil. (3708 Las Vegas Blvd.) Tel: 866-359-7757. ($36/night resort fee.)
Encore - Looks identical to The Wynn Hotel next door. Encore opened on December 22, 2008. 2,034 rooms, 74,000 sq. ft. casino. The resort features "The Esplanade" retail shops, spa and salon, five restaurants, seven bars, and a nightclub. (3121 Las Vegas Blvd.) Tel: (877) 321-9966. ($33/night resort fee.)
Palazzo - Offers only suites, the smallest is 720 sq. ft. Italian themed. Next to Venetian Hotel with same ownership. Opened December 30, 2007. 3,068 rooms, 105,000 sq. ft. casino. "Jersey Boys" permanent show. Retail: The Shoppes At The Palazzo (3325 Las Vegas Blvd.) Tel: 866-263-3001 ($30/night resort fee.)
IMPORTANT HINT!
Caesar's Entertainment Corp., (previously named Harrah's Entertainment Inc.) owns/operates nine center strip hotels - Harrahs, The Cromwell, Caesars, LINQ, Ballys, Planet Hollywood, Flamingo, Paris, and (the off strip) Rio)
MGM Resorts International (formerly MGM Mirage Inc.) owns/operates thirteen - Aria (City Center), MGM Grand, Bellagio, Mirage, Treasure Island, New York NY, Circus Circus, Excalibur, Luxor, Mandalay Bay, Delano, Vdara and the Monte Carlo.) All MGM Resorts charge a hefty daily resort fee. Starting from April 2016, MGM hotels will be charging parking fee of around $10 for the self-parking and $17 for the vallet parking.
These two companies pretty much control the strip. Both have "loyalty programs" that you should sign up for. Caesar's has "Total Rewards" and MGM has their "Players Club."
BE SURE TO SIGN UP FOR THESE TWO PROGRAMS WHEN YOU ARE IN VEGAS IF YOU WANT TO BE OFFERED FUTURE MONEY SAVING HOTEL ROOM DEALS.
Nine "target" hotels to consider
Since this is your first trip to Las Vegas, we recommend that you stay at a hotel right in the middle of the Strip ...the area between the Venetian (to the North) and the new City Center (to the South.) This is the best location in Las Vegas ...and where all the action is!
We have picked out three luxury (Bellagio, Venetian and Casears Palace), three very good (Paris, Mirage and Planet Hollywood) and three acceptable hotels (Bally's, Flamingo and Harrahs). I have ranked them one through nine. Again, remember this is just my opinion based on personal experience. Others may have a different opinion. Be aware that the Mirage, Bellagio and Venetian all charge a resort fee. (See Chap. 3.3)
These nine hotels will be our "target" destinations as we search for our first Las Vegas vacation. Seven are relatively new; two go back to the 50's and 60's. All have good rooms and service, the best locations and represent a good value. Some more so than others. My personal hotel rating system runs from 1 Star (lowest) to 5 Stars (the best.) These nine hotels are 3, 4 and 5 Star. More on these hotels later.
Where are the best pools?
Between April and September when the temperature can reach 110 degrees, hotel pools are a very popular hangout ...especially during the day. There are all sorts of pool complexes in Las Vegas ...some have sandy beaches, wave machines, hot tubs and gorgeous waterfalls and lagoons. All are outdoors and most pools are relatively shallow, less than 4 feet deep, so no diving boards in Las Vegas. You would expect that the most luxurious Las Vegas hotels would have the best swimming pools. But that is not necessarily the case.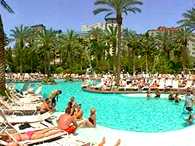 Our vote for the best pool goes to the rather old and ordinary Flamingo Hotel-Casino. They have water slides connecting three pools, a fourth pool with an 18-foot waterfall, and a fifth more conventional pool ...even has real pink flamingos in their lagoon area which covers 15 acres. Two hot tubs. A great place for the kids. Only one of the five pools is heated.
In second place is the Mandalay Bay's 11-acre pool complex, complete with huge 6-foot waves and a beach with 17-tons of sand. There are three pools and one river ...also an out-of-the-way topless "European style" pool called the Moorea Beach Club. It is more of a water park than a pool area. A meandering quarter-mile-long river pool can be navigated either on your back or by renting a float ($20/day).

Rounding out my top-ten pools are: (3.) Heated and open all year round, the Bellagio has six pools in a gorgeous landscaped setting. (4.) The Mirage's main 65,000-square-foot pool is an island with six waterfalls and lush lagoons. There is also a family oriented pool with three water slides. Heated pools but closed in December. (5.) The MGM Grand has five pools and a long, lazy river to float around in. Lots of palm trees, flowers ...great landscaping. (One pool is heated and open year round.)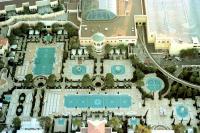 (6.) The Tropicana has five pools, four hot tubs and a large waterfall ...even a swim-up blackjack table. The Tropicana has an indoor heated pool (...well sort of.) A glass partition separates an outdoor part of one of the pools from the indoor area. Tropicana's outdoor pool portion is heated to 90 degrees in the winter. (Other than the Tropicana, there are no indoor pools on the Las Vegas strip.) (7.) Caesars Palace "Garden of the Gods" pool area has white flagstone with marble and statues ...and a section for topless sunbathing. Four heated pools open year round. (8.) The Luxor has four Egyptian-themed pools ...one is heated. (9.) The Hard Rock has two outdoor pools which on Sunday (noon to 9 p.m.) becomes the (overcrowded) 'Rehab' sexy pool party ...free to hotel guests. Pool has underwater speakers. (Closed: October to March.) (10.) Honorable mention (only because we have not seen it yet) Two circular pools at Wynn Las Vegas pool are connected by a passageway. Topless sunbathing is permitted behind the pool bar. Wynn offers the only permanently constructed, climate-controlled, fully furnished cabanas in Las Vegas. (There are no totally "clothing optional" pools or hotels in Las Vegas.)
You might want to check out Cosmopolitan Las Vegas pools and cabanas; Boulevard Pool where people gather to eat, drink, mix and migle, Bamboo Pool is a lush space with desert landscape and Marquee Dayclub pool party is open daily from 11AM to Sunset.
NEXT PAGE: 3.2 ALL LAS VEGAS ROOMS ARE NOT EQUAL....⇨