6.2 After the sun goes down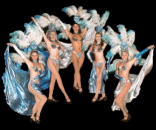 It used to be that Las Vegas was primarily about gambling at the tables and slot machines. But no more. During the past decade or so, gambling has taken a back seat. Today, research shows that people primarily go to Las Vegas for entertainment, restaurants, shopping and sightseeing.
During the daylight hours, most Las Vegas vacationers spend time visiting various attractions, walking up and down the strip, playing the slots or lounging at the hotel pool. The real fun starts after the sun goes down. Las Vegas offers a huge variety of nightclubs with live entertainment, comedy clubs and showrooms.
At any given time, you will find about 100 shows actively playing on and off The Strip. The shows generally fall into three categories. Hotel-casino theater shows, lavish production shows and concerts/headliners. We have seen practically all of the good ones (and many that were not.) We will try to sort them out for you.
Since this is your first visit to Las Vegas, we suggest you plan to take in at least two good shows ...most have two performances an evening. The early performance is at 7 or 7:30. The late night show is at 10 or 10:30 p.m. ...some are topless. We will give you some recommendations in a later section.
Some shows include a drink or two ...others charge for beverages. Be aware that cocktails purchased at a show are usually expensive since they have a captive audience. (Some shows require that you purchase cocktails.) And beverages purchased at a live entertainment show is subject to a 10% tax. Always ask when purchasing your ticket what is included and any other requirements.
Tax
Entertainment Tax will Hit You! Especially if you are into nightlife
Show prices vary widely depending upon how you get the tickets and whether taxes and fees (service charges) are included. As of October 1, 2015, a new 9% Nevada Live Entertainment Tax is charged on all admission tickets, food, beverages and merchandise when the showroom, lounge, nightclub or cabaret has a seating capacity of at least 300 - lowered from 10%. For a facility with a minimum occupancy of 200and a maximum of 7,499 the 10% tax rate applied to the admission charge, merchandise, food and refreshments sold at the event. For facilities with occupancy of 7,500 or more, the 5% tax rate applied to admission charges only. Most times the tax is included in the ticket price; sometimes it is not. Many of the major shows simply upped their ticket prices ten percent. And another fee is usually added if you purchase the show ticket from a ticket dealer ...and their booths are everywhere. It is often difficult to quote a ticket price since there can be many variations.
How to Get a Deal on Show Tickets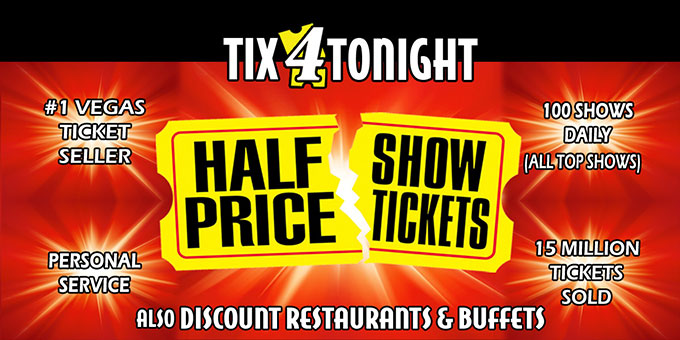 Did you know that there is a place called in Cin City called Tix 4 Tonight? All the unsold show tickets are being turned in to this private establishment, they offer 30-60% discount on unsold tickets but there is catch; 1) You can only buy the ticket at the same day of the show 2) High demand Cirque de Soleil tickets are often unavailable or sold out quickly in early morning, so don't wait till evening to buy yours 3) you have to show up 1 hour before the show time to exchange your voucher with a real ticket 4) They have booth all over the strip. find out more tix4tonight.com
To get the best price, I have found that it is best to telephone the showroom box office and order your tickets at least 30 to 60 days ahead of when you want to attend. Pay with a major credit card and the box office will hold them at the showroom for pickup the day of (or the day before) the show. Using a credit card is the safe way to book travel and showroom tickets since you are fully protected from a company not honoring the sales agreement. You simply dispute the charge when it comes through on your bill and the credit card company investigates. I have charged tickets dozens of times and have never had a problem getting them at the showroom box office. It is very important that you take the same credit card with you on your trip since all showrooms require this as positive identification in order to get your tickets.
Art of Getting a Good Seat
There is an art to getting a good seat. Most showrooms have electronic ticketing and reserved seating. Tell the box office where you would like to sit. It is harder to find out where your seats will be on the hot selling shows. Some box offices simply say they will provide you with the best seats in a particular price category. I have gotten some really lousy seats this way. If the box office won't give you specific seat numbers and tell you exactly where they are, you might be better off paying a small fee and dealing with a ticket agent who will.
Some of the lessor shows do not have reserved seating ...so called Maitre d' seating. This is the person in charge of the showroom who directs their ushers to show you to a specific seat. He usually stands at the showroom entrance. While a tip to the Maitre d' is not required, $5 (or more) usually gets you a seat in a better location. Only one tip covering your entire group is necessary. Just cup the bill in your hand and give it to the Maitre d' as you ask for a good seat.
It is best to arrive early if your seat is not reserved. You will probably have to stand in a long line. One way to eliminate the long line is to do a little gambling at the tables where the show is held (I play blackjack) and then ask the pit boss for a "line pass" which gets you to the head of the line. Be aware that you can usually get better seats on slower nights, Sunday through Thursday.
As a general rule, all clothing is casual in Las Vegas. There are no dress codes. That means slacks (or skirt) and a sport shirt, sweater or blouse. Although I have seen it, I certainly don't recommend wearing shorts, a t-shirt and sneakers to a evening show. For one thing, you might get cold since the temperature will be a constant air conditioned 68 degrees ...which will feel like 60. A sport jacket or suit and tie, however, is not necessary. But you can dress more formally for the more expensive shows if you care to. A jacket of some sort is needed in the winter. Dressing for a night club is more formal. A tucked in shirt with collar is the minimum ...and a jacket is recommended for the men. And sexy outfits for the ladies.
NEXT PAGE: 6.3 BEST LONG RUNNING SHOWS.... ⇨