3.7 Best hotels for the first timer
We are listing here nine hotels on the center strip that we think will make an ideal choice for your first trip to Las Vegas. Three are luxury, three very good and three are acceptable.
Three luxury hotels
There can be no doubt that the Bellagio, Venetian and Caesar's Palace are among the best three hotel complexes on the center strip. And they can sometimes be the hardest place in Vegas to land a good (meaning, a reasonably priced) vacation package deal. (The Mandalay Bay Hotel and Resort and Wynn Las Vegas Hotel and Casino are also luxurious hotels, but they are not in the center strip.)
The Palazzo, Encore, Aria and Cosmopolitan are four newer luxury hotels that also warrant consideration. The Palazzo is adjacent to the Venetian; Encore is adjacent to The Wynn. The Aria and Cosmopolitan hotels are in the new City Center next to the Bellagio.
(1.) Bellagio - Rating: Five star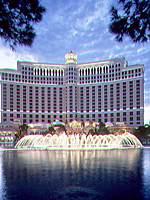 Unique features: A world class luxury resort overlooking a magnificent 8-acre lake in front that features a periodic choreographed water-ballet. The Fountains at Bellagio attract thousands of sightseers. Located at the famous four corners of the Las Vegas Strip.
Adult-oriented; no one under 18 is allowed on the property unless they are staying at the hotel -- and families with children are encouraged to find lodging elsewhere.
Luxurious marble lobby with unbelievable Italian glass sculptures on ceiling. Inside there is a lovely conservatory and botanical garden filled with gorgeous flowers and plants that are changed seasonally. Each new display costs hundreds of thousands of dollars to create.
Check-in time is 3 p.m., check-out time is noon. Hotel built in 1998 and renovated in 2004. The Bellagio is one of only two hotels on the Strip with a five-diamond rating from AAA. Service, as you might expect, is top-notch. Mobil rates it as a Four-Star award winner.
Rooms: The $2 billion Italian-themed Bellagio now has more than 4,000 rooms that offer views of the mountains, the Strip, or the pool. Each with a hair dryer, lighted make-up mirrors, iron and board, safe, designer toiletries and more. One king bed or two queen beds with reading lights, premium bedding ...bathrobes. The deluxe (lower priced) rooms are 510 square feet.
Amenities: Six outdoor pools, two heated year-round. Bellagio also features O, an incredible water-acrobatics show from Cirque du Soleil. The Via Bellagio shopping area features ultra-expensive stores such as Tiffany, Armani, Gucci, Prada, Hermhs, and the like. There is also a tram that operates between the Bellagio and the Monte Carlo Hotel.
Dining: Many first class (and expensive) restaurants and the best (also the most expensive) buffet in Las Vegas. Open until 4 p.m. Sunday, Bellagio's champagne brunch is a great way to start out your vacation.
Casino: Large 125,000 sq. ft. casino has 2,700 slot machines, 140 gaming tables, and 30 poker tables ...and more.
Cost: Expensive, and worth it. But, believe it or not, there are reasonably priced vacation packages available if you happen to hit it right.
(2.) Venetian - Rating: Five Star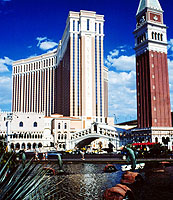 Unique features: This $1.5 billion 3,000 room mega-resort (opened 1999) is an exquisite replica of the Italian city of Venice complete with St. Mark's Square. A terrific place to people watch. You can even ride gondolas on the Grand Canal piloted by singing gondoliers.
Beautiful Italian influenced paintings and frescos decorate the ceiling and walls. The new Venezia Tower adds another 1,000 rooms. Arguably the best hotel in Las Vegas, but its location is at the upper far end of the center strip. Mobil rates it as a Four-Star lodging for 2006.
Rooms: The Venetian is novel in that it has only suites, each measuring at least 650 square feet, the largest standard rooms in Las Vegas. The standard suites have a king size bed, a sunken living room, and a large bathroom finished in fine Italian marble with separate shower/bathtub, hair dryer ...and more.
Amenities: A rooftop, five-acre terrace includes two huge pools ...heated in the winter. Another pool is in the new Venezia tower (opened 2003). The Grand Canal Shoppes upscale mall plaza (about a one-quarter mile long) has more than a hundred of the world's most exclusive retailers.. Madame Tussaud's first U.S. wax museum and a branch of the Guggenheim Art Museum is near the entrance. The Venetian is a recipient of the Exxon/Mobile Four Star Award and AAAs Four Diamond Award.
Dining: Seventeen superb world-class restaurants including Chef Wolfgang Pucks Postrio and Chef Emeril Lagasses Delmonico Steakhouse. Unlike most Las Vegas hotels, the Venetian does not have a buffet.
Casino: The 120,000 square foot gaming floor has some 2,500 slot machines, 120 table games, and a race and sports book.
Cost: Usually more than $125 a night ....and this is the deeply discounted rate. Thats if you can find it. This hotel enjoys very high customer satisfaction. A wonderful place to stay.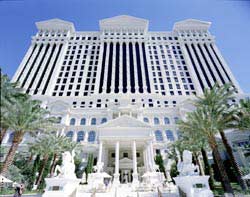 Unique features: Featuring an ancient Roman empire theme, the 80-acre Caesars complex comprises more than 2,400 rooms in the Roman, Centurion, Forum and Palace towers. Out front are numerous Roman-style cypresses, palm trees, marble columns and classical statues. In 1966, Caesars was the first deluxe upscale hotel opened in Las Vegas.
The property was renovated in 1997 at a cost of $600 million and another $376-million-dollar renovation began in 2004. You'll find gladiators, Cleopatra and Caesar look-a-likes, and toga-clad beauties strolling about. Caesars offers room check in at the airport (near luggage carousel No. 1.) Published check in time is 4 p.m., check out: noon. Currently undergoing renovations that will make it easier to get from the monorail station to the hotel.
Rooms: Room size ranges from older, small (270 square feet) to the new, spacious (500 square foot) Palace tower. Bathrooms are elegantly done in marble and brass, hair dryer in bathroom ...some even have phone and TV. Free newspaper.
Amenities: The 4,100 seat Colosseum Showroom was custom-built for the Celine Dion stage show: "A New Day". Under a sky-painted ceiling, the Forum Shops at Caesars offer one of the most interesting shopping and sightseeing experiences in Las Vegas. The Garden of the Gods has four swimming pools, one (the Venus pool) is topless. World-Class 23,000 square foot Fitness Center and Spa.
Dining: More than 20 restaurants ranging from reasonable to very expensive. Cafe Lago's dinner buffet is classy but not as good as the Buffet at the Bellagio.
Casino: It's 129,000 square foot casino, one of the largest in Las Vegas, has more than 2,000 slots (ranging from 5 cents to $500), 65 blackjack, 13 crap tables, 13 roulette wheels and a race and sports book.
Cost: Not cheap. But deals can be had if you keep looking. Be aware that some of the less expensive rooms are older, smaller and not as nice as those in the Palace tower.
Three Very Good Hotels
(4.) Paris - 4 stars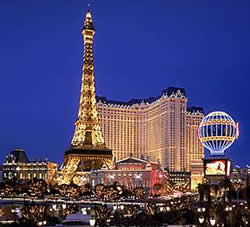 Unique features: This 34-floor 2,916-room ($785-million) hotel features everything French ...the Paris City Hall, cobblestone pathways with indoor French boutique shoppes, wrought iron street lamps, strolling singers and musicians even the Arc de Triomphe and a 50 story (nearly 500 foot) replica of the Eiffel Tower. (You can ride to the top of the tower for an extra fee.)
The Las Vegas monorail stops practically at its back door. A high quality hotel with a superb location.
Rooms: Guest rooms (average 450-sq. ft.) feature French-influenced dicor. Marble bathroom with separate tub and shower. Hair dryer, coffee maker, iron, and ironing board in room. Complimentary morning newspaper.
Eliminate check in lines. You can check-in to your hotel room and receive your room key all before leaving the airport. (Located near Carousel One in the south half of the main baggage claim area.) Regular room check in: 3:00 p.m.; check out: 11:00 a.m.
Dining: Four gourmet, seven casual restaurants. The Le Village Buffet is one of the best buffets in Las Vegas. Seven bars, five lounges,
Amenities: Half way up, the Eiffel Tower Restaurant provides the most romantic dining in Las Vegas. And you can watch the Bellagio dancing fountain show right from your table. A two-acre rooftop pool area is located right next to the Eiffel Tower. Has a fully staffed concierge desk. Tennis courts on site. Their Risqui nightclub is very popular. Wedding chapel.
Casino: The 85,000-square-foot casino floor (nestled under the massive legs of the Eiffel Tower) has 1,700 slot machines and more than 100 table games. Race and sports book wagering.
Cost: Almost anything! Reasonable rooms from about $100/night to some that cost $5,000 per night. Check the vacation packages carefully. There are bargains frequently available.
(5.) Mirage - Rating 4 stars
Unique features: Opened in 1989, the 3044-room Mirage ushered in a new era in Las Vegas ...the age of themed hotels. The objective was to entertain - and that it does. The 30 floor complex features a South Seas tropical paradise oasis in the desert. Out front, a fiery volcano erupts every 15 minutes after dark, rare Royal White Tigers and a palm-filled rainforest greet you at the front entrance, ...a huge 20 thousand gallon salt-water aquarium is behind the front desk. And (for an extra $12 charge) there is a unique jungle habitat out back with rare exotic animals.
The Mirage was renovated in March 2002. Previously the home of the legendary Siegfried & Roy show. Mobil Four Diamond Award winner. One of the top tourist hotels on the strip so it can be crowded ...especially on the weekend.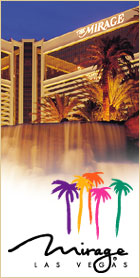 Rooms: Large (about 450 sq. ft.) well decorated rooms (just a notch below luxurious) have marble bathrooms and vanity tables with plush sitting-stools. Lighted make-up mirrors, hairdryers, iron/ironing board ...but no in-room coffee. Check-in: 3 p.m., check-out: 12 noon.
Amenities: The Mirage has all the nice features that Las Vegas visitors have come to expect: spa/fitness center, sauna, salon, arcade, gift shops, giant outdoor swimming pool area, concierge, etc. The Forum Shops are right next door. Free monorail runs between Treasure Island (now called TI) and the Mirage.
Dining: There are 13 restaurants located at the Mirage serving Brazilian, Italian, Chinese, Japanese, and other cuisines ...some very expensive. Its famous "Renoir" French restaurant has closed. The Mirage Cravings buffet is one of the better ones in Las Vegas although it tends to be a little on the expensive side.
Casino: The 95,000 sq. ft. world class casino offers slots, video poker, backjack, craps, roulette, baccarat, pai gow, keno, a poker room, and sports book.
Cost: Get a vacation package and the costs will be reasonable. Otherwise you could pay $150 a night (and higher) for the hotel room alone.
(Previously Aladdin Resort & Casino,) Toll free: 877-333-9474.
Unique features: This is the old Aladdin Hotel, where Elvis and Priscilla Presley were married in 1967. It was imploded on April 27, 1998 and rebuilt (at a cost of $1.4 billion) on its former site.
It reopened on August 18, 2000 with 2,567 rooms but failed to meet its gambling and hotel sales projections (the hotel changed the owner and now called Planet Hollywood). It filed for Chapter 11 protection about a year later.
The Aladdin has the dubious distinction of being the only failure among the Las Vegas new era mega-hotels. Even though the Aladdin Resort & Casino did not do well financially, it was an excellent hotel.
The 34-acre complex was purchased in 2003 by the joint-venture of Planet Hollywood International and Starwood Resorts for $635 million. Deep-pocketed Starwood Hotels & Resorts is the one of the largest hotel and leisure companies in the world with about 750 properties in more than 80 countries ...and $4 billion in sales. The new ownership change was effective September 1, 2004, and an additional $100 million was spent on restyling.
The name of the property was changed to the Planet Hollywood Hotel and Casino. The hotel is managed by Starwood's Sheraton brand. It is the newest member of the Harrah's Entertainment family. In the center of the Las Vegas Strip, it has 2500 newly renovated guest rooms and suites featuring the best views in town, Planet Hollywood encompasses over 100,000 square feet of gaming, and has 75,000 square feet of meeting and convention space.
The casino floor also houses multiple high energy lounges, and for rest and relaxation the Planet Hollywood Spa by Mandara can be found on the mezzanine. Planet Hollywood is also home to Peepshow, starring Holly Madison, a sexy burlesque show with a modern twist.
In 2010 the majestic PH Tower opened its doors adding 1100 beautifully appointed spacious suites and a hot new pool with luxuriously appointed cabanas.
Rooms: ...are about 450 sq. ft. Large bathrooms have marble counter tops, separate tubs and showers ...and hair dryers. Toilet is in a small private room. Iron/ironing board. Check in: 3 p.m.; check out: 11 a.m.
Amenities: Include a 7,000-seat performing-arts center, a showroom, 7 bars/lounges/nightclubs, 2 outdoor pools and a health club and spa. Concierge, 2 wedding chapels. The property is encircled by Miracle Mile Shops with over 170 specialty stores and restaurants.which generally is more affordable than the upscale Forum shops at Caesars and Venetians Grand Canal Shoppes.
Dining: Planet Hollywood has 19 restaurants including KOI and Strip House, Yolo's Mexican Grill, the award winning Spice Market Buffet, and casual dining options including LA's Pink's Hot Dogs, Earl of Sandwich and Planet Dailies. (Their Spice Market buffet is one of the best.)
Casino: The 100,000 square-foot casino has 2,093 slot and video poker machines, 72 table games and a race and sports book.
Three acceptable hotels
(7.) Bally's - 3 stars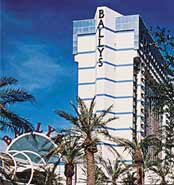 Unique features: With arguably the best location on the Las Vegas strip, Ballys has 2,814 guest rooms in its two 26-story hotel towers. It was built in 1973 as the MGM Grand hotel before the age of luxurious themed hotels. It suffered a devastatng fire in 1980 when 87 people died and 785 were injured in the worst disaster in Nevada history. It was renamed Bally's in 1986. It was last renovated: 1998.
Set back from the street behind formal gardens and accessible by a moving sidewalk. Its sister-hotel, the Paris Las Vegas is connected via an interior corridor.
Rooms: The spacious 450 sq. ft standard room has a marble bathroom with tub and shower. Hair dryer, iron & ironing board, coffee maker. The rooms are good, but not exceptional. Concierge desk. Get your room key at the airport. (Airport check-in located near Carousel One in the main baggage claim area.) Room check in: 3 p.m.; check out 12 noon.
Amenities: The new monorail stops at its back door making it easy to get around the strip. Eight lit tennis courts, outdoor olympic-sized pool, fitness center, sauna, Jacuzzi/whirlpool and spa. Home of the fabulous showgirl extravaganza "Jubilee" ...a (topless) production show which has run for more than 20 years.
Dining: About a dozen restaurants ...including (the pricey) Sterling Sunday Brunch and the (fairly reasonable) Big Kitchen Buffet, both among Las Vegas best.
Casino: 67,000 sq. ft casino has 1,500 slots (from nickel to $1,000 machines that pay out $1 million), video games, 65 table games and a 250-seat race and sports book.
Cost: Less expensive than many hotels, vacation package bargains are usually available.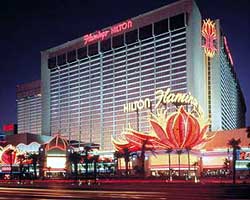 Unique features: A classic Las Vegas landmark that dates back to the strips earliest days. Originally built with mob money on what was then a desert dirt road in the middle of no-where by legendary gangster Benjamin "Bugsy" Seigel.
Opened on New Years Eve in 1946 with 105 rooms and Jimmy Durante as the headliner.
Renovated in 1997, the caribbean-themed Flamingo Hotel & Casino now has 3,642 rooms on 28 floors. Located on 15 acres in the middle of the strip.
Rooms: The Flamingo is one of Caesars family of hotels so you can check in at the airport. This is not a luxury hotel, but rooms (averaging 350 to 400 sq. ft.) are adequate for the price. Concierge. Irons, ironing boards, ...hair dryers. Maximum occupancy: 4. Kids under 18 stay free. Check-in: 3 p.m; noon check-out. (Two night minimum.)
Amenities: Large well landscaped pool area with 4 pools and cascading waterfalls (which can be crowded) and 2 hot tubs. Spa, health club and 4 lighted tennis courts. The hotel has a free wildlife habitat with swans, Mandarin ducks, Koi fish, penguins and (of course) pink flamingos which you can observe while having breakfast at their buffet. Two wedding chapels.
Dining: The Flamingo has nine restaurants including the reasonably priced Paradise Garden Buffet.
Casino: The 77,000 square foot casino features 1,970 slot and video poker machines, (nickel to $100), 70 popular table games and large race and sports book.
Cost: Excellent location. Hotel room rates here are significantly cheaper than most of the surrounding higher quality resorts. Try to get the hotel clerk to give you a grade up room as some are better than others.
(9.) Harrahs - 3 stars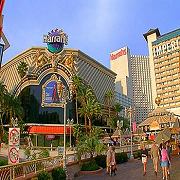 Unique features: Superb dead-center strip location, right across from the Mirage hotel. This festive carnaval-themed casino has 2600 guest rooms in two ("Mardi Gras" and "Carnaval") 35-story towers.
Harrah's Entertainment is in the process of buying Caesars Entertainment in a $9.4 billion deal that will create the world's largest gaming company with over 50 casinos.
Rooms: Recently updated rooms supposedly have "double soundproofed walls" (which some dispute.) Clean and comfortable. Iron/ironing board, hair dryers in rooms. Check-in time: 4 p.m.; check-out 12 noon. Monorail stops at its back door making it very convenient to run up and down the strip. Ask for a room away from the loud Carnaval Court area which parties until the wee hours of the morning!
Amenities: Outdoor swimming pool and on-site fitness center. Casual open-air Carnaval Court bar/nightclub area outside of hotel features live music, singing bartenders, drinks, food and strolling entertainers. Sometimes you can play blackjack in the court area. Piano Bar gets great reviews.
Dining: Contains 8 restaurants. The Fresh Market Square Buffet is a better than average buffet ...and reasonably priced.
Casino: The hotel's 100,000-square-foot casino can be cramped and noisy. Has over 1,200 nickel to $500 slots, 300 video poker machines, 70 game tables, 24-hour live keno, and a race and sports book.
Cost: Price, value and location are its best features. An affordable hotel surrounded by all the expensive luxury resorts.
NEXT PAGE: 3.8 CHECKING IN TO YOUR HOTEL.... ⇨