2.5 Dealing with the Airlines: Getting the best Rates
About 39 million visitors travel to Las Vegas every year with most of them arriving by air. Many airlines serve Las Vegas McCarran International Airport. You'll find a list here of the major ones. McCarran is the seventh busiest airport in the U.S. based on domestic passengers boarded. It is located 5 miles from the Vegas strip.
The top two largest scheduled airlines at McCarran in number of passengers carried are Southwest Airlines and US Airways. Together they account for nearly half of all passengers flying in and out of Las Vegas. Both specialize in high-frequency, low fare flights.
Airline vacation package Providers
Southwest Airlines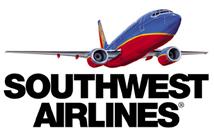 Southwest Airlines began as a small Texas Airline in 1971 with three Boeing 737 aircraft serving three Texas cities: Houston, Dallas, and San Antonio. It has been flying to Las Vegas since 1982. Today, Southwest is the largest U.S. carrier based on domestic passengers boarded. Their fleet consists of more than 500 Boeing 737 aircraft.
McCarran International Airport has two public passenger terminals. Terminal 1 handles most flights and contains an overall 96 gates in four concourses. Terminal 2 primarily handles international and charter flights. A new $1.6 billion Terminal 3 opening in 2012 will provide 14 additional gates.
Southwest's number one destination city is Las Vegas where it handles more than 225 fights a day non-stop to and from more than 50 U.S. cities. Southwest Airlines is the busiest air carrier at McCarran International Airport. It is ranked number one in fewest Customer complaints.
Strangely, due to the so-called "Wright Amendment", Dallas/Fort Worth International Airport - its headquarters city - is not one of them. (They fly out of Dallas Love Field near the downtown area.) But this could change in the years ahead. Its 21 gates in Las Vegas are located in Terminal 1, Concourse B and C.
Southwest Airlines Vacations offers complete air/hotel vacation packages to Las Vegas as well as to destinations across the U.S. Southwest Airlines Vacations partners with many major Las Vegas hotels.
Southwest Airlines also has page on their website where they offer SPECIAL DEALS to people going to Las Vegas. You simply enter the city from where you will be flying. You will find Southwest's deal page HERE. Check it out.
US Airways
US Airways, Inc. is a major airline based in the U.S. It is the sixth largest airline by traffic. Bankrupt US Airways merged in May 2005 with America West Airlines in a $1.5 billion deal that created the nation's largest budget airline with service throughout the United States and overseas. America West was launched in Tempe in 1983 with a fleet of three planes and a couple of hundred employees.

The new airline retained the US Airways name based on research that showed the US Airways name had better brand recognition worldwide than America West. US Airways operates 3,130 flights a day to 200 destinations in 30 countries from its hubs in Phoenix, Charlotte and Philadelphia.
Since the merger, US Airways has been headquartered at the former America West corporate offices in Tempe, Arizona, and America West executives and board members are largely in control of the merged company. US Airways has a very poor record of addressing customer complaints.
The two airlines are a good match. US Airways is strong on the East Coast and has routes to Europe and the Caribbean ...while America West's strength is the Western U.S. and has routes to Hawaii.
US Airways Vacations, (Tel. 800-455-0123) sells vacation packages to hundreds of thousands of vacationers annually. US Airways flights depart from McCaran Airport's Terminal 1, Concourse A and B.
Other low cost airlines that you might want to try are JetBlue, and Spirit, (be careful with Spirit Airlines as they overcharge for checked-in laguage or any other small excuses to fine you, read their terms and conditions before board their plane. This is a common practice among the low cost airlines and the pioneer of these new scheme is Ryan Air; people have charged 40 dollars for forgetting to print the confirmation email.)
American, Delta and United Airlines
American, Delta and United Airlines are not discount airlines. But they do compete in the Las Vegas market and have many convenient flights. Many times the major carriers match the fares of a low-cost airline between the same cities. American Airlines Vacations is located here, Delta Airlines Vacations here and United Airlines Vacations here.
Restrictions and additional costs can apply
Seats may be limited (or not be available) on some flights that operate during peak travel times and holiday periods. Surcharges can also be applied to high demand periods such as weekends, holidays, special events, and convention periods. Airline may charge a baggage fee. (Southwest Airlines does not.)
Getting the best airfare only
There is no one "best site" for getting the least expensive airline tickets. Chances for a deeply discounted ticket increase as you get closer to your departure date. There are substantially less bargains for advance-purchased tickets.
Hint from: INSIDER SECRETS; Tried and true travel advice from the pros.
A supplement to the August 2006 "CONDE NAST TRAVELER" magazine.
When you want to know which carrier offers the best combination of a low fare and a convenient routing, use itasoftware.com, a search engine created by scientists at MIT. Unlike online travel agencies such as Expedia and Travelocity, it is not biased toward certan airlines and provides the most complete list of fight options for a given itinerary. You can't purchase tickets through it, but you can find which carrier best suits your needs and then go to its Web site and book your flights. (Southwest Airlines is not included.)
When one airline announces a fare sale or promotion, many other airlines will match it .... especially when it is a competitive market.
Google did it again!
Want to know when you should book a flight from a particular city to Las Vegas? Google Flights tells you when you should book a flight which you book directly with the airlines.
Just select your departure city (there are ton of them), departure date, destination, return date, and number of travelers. Then click the button to submit your search.
A Fare Prediction shows if the lowest fare is rising or dropping over the next seven days for the specific dates and cities searched.
The advice it gives helps consumers determine the best time to buy a ticket by anticipating what the airlines' price-setting computers will do.
A new breed of travel search engine companies are challenging the big three, Expedia, Orbitz and Travelocity. These new "metasearch" sites can simultaneously scan dozens of travel sites, (including airlines) for the best airfare prices. You can then do a side-by-side comparison rather than having to check many different sites. If you are looking for a cheap airfare only (no hotel) be sure to check out: Mobissimo and Kayak.
Best prices at the last minute

It is best to book your travel arrangements far in advance to take advantage of the lower airfares. The airlines contract for Las Vegas rooms in advance and combine them with their "Super Saver" airfares if they are still not all taken. And air/hotel packagers contract for airline seats in bulk as far as a year in advance, locking in low rates no matter how high prices climb later. They all must be sold.
Last Minute Travel is a site that specializes in clearing out unsold airline seats and hotel rooms. Priceline.com also has last minute deeply discounted tickets.
NEXT PAGE: 2.6 LAS VEGAS VACATION PACKAGES.... ⇨