3.8 Checking in to your hotel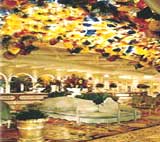 You have finally arrived in Las Vegas and you are immediately confronted with thousands of others in the same boat. People everywhere. And it can get worse once you arrive at your hotel and have to wait in a long line at the front desk to check in.
Frankly, most hotels could do a better job of checking in guests. But they have done it this way for ages and you have to go along with the system. Not a great way to begin your vacation!
Most vacationers try to arrive in the early afternoon since check-in time is usually 3 p.m. All guests arriving before this time are usually accommodated as rooms become available. In any event, the Bell Desk will arrange to check baggage for early arrivals when rooms are unavailable.
A easier and somewhat obscure way to check in exists right at the airport if you are staying at the MGM Grand.. The MGM Grand has full service hotel registration facilities right at McCarran International Airport. It is conveniently located in the Terminal 1 baggage claim area near the Carousel No. 1 to 2 area at the base of the escalators.
The check in center is open Monday thru Sunday from 10 a.m. to 6 p.m. If you are traveling with a companion, one can go to the airport check-in desk while the other heads to baggage claim.
One downside is that while airport check-in is convenient and fast, it is easier to get free room upgrades at the hotel's front desk (however we were told by MGM that the free upgrades always monitored and are not offered complimentary at all in either location especially with the remodel just done).
Hotel check in procedures
When you arrive at your hotel, your bags will be immediately collected outside and you will be given a baggage check with a number. You won't see them again until you call and provide the bell desk with your claim check number and ask that they be brought to you.
You will have to present a credit card and photo identification when checking in. A driver's license with your current address will do. And be sure that you know your social security number since the IRS requires the casinos to get this information if you win more than a certain amount. No SSN, no big jackpot.
A casino is required to give a player IRS form W2-G (a copy goes to the IRS) if you win more than $1,200 at a slot machine; $1,500 or more at keno, or $600 or more from sports wagering if the winnings are at least 300 times the wager. Strangely, W2-G forms are not required for table game winnings (such as blackjack, craps, roulette, etc.) but taxes will be withheld on winnings over $5,000. More on this later in Chapter 11.
You can assume that every hotel is constantly renovating rooms and you should make it a practice to always ask for one of them. Be extra nice and you will improve your chances of getting a good room. It doesn't hurt to ask about a free room upgrade. Tell the room clerk it is your anniversary ...or birthday. (Remember birth dates are usually on your driver's license.)
If you get to the hotel early, go to the promotions booth and apply for a free player's card. Ask for two, one for you and one for your companion. You can also apply for some online before you leave and pick it up upon arrival. Show the card to the room clerk to signify that you are a gambler.
Sometimes a $20 tip to the room clerk will do the trick and it is worth a try. The desk staff frequently has the ability to put you in a better room or even upgrade you to the next room class. Here is how to do it. Simply fold a $20 bill and place it partially hidden under or between your credit card and/or driver's license. As you give the desk clerk the ID, ask nicely for a strip view, a renovated or corner room or room upgrade. You might request a room near the elevator (its quicker to get to and safer since there is more frequent foot traffic.) Tacky as it seems, you can always take back the twenty if you aren't accommodated. There is an art to getting a good room.
When checking in, ask about checking out late (if you have a later flight), telephone charges from your room (even local calls can be high so bring your cell phone), and any additional room fees, surcharges or taxes (sometimes they are not included with your room fee.)
You can ask for and take your own bags to your room, but it is customary to have the bell man do it for you. They work primarily for tips. You will find that tipping is a way of life in Las Vegas. Let's cover this now since you will constantly be faced with it.
Tipping in Las Vegas
There are thousands of service workers who depend on tips to supplement their wages. On the other hand, most hotels are unionized and their income and benefits are frequently more than you would expect. Even the maids, cocktail waitresses and bus boys belong to a union.
My personal opinion is that you tip for good ...not average or routine service. Tips are rewards that are earned for extra care, pleasantness, service and attention. Here are my guidelines on Las Vegas tipping ...in the order that you will probably be faced by a service worker.
First of all, don't spend all your $1.00 bills. You'll need them for tips to various service workers and if you intend to take the strip bus since they don't make change. (More on this in the next chapter.)
Taxi drivers - Ten percent tip if you have no luggage otherwise 20% ...that is providing you get a friendly, helpful service. Getting good advice on where to play, have fun or eat (they know everything!) is worth a bonus. (Keep in mind, however, that many times they get a kick-back to steer customers to a certain establishment.) Hotel doormen hailing cabs for you generally rate a dollar.
Skycaps and shuttle drivers - A dollar or two if they handle your bags.
Bellmen or porters - $1 per bag is pretty much standard; $2.00 if you get extra service such as instruction on how to use the room safe or other advice or directions.
Casino cocktail waitresses - Usually tip $1 a drink ...and I frequently give it to her when she takes the order with a request that the drink arrive fairly quickly. It works better since she knows she is getting a tip. Otherwise it could be a long time before the cocktail arrives. Tell her if you want a stronger drink ...and give her $2 in advance. Hopefully she has some pull with the bartender. Another idea if you are going to be at a gambing location for an extended period is to give the waitress $5 (or $10) in advance and tell her to always keep your glass full.
Washroom attendants - Nothing unless you use their towels or toiletries. Then very little ...less than a dollar.
Valet parking - While free at every hotel, it is customary to give a dollar when you pick your car up. More for quick service.
Room maids - $1 to $2 a day rounded up to the nearest $5 ...more for extra and/or quick service. Put in an envelope marked "Maid" so there will be no confusion.
Slots - Tipping is usually not necessary. But if a change person is pleasant and quick, consider giving them a dollar or two. There are different schools of thought about asking roving attendants which machines are "loose" or "hot." One is, that if they knew, they would be playing them. The other is, since they are around the slots all day they know which ones pay more often. We don't know which is right.
Table games - It is appropriate to tip friendly, helpful dealers with a chip or two if you are winning. Some dealers will actually give you good advice and playing strategy (...such as while playing blackjack.) Tips to the dealer are known as "tokes."
Consider placing a small bet for the dealer. Tell the dealer that a particular bet is for him (or her.) If playing blackjack, place the dealer's chip in the space between your bet and the dealer's cards. Many dealers depend on tips but be aware that many casinos require that their dealers all pool (that is, spit) tips during a specified period. So the tip you leave the nice dealer actually goes to all dealers.
Restaurants, bars and room service meals - The standard 15% is appropriate if in a bar or regular restaurant or if you order a meal from room service; $1.00 per person in a buffet. That is, only if the service is good.
Shows - If your seat is not reserved and must rely on matre de seating (that is, your seat or table is selected by the host at the front of the showroom) it pays to tip approximately 10 percent of the cost of the tickets. Show the tip (rounded up to the nearest $5) folded and cupped in your hand to the matre de and let him know that you want a good seat. If the show is not sold out and, and you still want better seats, ask for a better location and show the usher that you will tip after you are shown to your seats. I really do not like this system, but this is the way it works.
Safety in Las Vegas
Some ideas. Always use the additional dead-bolt lock and fasten the security chain when you're in your room. Use the in-room safe for cash or valuables or your hotel can keep them for you in their safe at no charge. Most maids and maintenance workers are honest, occasionally some aren't.
Don't open your hotel room without looking through the peephole and verifying who is at the door. If a person claims to be a maintenance worker or other hotel employee, call the front desk and ask if the employee is supposed to have access to your room and why.
Put the "Do not disturb" sign outside your door when you leave in the evening (but not before your bed is made up by the maid.) Head off dehydration: drink plenty of water and avoid too much sun.
Avoid cheap hotels, the better ones have a security guard at the lobby elevators. Don't wander around the older, poorer parts of town ...such as the areas adjacent to the far north strip or downtown. Stay under the canopy on Fremont Street or on the well-lit and traveled thoroughfares.
Fire Safety! -- VERY IMPORTANT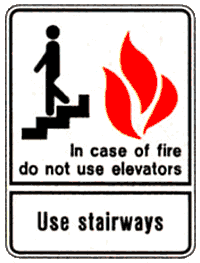 On the morning of November 21, 1980, 85 people died and 678 were injured as a result of a fire at the old 26 story MGM Grand (now Bally's) Hotel in Las Vegas, Nevada. It was the second largest life-loss hotel fire in United States history.
Things to check.
(1.) Read and understand the fire safety information provided in your room as soon as you arrive. It's on the back of the entrance door to the hotel room.
(2.) Check to see that there are sprinklers and smoke detectors in the hotel and your room.
(3.) Walk outside your room and find your closest emergency exit.
(4.) If a smoke detector goes off, you literally have seconds to respond. There is absolutely no time to gather possessions.
(5.) The doors of all interior stairwells should be unlocked so persons entering the stairwell can gain access to other floors.
(6.) Never take an elevator during a fire - always take the stairs.
---
EMERGENCY MEDICAL CARE
The closest medical facility to the Las Vegas Strip is the Harmon Medical Center located less than a block off Center Strip. Nurses and doctors are on duty Monday through Friday from 7 am till 7 pm. Walk in, no appointment necessary. Telephone: (702) 796-1116. Address is 150 E. Harmon Avenue just around the corner from the Planet Hollywood Hotel. They also have an on-site pharmacy, X-rays and laboratory available. Staff also speaks Spanish.
NEXT PAGE: 3.9 SLOT MACHINES & CASINOS EVERYWHERE.... ⇨