3.2 All Las Vegas Rooms are not Equal
All Las Vegas hotels have various sized and quality rooms. You can find information on most Las Vegas hotels here. And here is another list and description of all the larger hotel/casinos in and around Las Vegas, including the ones on the strip.
Most visitors book a standard room which, in the hotel trade, is known as the "Run of the House" or ROH. This room category is assigned upon arrival, usually from a hotel's inventory of the lower priced rooms. In addition to the normal ROH rate, most hotels also have a reduced "casino rate" for those who gamble. More on this later in Chapter 10.
Once your reservation has been processed you will receive a hotel voucher (by mail, e-mail or from your travel agent) that is presented to the hotel upon check-in. Check-in and check-out times may vary according to hotel, but for most Las Vegas hotels, check in is 3 p.m. with check-out by noon. Most hotels will permit up to two hour later check out at no extra charge if requested.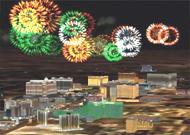 Room rates are per room/night and usually (but not always) include all service charges, surcharges and government tax. Las Vegas room rates vary according to demand and can fluctuate wildly. A $100 daily discounted rate can triple (or quadruple) during a major convention, sporting event or on New Year's eve. As a general rule, however, very few people pay the full brochure price for a room.
All hotels accept payment by Visa, MasterCard, Discover, American Express and traveler's check. Some hotels call their ROH rooms "deluxe" or some other fancy name. They make up the majority of the rooms that each hotel has available.
Depending upon the hotel, the ROH range in Las Vegas can vary in size from small (about 250 square feet) to large (650 square feet) with 400 square feet being about average. Each has either one king size bed or two queen size. Children under 12 years of age usually stay for free in their parent's room using the existing bedding. Maximum occupancy of a standard room is usually four. Cribs are generally free. Rollaway beds or a small fridge or microwave are available at an additional charge.
As a general rule, every hotel has certain common facilities such as a free outdoor or garage parking, 24-hour front desk/security/room service, baggage hold area, individual room temperature control, at least one swimming pool, newsstand, gift shop, telephone, AM/FM alarm clock, television, safe deposit boxes, smoke detectors/sprinklers, non-smoking floors, ice/vending machines, in-room coffee makers, several restaurants (one buffet style), handicap facilities, laundry/cleaning service, fitness/workout center, daily maid service and, of course, a large casino. (In recent years some hotels have added a daily "Resort Fee" to cover some amenities that used to be free.)
Many Hotels/casinos and other Vegas locations have free Wi-Fi & "hot spots" where you can hook your laptop into the Internet. Most hotels do not provide airport transportation.
Handicapped or Elderly Person
All hotels, by law, must have facilities for handicapped guests. if you are traveling with a handicapped or elderly person, there are a few companies in Las Vegas that offer wheelchair or scooter rentals for visitors.
Wheelchair or Scooter Rentals

Ability Center: (702) 434-3030
Active Mobility: (702) 736-4399
Better Life Mobility Center: (702) 876-9606
Las Vegas Wheelchairs (888) 678-6267
Desert Medical Equip (702) 876-9171
Universal Mobility Equip. (800) 852-3006
Medical n Mobility: (702) 233-3770
Mesa Medical: (702) 263-8511
Las Vegas Scooters: (866) 775-4381
Scootaround Inc.: (888) 441-7575
Scooters4Less, Inc. (877) 524-5308
Scoot Away Inc.: (702) 433-5229
Your hotel can make all of the electric scooter rental arrangements for you. (Just ask for the bell captain.) Cost is about $40 for a single day ...down to around $20 for longer rentals. Most hotels will also arrange for diabetics to be delivered a free small refrigerator to their room to keep insuin cold.
The better hotels have valet parking, tennis courts, saunas or spas, brass fixtures, Italian marble, irons/ironing board/hair dryers/lighted mirrors, premium toiletries, various business (fax/copy/high speed Internet) services, free newspapers, Jacuzzi/whirlpool/hot tubs, concierges and usually a wedding chapel. With the exception of Caesar's, all luxurious hotels charge a daily "Resort Fee" of around $20. (See: Chap. 3.3)
If you explain that this is your first trip to Las Vegas you can frequently get a better room in a better tower with a view (of the strip or mountains) without extra charge. Sometimes a $20 "tip" to the check in clerk does the trick. As a general rule, however, rooms with a view cost slightly extra.
NEXT PAGE: 3.3 BE AWARE OF LAS VEGAS RESORT FEES....⇨