7.4 The finest restaurants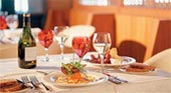 We always plan to eat at one very nice restaurant while in Las Vegas. The following are my "Top 20" Las Vegas Restaurants. These restaurants were selected not only because of their food quality, service and atmosphere, but also because they are conveniently located on the strip and easy to get to. The cost (including a glass of wine) will run from $40 to $75 per person ...and it can be more. Expensive? Yes. But this is Las Vegas and you need to sample the best.

The Triple-A Diamond and Mobil Travel Guide Awards are the travel industry's most coveted and prestigious honors. The 2006 Ratings are based on personal visits by AAA and Mobil Travel Guide field inspectors. No restaurant pays for a AAA or Mobil Travel Guide listing. They are selected on the basis of merit alone.
According to the Zagat Survey, the average Las Vegas restaurant meal costs around $35. (The national average is now a little more than $31.) Expect to pay double that, however, at a fine high-end restaurant. In Las Vegas, the average tab at an expensive restaurant is about $70. Italian cuisine is by far the favorite (named by 35% of respondents) followed by French, Japanese, American and Chinese (11 to 13 percent each.) The Zagat Survey is the world's leading provider of consumer opinion-based leisure content.
(This list is subject to change.)
AMERICAN CUISINE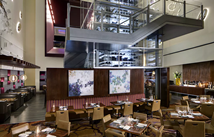 AUREOLE - Mandalay Bay Resort & Casino (3950 Las Vegas Blvd. S, Las Vegas, NV 89119) - Tel. (702) 632-7401 - Dinner: 6:00 to 10:30 p.m. Entree: $50+. Aureole is famous for its four-story acrylic wine tower - the first of its kind in the world - that holds 10,000 bottles of wine priced from $10 to $5,000 per bottle. Chef Charlie Palmer, whose flagship restaurant is in New York City, features award winning gourmet food paired with select wines. Aureole is continually rated top for food, service, décor, and wine selection ...one of the few Four Diamond restaurants in Las Vegas. Wine list is stored on an electronic notebook computer. Reserve a table close to the wine tower so you can see your wine being retrieved by an acrobatic harness-clad female wine steward from the 42-foot tower. Mobi Four-Star restaurant.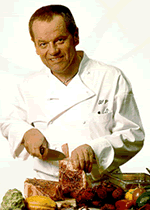 SPAGO in the Forum Shops at Caesars Palace (3500 S Las Vegas Blvd. S., Las Vegas, NV 89109) Reservations suggested: Tel. (702) 369-6300. This offshoot of the famous Beverly Hills Spago features California Cuisine. Wolfgang Puck restaurant is credited with starting the trend in 1992 to fine food and celebrity chefs in Las Vegas. Dining room open: Mon.-Thu. 6-10 p.m., Sat. 5:30-10:30 p.m., Sun. 5:30-10 p.m. Great restaurant for people watching. Entrees: $15 to $35. Has an outside patio café section (great for people watching) and an inside dining room.
Americana Restaurant on the Lake(2620 Regatta Dr Suite 118, Las Vegas, NV 89128). Located off the Strip, Americana offers a serene atmosphere with beautiful views of the lake. Stop in for a five-course meal featuring seasonal dishes like sashimi, oysters, or seared foie gras. Tues-Sat: 11:30 AM to 10 PM and Sun: 11 AM to 2:30 PM.
ASIAN

NOBU at the Hard Rock Hotel (4455 Paradise Rd., Las Vegas, NV 89109) Tel. (702) 693-5090 - This one is not on the strip but it is close by. We are compelled to list it since the food is so good! - Robert DeNiro is one of the owners. - Famed Chef Nobu Matsuhisa's fine restaurants stretches across the globe (including Milan, Italy, Tokyo, London and Paris.) The world's best Japanese cuisine with a Peruvian touch. - Dinner: Nightly 6:00-11:00 p.m. Entrees: $30-$50. Specializing in Sushi and Kobe beef. (Nobu trained as a sushi chef in Tokyo.)
CONTEMPORARY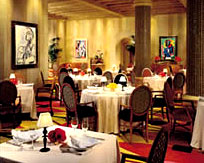 PICASSO inside the Bellagio Hotel - Casino (3600 Las Vegas Blvd. S., Las Vegas, NV 89109) Reservations required: Tel. (702) 693-7223 - This may be the finest restaurant in Las Vegas ...a Mobil Four Star and AAA Five Diamond Restaurant with French-Mediterranean cuisine. Entrees: $30 and up. (Fixed-price 4-course dinner $85, 5-course $95) - Dinner: Wed.--Mon. 6:00-9:30 p.m. (Closed Tuesdays) Features the beautiful and authentic masterpieces, ceramics, tiles and sculpture of Pablo Picasso ($50 million worth!) The lake view and water-show makes this one of the most romantic spots in town. If you want to splurge - or make an impression, this is the place to go. Unmatched service and atmosphere. Ask for a terrace table.
FRENCH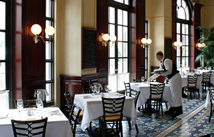 BOUCHON in the Venezia Tower of the Venetian Resort & Casino (3355 Las Vegas Blvd. S., Las Vegas NV 89109) - Reservation recommended. Tel. (702) 414-6200 or toll-free (888) 283-6423 - Owned by award-winning Chef Thomas A. Keller who was named "America's Best Chef" by Time Magazine in 2001. He trained in Paris and New York City. Bouchon is modeled after the original bistro located in Yountville, (Napa Vally) California. Very classy French bistro ...also has outdoor patio seating area overlooking lush gardens and fountains. Outstanding food, attentive service, ...knowledgeable waitstaff. Dinner: Seating every 30 minutes from 5:00-9:30 p.m. (Closes at 11:00 p.m.) - Price: $25-$35.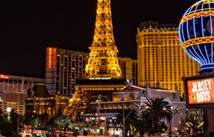 EIFFEL TOWER RESTAURANT at the Paris Hotel and Casino (3655 Las Vegas Blvd. S., Las Vegas NV 89109) Reservations suggested. Tel. (702) 948-6937, Toll-free: (888) 266-5687 Dinner: Sun-Thurs: 5:30-10 p.m.; Fri & Sat: until 11:00 p.m. Perched 11 stories above the strip in the 50-story Eiffel Tower replica at Paris Las Vegas. One of Las Vegas most intimate and romantic restaurants with a breathtaking view of the strip and the Bellagio dancing water show. Ask to be seated by a window facing the Strip. World-renowned Chef J. Joho provides great French classic cuisine. Very expensive; entrees: $30-$50 ...and higher for the lobster thermidor. (2006 winner of the AAA Four-Diamond Award.)
LE CIRQUE at The Bellagio (3600 Las Vegas Blvd. S., Las Vegas, NV 89109) - Reservations required Tel. (702) 693 8100. This Mobil Four-Star and AAA Four Diamond restaurant overlooks Bellagio's eight-acre lake and its dancing fountain water show. Circus-themed French gourmet restaurant. Dinner daily 5:30-11:00 p.m. Attire: dressy. Jacket and tie required for the men. Expensive: Entrees more than $40 per person.

MON AMI GABI at Paris Las Vegas - (3655 Las Vegas Blvd. S., Las Vegas, NV 89109-4345 - Reservations suggested for indoor seating: Tel. (702) 944-GABI) (4224) - This French bistro is noted for its steak and seafood. The outdoor patio offers a romantic view of Bellagio's watershow and the strip ...a great place to people watch. Get there early since they don't take reservations for the terrace where it is first come-first served. Dinner: 5:00-11:00 p.m., Fri.-Sat. until midnight. Entrees: (Expensive) $30-$50. Very highly recommended by those who know food: Frommers, Fodors, ...Gayot.
ITALIAN
TRATTORIA DEL LUPO in the Mandalay Bay Resort/Casino (3950 Ls Vegas Bvld. S., Las Vegas, NV 89119) Reservations Tel. (702) 740-5522 - Wolfgang Puck's first (and only) Italian restaurant. Executive Chef Mark Ferguson, a former chef at Spago, trained in Rome to learn authentic Italian cooking. Dinner: Daily 5:00–10:00 p.m. (Fri.- Sat. Until 11:00 p.m.) - Patio dining is great for people watching. - Entrees: average $25 to $30. - Traditional and contemporary Italian cuisine.
Twist by Pierre Gagnaire at Waldorf Astoria – ((3752 S Las Vegas Blvd, Las Vegas, NV 89158) – Twist is currently the chef's only restaurant in the U.S. Pierre Gagnaire is known for his incredible French cuisine that boasts an innovative menu that gives classic French fare a modern spin. You can expect to see dishes like roasted pineapple puree and braised daikon. However, menu items change seasonally. Tue-Thurs: 5:30 PM – 9:30 PM and Fri-Sat: 6 PM – 10 PM.
SEAFOOD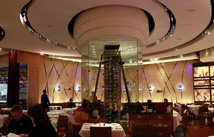 EMERIL'S NEW ORLEANS FISH HOUSE - MGM Grand Hotel - (3799 Las Vegas Blvd, S., Las Vegas, NV 89109) - Reservations strongly suggested. Tel. (702) 891-7374 - Recently renovated - Award-winning cajun-creole seafood, exceptional service and Bourbon Street ambiance - One of celebrity Chef Emeril Lagasse's fine restaurants, Resident Chef Jean Paul Labadie - Dinner: Daily 5:30-10:30 p.m. - Entrees: (Expensive) $20-$40. (More for lobster).
MICHAEL MINA (Formerly known as AQUA) - Bellagio Hotel (3600 Las Vegas Blvd, S., Las Vegas, NV 89109) Reservations suggested: Tel. (702) 693-7223 and (877)-234-6358 - Located in the resort's beautiful Conservatory & Botanical Gardens - Super Star Chef Michael Mina brings his popular San Francisco concept to Vegas. - The restaurant has a new resident Executive Chef Jon Mathieson having lost its longtime Chef, Mark LoRusso to Wynn Las Vegas. - The restaurant name has changed but the innovative California and Mediterranean seafood dishes remain - Dinner: 5:30-10:00 p.m. - Entrees (Expensive) $30 to $70; Five-course tasting menu, $85. - Mobil Four-Star Award (2006) and Epicurean Award (2005) winner for Best Seafood. Attire: Women, dressy. Men, Jacket.
STEAK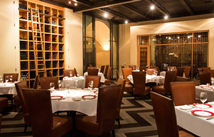 DELMONICO STEAKHOUSE at the Venetian Resort & Casino - (3355 Las Vegas Blvd, S., Las Vegas, NV 89109) - Reservations suggested. Phone: (702) 414-3737 - Another award-winning Emeril Lagasse restaurant ...a classic American steakhouse with a New Orleans Creole influence. The food, service and atmosphere are first-class. - Resident Chef de Cuisine: Dana D'Anzi - Dinner: 5:30-10:30 p.m., Fri.-Sat. until 11:00 p.m. - Entrees: (Expensive) $30-$50. - 2004 Epicurean Award winner for Best Steak House.
Andiamo Steakhouse at The D Las Vegas – (301 Fremont St, Las Vegas, NV 89101) – For American prime and authentic Italian flavor, head to Andiamo Steakhouse at The D Las Vegas. The restaurant's award-winning sauces, handmade pasta, and fresh dishes prepared from scratch every day make the restaurant a top contender for one of the best fine restaurants in Las Vegas. Open nightly from 5 PM to 11 PM.
In a recent article published by The Daily Meal listed the 101 Best Restaurants in America for 2018. Las Vegas graced the list four times. For the ultimate dining experience, try one of the following top Las Vegas dine dining establishments.
Coming in at #87 is Bazaar Meat by Jose Andres. The sophisticated restaurant offers playful theatrics and artful service which makes it truly one-of-a-kind. The dining room is open to private events and can also be booked through reservation. On the menu, you'll find a wide selection of delicacies, ranging from suckling pig to grilled Maine lobster. Bazaar Meat is located at 2535 S Las Vegas Blvd. (702) 761-7610) Sun-Thus: 5:30 PM – 10 PM and Fri: 5:30 PM – 11 PM.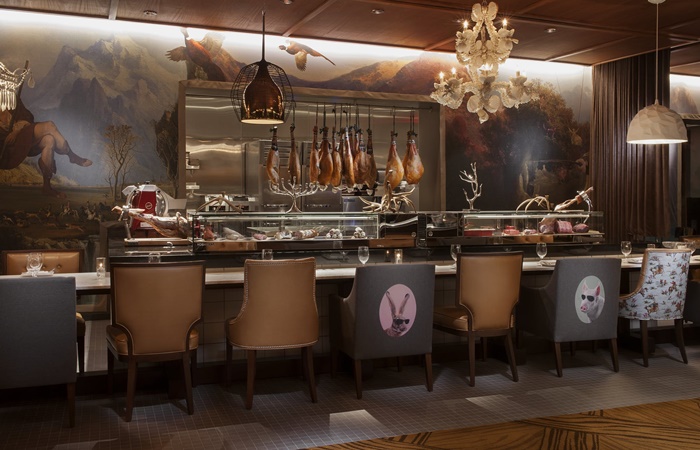 Next up on our list coming in at #45 is E by Jose Andres. If you don't know this place exists, you might just miss it. You can find this elegant eatery tucked away in a private room next to Jaleo's bustling bar and paella grill. What makes this restaurant truly unique is that it only has seating for nine. Reservations must be made up to three months in advance as only two seats are available nightly. You can find the restaurant on Level 3 of the Boulevard Tower. Tues-Sun: 5:30 PM and 8:30 PM. Seats last approximately two hours.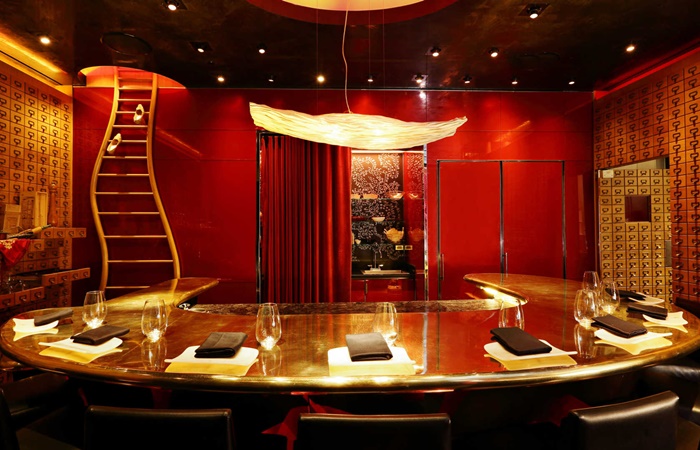 Restaurant Guy Savoy is #11 on the list. The fine dining establishment is located in the Augustus Tower near Qua spa and features French dishes created by famous Guy Savoy. On the menu you will find classic dishes like soupe d' artichaut a la truffle noire and Fondant au Chocolat. Guy Savoy is located at 3570 S Las Vegas Blvd. Wed-Sun: 5:30 PM – 9:30 PM.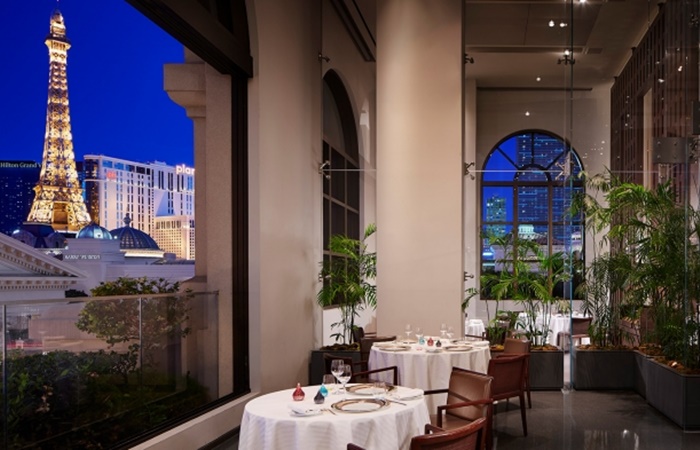 The final restaurant on the list at #7 is Joel Robuchon, located inside the MGM Grand. The French Three Michelin Star restaurant caters to a sophisticated palate and has won countless awards for its innovative dishes. Dining at Joel Robuchon means a quiet and intimate experience that promises to be one of the best meals you will ever eat. You can find Joel Robuchon located at 3799 S Las Vegas Blvd. Mon – Sun: 5:30 PM to 10 PM.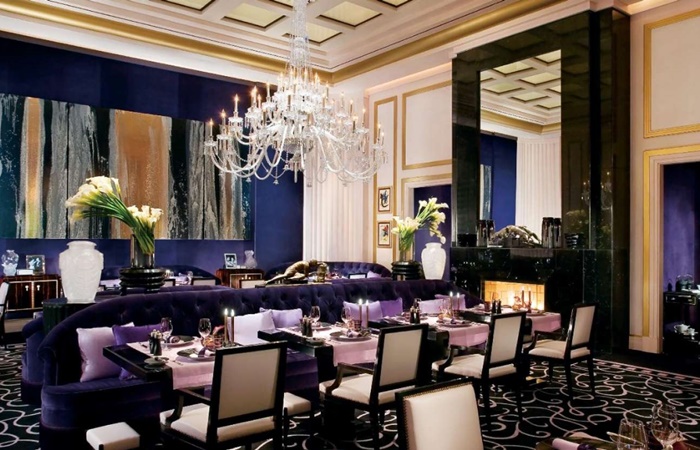 NEXT PAGE: 7.5 FINDING A NEARBY RESTAURANT.... ⇨