Chapter 2: Las Vegas Planning Ahead
Top 10 Las Vegas Visitor Failures
Failing to check the Las Vegas Convention schedule. -- Las Vegas hotel rooms are priced by supply and demand. When demand increases, so does the rate. Schedule trips during slack convention weeks.
Failing to stay at a decent Center Strip hotel. -- Know which are your target hotels. Don't be swayed by price alone. The really inexpensive ones are usually poor quality.
Failing to book online. -- Travel agents, sales booths at hotels, ticket companies, etc., must necessarily charge fees and commission that is passed on to the buyer.
Failing to book week days rather than weekends. -- The average stay in Las Vegas is three days. But you can usually book a four night (Sunday to Thursday) stay for the same price.
Failing to check for hotel room sales. -- Every hotel constantly runs room promotions about 60 days ahead of the sale date. Wait until a couple of months before your planned departure to book your room.
Failing to compare room sale rate to air-hotel package cost. -- A package price can often be a lower overall cost especially if you can get in on the super saver fare. Deduct the lowest airline fare from the package price to determine the actual room cost. Call the hotel and ask if they can meet the price.
Failing to compare major online travel company prices to airline package cost. -- Always check Expedia, Travelocity, Orbitz and major airlines ...especially America West (soon be merged into US Airways) and Southwest Airlines ...Las Vegas two largest low cost air carriers.
Failing to plan your itinerary for each day. -- With so much information available online, don't wait until you get to Las Vegas to map out your vacation. Plan Center Strip, South Strip, North Strip & Downtown and Off Strip excursions.
Failing to make major show and restaurant reservations in advance. -- You will want to go to some nice shows and restaurants. Most shows accept online reservations or just call the box office and have your tickets waiting. Booking while in Las Vegas can be a hassle ...and the good shows will be sold out. Find and use "price off" coupons for the lower-priced shows.
Failing to use public transportation. -- Don't rent a car unless you are sightseeing far from Las Vegas. Traffic congestion and parking is a problem and Strip transportation (bus, monorail, trams, shuttles, etc.) are more than adequate.
You will first need to make some basic decisions about your trip to Las Vegas. What month do you want to go? How long do you stay? Which days of the week are best?
As we mentioned in Chapter One, prices are related to supply and demand. Hotel rates are always higher when demand is the most. Demand increases in Las Vegas during nice weather months (especially when it is cold in other parts of the country), during major "events" (such as during boxing matches, NASCAR races or the National Finals Rodeo), during major conventions (such as the Consumer Electronics Show and NAB convention), and over holiday weekends (such as July Fourth, Labor Day and New Years Eve.)
From a cost standpoint, probably the best month to go is early December when most people are getting ready for Christmas. The second and third week of December generally have the best Vegas hotel prices of the year.
Many travelers shy away from the hot months and it does tend to be a little less crowded during the summer. Las Vegas temperatures during the day in June, July and August generally average over 100 degrees and you will have to stay inside or lounge near the pool. Its not all bad. The hotels compensate for the reduced customer traffic by discounting their room rates during the hot part of the year.
All things considered, the ideal months to visit Las Vegas is in the Spring and Fall: April and May and September and October. The city will be in full swing. But the hotels need to fill their rooms year round and, for the most part, they tend to do just that. So we will leave which month you want to go up to you.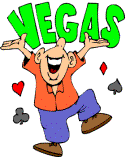 As far as how many and which days of the week, we recommend a four night, five day vacation from Sunday through Thursday. That's when you will get the most value for your vacation dollar. Room rates are always higher on the weekends.
About three months before your vacation you should start to do some serious planning. Begin seeking out which weekdays offer the best rates at your target hotels. Since it is your first trip, we recommend you stay in the middle of the Strip. The center strip is where the action is and it is a very convenient jumping off point to all of the sights and entertainment. For our purposes, this means being close to the intersection of Flamingo Road and Las Vegas Boulevard. We will be covering lodging and where to stay in Chapter 3.
Once you have zeroed in on the dates of your trip and where you will be staying, you will have to begin looking into how you will be getting to Las Vegas. Most people fly in and out of McCarran International Airport which is located close to the southern end of the Strip.
When you have your hotel and travel nailed down, you should determine what entertainment you want to see. Reservations can (and should) be made as far in advance as possible. The best shows start filling up two months ahead of time. We will cover that aspect in Chapter 6.
NEXT PAGE: 2.2 WHAT'S OUR VEGAS TRIP GONNA COST ? ⇨