9.3 TUESDAY: South strip stroll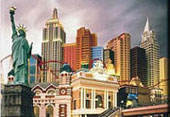 On Sunday evening we snooped around the Center Strip at night, yesterday we explored their interiors. Today we are headed south. The South Strip primarily includes the following properties: Mandalay Bay (3700 rooms), Luxor (4474), Excalibur (4008), Tropicana (1874), MGM Grand (5005), New York-New York (2023) and the Monte Carlo (3024.) That's nearly 25,000 rooms in a quarter mile radius that must be filled every day.
McCarran Airport and the famous "Welcome to Las Vegas" sign are both on the South Strip. Actually the Las Vegas Strip is not in the Las Vegas city limits. Instead it is in an unincorporated area of Clark County known as the township of Paradise, Nevada. Supposedly, the town was created to prevent the city of Las Vegas from annexing the Strip.
The South Strip keeps lengthening and a new South Coast Casino-Resort is already under construction five miles south of the Mandalay Bay. The first of three phases opens in 2006 and it will eventually grow to 2,000 rooms. The South Strip is considered a lucrative location since it is the first area that tourists see when driving in from California. (One third of all Vegas visitors are from California!)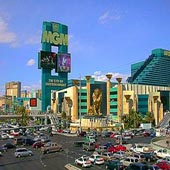 8:00 a.m. - MGM Grand Hotel-Casino - Let's start our South Strip excursion by taking the monorail from one of their Center Strip stations to the MGM Grand where we will have breakfast. The MGM Grand Buffet opens at 7:00 a.m. (Cost is $12.99 Mon-Fri; $4 more on Sat-Sun.) You get there from the monorail by walking though the casino.
The MGM Grand is the largest hotel in the world with over 5,000 rooms. It is a huge, sprawling property and it is very easy to get lost in it. (Here is a property map that might help you find your way around.)For amenities, the MGM has a free Lion Habitat (opens at 11 a.m.) where lions and their cubs play in a 5,000-square foot, floor-to-ceiling glassed-in compound. The MGM is also home to two of the better nightspots in Vegas: Tabú and (recently renovated) Studio 54 (Both open Tues-Sat from 10 p.m.) The hotel hosts all sorts of major sporting events and entertainment in their Grand Garden Arena and Hollywood Theatre. MGM built a special showroom for their Cirque du Soleil $165 million martial-arts-themed extravaganza: Ka. (Ticket prices are high! $99, $125 and $150.) Celebrity chef Emeril Lagasse's New Orleans Fish House is excellent here.
Our next stop will be across the street to the Tropicana. Take the Tropicana Bridge out of the MGM (not the New York-New York Bridge.) You may have to ask for directions on how to get there.
10:00 a.m. The Tropicana is an older hotel having been around for nearly half a century. The French revue, Folies Bergere has been playing there since 1957 and is one of two classic Vegas-style production shows still left in Vegas (The other is Jubilee! at Ballys.) The late (10:00 p.m.) show is topless. (Tickets: $57.)
Sadly, the Casino Legends Hall of Fame and Gambling Museum which housed a huge collection of Vegas memorabilia has closed as has their free exotic bird show and Wildlife Habitat Walk. But the free "Air Play" aerialists accompanied by showgirls still perform in the casino afternoons and evenings daily except Thursdays. This hotel is badly in need of updating and we understand the hotel will undergo major construction next year (2006.)
Just east of the Tropicana (a half block) is the (700 room) Hooters Casino Hotel - Tel. (702) 739-9000 - Toll free: 1-866-LVHOOTS (584-6687). It previously was the Hotel San Remo but has now been rebranded and remodeled into an entirely new "party oriented" property ...complete with more than 200 of their famous Hooters girls in skimpy short-shorts and tight tank tops. It opened Feb. 3, 2006. The pool area has been enlarged to about three times its original size and features a tropical themed Hooters Beach Club and swim-up bar.
Just west of Las Vegas Boulevard on Tropicana Boulevard is the Excalibur. (To get there, take the bridge near the Tropicana Hotel that goes over Las Vegas Boulevard.)
11:00 a.m. The Excalibur Hotel is connected to the Luxor Hotel and Mandalay Bay Resort by a free tram that runs every 5 minutes 24 hours a day in front of these hotels. It operates between Excalibur and Mandalay Bay southbound, but stops at all three hotels northbound. Let's ride the tram south from the Excalibur and since we are going south, the first stop is the Mandalay Bay Resort.
12:00 noon - The Mandalay Bay Resort-Casino is the best (and my favorite) property on the South Strip. This tropical themed desert oasis features an 11- acre outdoor lagoon with a sand-and-surf beach and wave pool. The Mandalay Bay Theatre hosts the Broadway smash hit "Mamma Mia!" based on the songs of ABBA. (Tickets: $82.50 to $110.00.)
A must see is the $40 million "Shark Reef," ...a 2-million gallon ocean aquarium with over 100 species of sea-life that you can walk underneath through a tunnel. (Cost: $15.95, Children: $9.95. Opens at 10:00 a.m.)
Their "Rum Jungle" nightclub opens at 11:00 p.m. Thursday through Sunday. The Mandalay Bay Events Center can seat 12,000 people.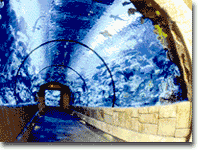 Rather than take the tram to the pyramid-shaped Luxor (next door), we suggest that you walk through Mandalay Place, a unique shopping mall with 41 boutique stores and restaurants located on a skybridge between the two hotels.
1:00 p.m. - Luxor Las Vegas with a theme of Ancient Egypt is shaped like a pyramid with a giant sphinx out front. Its light beam (the world's most powerful) at the top can be seen from outer space. Due to the sloping walls, Luxor does not have elevators. Instead they have "inclinators."
Attractions include a giant (68 foot high screen) IMAX movie theatre with 30,000 watts of sound. The theatre continuously shows several different titles (each last about an hour, $9.99) beginning at 9:00 a.m. They also have a giant arcade and three different motion simulator rides including "In Search of the Obelisk" a journey through an ancient, newly discovered pyramid. King Tut's Tomb and Museum is a short (10 minute) self-guided tour. (Usually free to hotel guests but unless you are an ancient history buff, I'd think twice at paying the $5 admission.) Luxor's modern dance club "Ra" opens at 10:00 p.m. (Wed.-Sat. Cover: Usually $20 for men, $10 for women.) Their buffet, Pharaoh's Pheast, is better than average and is in an "archeological dig" downstairs.

The Luxor's hit production show, the Blue Man Group has been performing at the 1,200 seat Luxor Theater for five years. Starting in October 2005, however, this wacky music show performed by three non-speaking blue-headed men moves to the Venetian where a special state-of-the-art theater is being built for them.
In its place, the hit Broadway musical "Hairspray" winner of eight 2003 Tony Awards, including Best Musical) will debut later this year at the Luxor. It will run for 4 years.(The show is being modified to play 90 minutes without an intermission.) "Hairspray" initially will run six shows per week in its 1,550-seat theater, with tickets priced at $25-$120.
Next, take the automated "people mover" (or the tram out front) to the Excalibur next door.
The 2:00 p.m. - Excalibur Resort Hotel-Casino is an excellent hotel to visit, especially if you have children with you. This medieval castle complex has a moat and a fire-breathing dragon.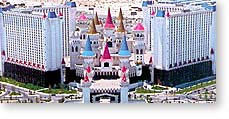 The lower level "Fantasy Faire" level has midway-type games and the Excalibur showroom. The casino is on the middle level. The Court Jester's Stage located on the third "Medieval Village" level offers free entertainment (such as puppetry, jugglers and musicians) for the whole family beginning at 11:00 a.m.
King Arthur's Tournament of Kings is a dinner show daily at 6:00 and 8:30 p.m. It features jousting, invading armies, dragons, fire-wizards, and dinner. Tickets are $55.00.
But not all at the Excalibur is for kids. The Thunder From Down Under show is an Australian all-male stripper revue for women in Merlin's Theatre.
3:00 p.m. - Walk over the bridge to New York-New York. You will enter on the mezzanine level and pass by the legendary "Coyote Ugly Saloon" (on the left). Go down stairs to the casino level.
On the right is the Cabaret Theatre where soft-spoken comedienne Rita Rudner has her (excellent) show. Off in the corner is the Zumanity Theatre, the sexiest of the Cirque du Soleil shows. (Fri.-Tues. at 7:30 and 10:30 p.m.) There are many restaurants around the perimeter of the casino. In the center are stairs that take you down to the Coney Island-style roller coaster, the Manhattan Express. (200 feet high with a 150 foot drop.) It goes outside and zooms around one-third size replicas of New York City landmarks. (Tickets $12.50; re-rides $6.)
Go out the main entrance of New York-New York and to the left (North) is the Monte Carlo Hotel-Casino.

4:00 p.m. - The Monte Carlo is the home of Lance Burton, Master Magician. He has the best family-oriented magic show in Vegas. Burton performs Tuesday through Saturday in the $27 million theatre built especially for him. Tickets cost around $65.
The Monte Carlo Pub & Brewery features great food and microbrews and live music and dancing beginning at 9: 30 p.m. (No cover charge.)
Across the street (right next to the MGM Grand) you'll see a giant Coke bottle at the entrance to Showcase Mall, a specialty retail, food court and entertainment complex. Be sure to drop by the multi-floored "Everything Coca-Cola store" and "
M&M's World
". (Fun places to snoop around.) Open daily at 9:00 a.m. You will also find a "
Tickets 2Nite
" booth near the Coke Bottle. They feature tickets for tonight's shows at half price. (But they won't have tickets to the top rated shows since they sell out.)
Looking for a pharmacy or drug store? -- There's a 24-hour Walgreens (which also has 1-hr. photo processing) at 3763 Las Vegas Blvd. S. - Tel. (702) 739-9638), almost directly across from the Monte Carlo.
To get back to Center Strip, take either the (free) Monte Carlo to Bellagio tram on the west side of the strip ...or the monorail from in back of the MGM Grand on the east side. ($3)
NEXT PAGE: 9.4 WEDNESDAY: NORTH STRIP STROLL... ⇨