6.7 Bars, lounges & stand up comedy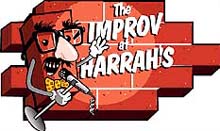 Rita Rudner at the Venetian Showroom - (3355 S. Las Vegas Blvd.) - Tel. 866-641-7469 or 702-414-9000 - Multi-award-winning comedian, actress, writer and bestselling author Rita Rudner brings her acclaimed offbeat humor to The Venetian Showroom. - Time: Mondays and Wednesdays at 8:30 p.m. and Saturdays at 6 p.m. - Ticket prices start at $49.00 for General Admission. (Plus ytax/fees.)- (Video preview.)

---
Marc Savard Comedy Hypnosis at Planet Hollywood - 3663 Las Vegas Blvd - (Tel: 866-551-6463 or 702-932-1818) - V Theater in the Miracle Mile Shops - Saturday to Thursday at 10:00 p.m., dark Fridays. - Marc takes volunteers from the audience and makes them surrender to the sound of his voice; he can make them say or do anything, and the results are hilarious. - Cost: $33.99 (Plus tax/fees.)- For ages 18 and up due to some adult humor. - (Video preview.)
---
Riviera Comedy Club - Riviera Hotel/Casino (2901 Las Vegas Blvd. S.) - Showtimes: Nightly at 9 p.m. -In addition to headliner comedians, the Riviera Comedy Club features specialty performers such as ventriloquists, hypnotists, "shock" comedians and more. -Must be at least 18 years of age - Tickets: $24.99 & $34.99 (plus tax/fees.) - Telephone: (702) 794-9433. (Video preview.)
---
The Mentalist, Gerry McCambridge at Planet Hollywood - (3663 Las Vegas Blvd.) - Tel. (702) 932-1818 - He is a TV Celebrity, Broadway performer, Vegas Headliner & Multi-Award Winner. - The Las Vegas Review Journal readers poll nominated him "Best Magician" in all Las Vegas. - Daily except Wednesday - Tickets: $49.99 (Plus tax/fees.) Showtime: Nightly at 7:320 p.m. in the V Theatre. (Review here.)
Bars & Lounge Entertainment
There are more than fifty lounges in Las Vegas and most hotels have more than one. It is almost impossible to keep up the with the lounge acts since they frequently change performers. But here are two lists (Lounge List No. 1) and (Lounge List No. 2) that are updated often. Most lounges feature live music and free entrance ...that is, they have no drink minimum or cover charge. Some recommendations:
---
Caramel Bar & Lounge at the Bellagio Resort and Casino - (3600 Las Vegas Blvd.) - Tel. (702) 693-8300 - Hours of operation: Mon-Sun: 5pm-4am - Music is played nightly by local DJs. Dance late into the night, or even early in to the morning! - Full bar available. - Combines all the high energy and excitement of a nightclub with the intimate scenery of an exclusive ultra-lounge.
---

Jimmy Buffet's Margaretaville - Flamingo (North corner - 3555 Las Vegas Blvd S.) - Telephone: (702) 733-3302 - (800) 851-1703 - Hours: Sunday - Thursday: 8 a.m. to 2 a.m., Friday and Saturday: to 3 a.m. - Live music: 7:30 & 10:00 p.m. - Margaritaville has a nautical, tropical, festive atmosphere. - No cover charge - A fun place. - Serves Key West/ Caribbean food ...margaritas (naturally) their specialty.- Three floors with large outdoor balcony overlooking the Strip. - Does not take reservations, so go early (or wait in line!) Jimmy Buffett's 15,000-square-foot Margaritaville Casino at the Flamingo Las Vegas opened Oct. 1, 2011. It has 22 gaming tables, 220 slot machines and a centerpiece, tropical-themed "5 O'Clock Somewhere" bar.
---
Toby Keith's I Love This Bar & Grill at Harrahs Hotel-Casino (on second floor)- 3475 Las Vegas Blvd S- Tel. (702) 693-6111 - Country music singer owns this bar which also features country cooking. - Hours: 11:30 a.m. to 2:00 a.m. Sun-Thurs - Until 3:00 a.m. Fri-Sat - Live Music Nightly 9 p.m. to 2:00 a.m. - Features live rock and country entertainment, dance floor and a guitar-shaped bar.
---
Gilley's Saloon, Dance Hall & Barbecue at Treasure Island Resort & Casino - (3300 Las Vegas Blvd.) - Tel. (702) 894-7111 - Mud wresting - Bikini bull riding - Hours: Sun to Thurs 11:00 a.m. to 2:00 a.m. - Fri & Sat until 4:00 a.m. - Free dance lessons: Mon-Wed-Thurs-Sun at 7:00 p.m. - Live country rock music each Friday & Saturday as well as during special events and holidays. - Cover charge ranges from $10 to $35 per person after 9:00 p.m. Get there early & avoid the cover. - Food: burgers, barbecue and such.
---
Coyote Ugly at New York-New York Hotel & Casino - (3790 Las Vegas Blvd S.) - Tel. (702) 740-6969 and (toll free) 866-520-UGLY - A southern style saloon featuring hot female bartenders who have elevated pouring drinks to an art form. Open: 7 days, 6 p.m to 4 a.m.) Get there before 9 p.m and avoid $10 cover charge. (Fun if free, but IMHO not worth the cover.) - A nutty place where sexy bartenders dance and do other rowdy stuff on the bar. No live music ...only jukebox. Only shots and beer are served ...no cocktails. Gal guests are asked to contribute to the "Bra Wall of Fame." - (Video preview.)
---
Kahunaville at TI - Treasure Island Hotel/Casino (3300 Las Vegas Blvd. South) - Telephone: (702) 894-7390 - Is it a theme restaurant, a nightclub, a pub, a bar ...a lounge? Actually it is all of these. But probably fits best as a lounge. Across from the Mystere theater, Kahunaville replaced the video game arcade. Crazy, unpredictable tropical atmosphere. (Wildest bar in Las Vegas; bartenders juggle bottles, light drinks on fire and have amazing pouring skills.) Live music ...even poolside service. A miniature version Bellagio dancing water show erupts every few minutes. Food has a Caribbean flair ...everything from sandwiches to full blown ($10-$25) mostly seafood entrees. Excellent margaritas. Restaurant open: 8:00 a.m. to 11:00 p.m.. Party bar open 11:00 a.m. to 2:00 a.m. Sun. to Thurs. - Until 3:00 a.m. Fri & Sat.
NEXT PAGE: 6.8 SEAMY SIDE OF SIN CITY.... ⇨