5.1 Things to do on the Strip ...or close by
Where should I stay? ...and why!
Needless to say, Las Vegas resorts – and especially the casinos – need their 150,000 hotel rooms filled up and gamblers playing at their slot machines, gaming tables and sports book. As a result, every hotel has ongoing room specials and free or low cost attractions to pull in the public.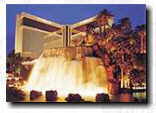 You can find the room deals at the hotel's web site. Usually the room promotions offer lower pricing during certain slower periods ...or combination money-saving deals involving free food and shows. They hardly ever apply to people purchasing vacation packages offered by the airlines or other vacation providers.
Here is a list of the major ongoing attractions on or near the Strip.
Free and low cost center strip attractions
Antique Auto Collection
at the LINQ Hotel & Casino. (3535 Las Vegas Blvd.) The over 250 antique, classic and special-interest automobiles make up the world's largest privately owned collection with more than $100 million worth of inventory on display and nearly all are for sale.
The Auto Collections and its well-stocked gift shop is open to the public seven days a week, from 10:00 a.m. to 6:00 p.m. Located on the fifth floor of the parking structure of the LINQ Hotel and Casino, admission is $8.95 for each adult, $5.00 for seniors and children 12 and under, with children under three admitted free with an adult. Hardly anyone pays the full price.
There are many coupon special offers. Some are even handed out in front of the hotel. Their website offers free admission, just print out the coupon. (Center Strip, Tel. 702-794-3174.)
---
Volcano in the Center of a Lagoon
in front of the Mirage Hotel & Casino (3400 S. Las Vegas Blvd.) erupts every hour on the hour from 8:00 p.m. to midnight daily (weather permitting.) It is a spectacular show of fire balls dancing to drum beats and lava erupting to the music.
The Volcano show was totally redone and updated in 2006. The exploding 54 foot volcano spews smoke, flames and fireballs high above the lagoon ...its red and orange lava cascading down the slopes. Free. (Center Strip, Tel. (702) 791-7111.
---
Rare White Tiger
zoo-like habitat is located near the Mirage entrance. (3400 S. Las Vegas Blvd.) In recent visits, however, we have only seen one tiger and little else. A large 20,000 gallon shark and exotic fish aquarium can be found behind the Mirage's hotel registration desk. And there is an beautifully landscaped Tropical Rainforest in the center of the Mirage main floor under a 100-foot high dome. All are free. (Center Strip, Tel. (702) 739-2222.)
---
Siegfried & Roy's Secret Garden & Dolphin Habitat
at the Mirage Hotel - (3400 S. Las Vegas Blvd.) - The palm-shaded sanctuary features royal white tigers, white lions, panthers, an elephant ...and a family of bottle-nosed dolphins in a 2-million gallon 22-foot deep tank. Animals are rotated regularly.
Includes a narrated guided tour and you wander around afterwards. Located in the Pool Area of the Mirage Hotel. Admission to both exhibits is $17 for adults, $12 for children 4-12 and free for children under 3. Open Daily 11:00 a.m. to 7:00 p.m. (Center Strip, Tel. (702) 791-7111.)
---
Dancing Waters Fountain Show
In front of the Bellagio Hotel is choreographed to music and lights. Performed over an 8 acre man-made lake, water jets spanning more than 1,000 feet launch water as high as 240 feet in the air to music ranging from Pavarotti to Sinatra. The water ballet seems to wave and dance exactly on beat to the music. Perhaps the best free attraction in Las Vegas.
Showtimes: Every ½ hour Mon. to Fri. 3:00 p.m. to 8:00 p.m.; every 15 minutes 8:00 p.m. to midnight. On Sat. & Sun and holidays: show every 15 minutes 12 Noon to 8:00 p.m. and every half hour 8:00 p.m. to midnight. The shows are subject to cancellation due to high winds. - (Center Strip, Tel. (702) 693-7871.)
---
The Bellagio Conservatory & Botanical Gardens
at the Bellagio Hotel - (3600 Las Vegas Blvd.) - is a definite must see! Its 13,500 square foot display is changed with each season and major holiday. The Conservatory has a 50-foot glass domed ceiling which provides natural sunlight to row upon row of beautifully displayed exotic plants, flowers and trees. It takes a staff of over 100 designers and horticulturalists to prepare and maintain the gardens. Open 7 days a week, 24 hours. Free admission. (Center Strip, Tel. (702) 693-7111.)
And while you are there, look at the "Fioro di Como" floral glass sculpture on the Bellagio lobby ceiling by artist Dale Chihuly. It consists of more than 2,000 individually blown glass flowers. Both the gardens and the sculpture are near the Bellagio Hotel registration area. Free admission. Hint: Be sure to have your camera with you!
---
The Fountain Festival and the Lost City of Atlantis
show at the Caesars Palace Forum Shops - (3570 Las Vegas Blvd.) - has statues coming to life. The show is a seven minute special effects fantasy spectacular. It has Bacchus and his entourage in an animated robotic show. The Lost City of Atlantis show in the Roman Great Hall features a fountain, lifelike animatronic characters, lasers, fire, steam and a 50,000-gallon saltwater aquarium.
Shows run every hour on the hour Sunday to Thursday; 10 a.m. to 11 p.m.; Friday and Saturday, 10 a.m. to midnight. Free admission. (Center strip, Tel. (702) 893-4800).
---
Wildlife Habitat at the Flamingo
Las Vegas - (3555 Las Vegas Blvd.) - Flamingos, penguins, ducks, swans, pheasants, quail, turtles, Koi and goldfish in an authentic environment. This is a large garden area in the Flamingo complex; located in a 15-acre park area behind the Flamingo Hilton Resort. You can watch the wildlife as you dine at Flamingo's buffet. Open during the daytime. Free. (Center Strip, Tel. (702) 733-3111.)
---
Gondola Ride at The Venetian
Hotel & Casino - (3355 Las Vegas Blvd.) - Be serenaded by a singing gondolier transporting tourists up and down the indoor canal. Float beneath bridges, beside cafes, under balconies and through Venice. Guests have a choice of scheduling an indoor or outdoor ride (lasting about 15-20 minutes). Modeled after authentic Venetian gondolas, the gondoliers are trained and most have a fantastic signing voice.
Located in the St. Mark's Square portion of the Grand Canal Shoppes, the gondola ride operates Sunday to Thursday, 10:00 a.m. to 11:00 p.m.; Friday and Saturday: 10:00 a.m. to midnight. Outdoor gondola: 12 p.m. - 11 p.m. (Numerous street perfomers can be found in St. Mark's Square.) The gondolas hold 4 adults, unless you want a private gondola ride the cost is $16 per person/$32 per couple. If you request a private ride for two, it's $32 per person/$64 per couple. Children - $7.50. Center strip. (Tel. 702-414-4300.)
---
Madame Tussaud's Wax Museum
at The Venetian Hotel & Casino - (3377 Las Vegas Blvd.) - Take your picture with more than 100 celebrities past and present including Britney Spears, Muhammad Ali, Cher, Marilyn Monroe, Dean Martin, Frank Sinatra, Princess Diana, Elvis Presley, Madonna, Tom Jones, John Wayne ..even Abraham, Lincoln and George Washington. Located on the moving walkway between The Venetian and the Strip.
Open every day at 10:00 a.m. to 9:30 p.m. Sunday through Thursday; Friday's & Saturday's closes at 10:30 p.m. Cost: $25.00 general admission; $18.00 for seniors (60+); Children 7-12: $15. - 20% Cheaper if you buy online. (Center Strip, Tel. 866-841-3739.)
---
Eiffel Tower Experience
at the Paris Las Vegas - (3645 S. Las Vegas Blvd.) - is a 50-story elevator ride to the observation deck 460 feet above the ground. The one-half scale Eiffel Tower is an exact reproduction of the famous Paris landmark.
The Eiffel Tower Restaurant, located on the 11th floor, offers the most romantic dining setting in Las Vegas. (Hint: Ask for a table near the window so you can see the Bellagio water ballet across the street.) A professional guide is available to answer questions. Open: 9:30 a.m. to 12:30 a.m., weather permitting. Cost: (Daytime) Adult $10.50; Senior/Children $7.50. (Evening) Adult $15.50; Senior/Children $10.50. (Center Strip, Tel. 702-946-7000.)
---
Free and Low Cost South Strip Attractions
M&M's World in the Showcase Mall
Next to the MGM Hotel & Casino - (3785 Las Vegas Blvd.) - is a neat 28,000 square-foot four story interactive shopping complex featuring all sorts of M&M candies, clothing and other M&M related merchandise ...also a chocolate tour and a free 3-D movie, "I Lost My 'M' in Vegas." It opened in 1997.
This monument to chocolate is the perfect family excursion, featuring one-of-a-kind gifts and souvenirs designed solely for M&M'S World. The third floor is dedicated entirely to M&M collector's items. Hours: every day from 9 a.m. until midnight. (Check out their website.) Well worth a visit and it is free! (South Strip, Tel. 1-800-651-2437, 702-736-7611)
---
The Roller Coaster at New York-New York
Hotel and Casino - (3790 S. Las Vegas Blvd.) twists, loops, dives and winds through a replica of the New York skyline. The ride begins with a 203-foot lift and a 76-foot drop, followed by a hill and a 144-foot drop. The train then traverses two inversions, a standard vertical loop and a dive loop (twist and dive element), where the train performs a 180 degree spiral and then performs a half-loop maneuver. Reaches a speed of nearly 70 m.p.h. Coaster cars look like New York cabs.
Updated in 2006. Previously called "Manhattan Express." Cost: Pricey ...$14 for a 90 second ride so check the tourist magazines for discount coupons. Re-rides: $7. Hours: Daily 10:30 a.m. to midnight. You must be 54 inches tall to ride. (South Strip, Tel. 702.740.6616)
---
Shark Reef Aquarium
at the Mandalay Bay Resort & Casino - (3950 S. Las Vegas Blvd.) - One and a half million gallon see-thru tank contains nearly 100 species of undersea aquatic life including sharks. America's only predator-based aquarium and exhibit. See sharks of all kinds, along with sawfish, giant rays, endangered green sea turtles, piranha, jellies and the rare golden crocodile. In all, there are over 2,000 animals.
An undersea glass tunnel lets you walk under the aquarium! Shark Reef opened in Las Vegas in 2000. Hours of Operation: 10:00 a.m. to 10:00 p.m. Daily. - Admission: Adults $18.00 Children (ages 5 - 12) $12.00 - Children 4 and younger admitted free. (South Strip, Tel. 702-632-7580.) Check out sharkreef.com/visitor/prices.aspx for the latest pricing and hours of operation and all other discounts.
---
North Strip & Downtown (Free/low cost)
World Class Circus Acts
At Circus Circus Hotel & Casino and Theme Park. - (2880 Las Vegas Blvd.) - Aerialists, high-wire walkers, trapeze artists and clown shows are featured twice an hour - 11 a.m. to midnight daily on the center stage of the Carnival Midway at Circus Circus. - Free admission. - (North Strip, Tel. 702-734-0410, 877-434-9175.)
The Adventuredome
at Circus-Circus Hotel & Casino
- (2880 Las Vegas Blvd.) - is a five-acre enclosed, climate controlled theme park with many midway rides and carnival-like attractions ...including an indoor roller coaster. One of the few things still left for kids. Hours: 10:00 a.m. to 6:00 p.m., Fri. & Sat. until midnight - Rides cost $5-$8 each. - An all day pass is priced at $16.95 for children; Adults $26.95.
Check out this site
for more information. (North Strip, Tel: 702-734-0410, 877-434-9175.)
---
Observation Deck
at the Stratosphere Hotel & Casino - (2000 Las Vegas Blvd.) is the tallest freestanding observation tower in the United States and more than twice as tall as any other structure in Las Vegas. At 1,149 feet, its also the tallest building west of the Mississippi. Four high-speed double-deck elevators whisk you to the top of the tower at 1,800 feet per minute. The Stratosphere marks the end of the Strip and the beginning of Downtown.
Tower admission: $16 for adults; $4 discount for hotel guests and seniors 55+. Children 4-12 are $10. Hours: Sun. to Thurs. 10:00 a.m. to 1:00 a.m.; Fri., Sat. & holidays until 2:00 a.m. (Schedule is subject to change due to weather.) The revolving Top of the World Restaurant and Lounge circle the Strip every 20 minutes. Hint: Bring your binoculars. (North Strip, Tel. 702-380-7777.)
---
The Big Shot
on top of the Stratosphere Tower - (2000 Las Vegas Blvd.) launches you up into space at 45 mph. Sixteen riders (four in a row, around a 160-foot mast) experience 4G's as they reach the very top, and feel negative G's on the way down. In a matter of seconds, the Big Shot thrill ride catapults 16 riders from the 921-foot high platform up the Tower's mast to a height of 1,081 feet and down again. Ride tickets: Big Shot - $13.00. Other rides: X-Scream - $12.00; Insanity - $12.00; SkyJump - $109.99 and up - Plus admission to the tower. Hours: Same as observation deck. (North Strip, Tel. 702-380-7711.)
---
The Fremont Street Experience
The downtown area is accessible by taking the "Deuce" strip bus from anywhere on the strip.
in Downtown Las Vegas is a pedestrian promenade in downtown Las Vegas. A four block computerized canopy lights up downtown with more than 2 million lights and half-a-million watts of sound. Shows from dusk daily to midnight. - Downtown Las Vegas. (Tel. 702-678-5777.) Their website is here. More on this later.
---
Off the Strip
Want a tattoo?
"Diversity Tattoo" (2310 Las Vegas Blvd S, Las Vegas, 89104 - (702) 382-8820) and "Hart & Huntington Tattoo" located inside the Hard Rock Hotel & Casino. - (4455 Paradise Road) - Tel. (702) 216-5360 are generally considered the best. But they are not cheap. There are many tattoo shops in Las Vegas.
---
"Go Karting"
is also available in Las Vegas. Las Vegas Mini Grand Prix - 1401 N. Rainbow Road - Telephone: 702-259-7000 - must be 4 foot 6 inches tall. Open year round. Hours: Sun. to Thurs. 10:00 a.m. to 10:00 p.m.; Fri. & Sat.: 10:00 a.m. to 11:00 p.m. - 7 days a week. Pole Position Indoor Karting is located one mile west of the Vegas strip at 4175 S. Arville, Las Vegas, NV 89103 - Cost: $25 adults; $22.00 Youths - Hours: Sun. to Thurs. 11:00 a.m. to 11:00 p.m.; Fri. & Sat. 11:00 a.m. to midnight. - Telephone: (702) 227-7223.
---
Bonnie Springs/Old NV
This 1150acre range offers muesum, petting animals and horseback riding. You need to rent a car for a day or call UBER, 25 min ride from the strip; take Charleston towards Red Rock Canyon, after passing the national park you will see the sign and the entrance to Bonny Springs on your right before the Blue Diamond Road. Open Wed thorugh Sun from 10am to 5pm, tickets are 5 to 7 dollars.
Discontinued
Pirate Battle - CLOSED (after 10 year run)
in the lagoon in front of Treasure Island (TI) Hotel - Casino (3300 S. Las Vegas Blvd.) every hour and a half Monday to Sunday from 5:30 p.m. to 10:00 p.m. (Fall/winter) and 7:00 p.m. to 11:30 p.m. (Spring/summer)
This free show was recently updated to adult audiences. In 2003, "Buccaneer Bay" was replaced with "Sirens' Cove" and the new show, "The Sirens of TI" utilizing many of the technical elements of its predecessor. The live, free show was intended to appeal more to adults by including singing, dancing, audio-visual effects, bare-chested pirates and attractive women in the large outdoor show
The seductive Sirens of TI battle a band of renegade pirates at Siren's Cove. Held four times a night in the lagoon in front of the casino's main entrance, the 18-minute romp matches two life-size pirate ships -- one crewed by males, the other females -- in a battle of the sexes. The musical features swordplay, song, dance, pyrotechnics and high-diving acrobatics.
It ends with the pirate's ship ("The Bull") actually being sunk by the Siren's ship ("The Song.") Hint: The best place to watch it is from The Battle Bar accessible by going through the front doors and taking an immediate right. Arrive early for a good viewing spot. (Center Strip, Tel. (702) 894-7444.)
---
The African Lion Habitat - CLOSED and reopened off Strip
New Lion Habitat replacing MGM one is located at on the corner of Bermuda Road and Bruner Ave. Visit there website lionhabitatranch.com/
at the MGM Grand Hotel and Casino. View African lions and cubs in a ($9 million) landscaped setting seen through a glass-walled walkway tunnel.
MGM Grand features a glass-sided lion habitat inside the casino area, in which up to six lions are shown every day. A see-through tunnel runs through the habitat for close-up viewing. The lions are owned by Keith Evans, a trainer of exotic animals, and do not live at the habitat, but at his ranch 12 miles outside Las Vegas. He transports several groups each day to the MGM from his 8.5 acre ranch.
He cares for 31 cats, including 26 lions, three tigers and two snow leopards. Evans has been associated with MGM Grand since the 1980s. Habitat Hours: 11:00 a.m. to 7:00 p.m. daily. Free. (South Strip, Tel. 702-891-7777.)
---
The "Masquerade Show in the Sky" - CLOSED after 16 years
at the Rio Hotel & Casino - (3700 W Flamingo Road, just off the strip) features five Brazilian Carnival and Mardi Gras floats that parade on tracks around the casino ceiling. Performers in elaborate costumes throw beads to gamblers on the floor. Parade gets under way in Masquerade Village hourly from 6 p.m. until 11:00 p.m. every Thursday through Saturday. Free (unless you want to ride and throw beads from a float, $12.95). (West of Strip, Tel. 702-252-7777.)
---
NEXT PAGE: 5.2 PROMOTIONS, SPECIALS AND COUPON BOOKS.... ⇨