6.6 The hot Las Vegas night clubs

Many vacationers go to Vegas to gamble ...some to see shows and sample fine dining. But for the 20 and 30-year-old set, its dancing the night away! Las Vegas is the undisputed hot dance club capital of the world! The emergence of the sensual ultra-hip nightclub is a relatively new Vegas trend that started in 1999. And they are unbelievably popular (...and profitable!) Most dance clubs have superb "special effects" ...ultra- modern interior design, unique decor and state-of-the-art sound systems with video and varied lighting.
Once the sun goes down, the party begins and lasts all night. The turnover/ratio/"friendliness" of girls/guys going to these clubs can be different from one day to the next! Remember, the average stay in Las Vegas is just three or four days. So, you can expect a different set of party people every time you go. The following is what you need to know to go "clubbing."
Dancing the Night Away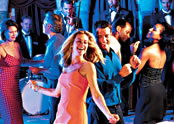 The wait at the popular clubs can be excessive ...especially on Friday and Saturday night. Take note that most of the "hot clubs" are only open on the weekend ...from Thursday to Sunday. A few are open every evening. The action starts at about 10:00 p.m. and goes to dawn ...the real action starts after midnight.
You might want to make the rounds of the less than hottest clubs and see what is happening at each one. The top clubs charge a $20 (or more) cover charge ...double that for VIP (immediate) entrance. Drinks at the clubs range from $5 to $10 each.
Included here is a list of the top clubs in LV. Which one is the best is a matter of opinion. It is the caliber of the party-going public at the club (and not the club itself) that is important. But club "reputation" does "entice" and The Palms and Hard Rock are well known as being the hottest of the hot spots. (And both are located slightly off the Strip.)
There is a three-tier pricing system to get into the hot dance clubs ...somewhat common in large cities like New York, LA and Miami but hardly anywhere else. You need to know the system.
Pricing policy at Las Vegas night clubs
(1.) The cover charge ($20 to get into the hot clubs) only gets you in PROVIDING there is room ...otherwise you wait in line ...sometimes two to four hours! A line pass you get over the Internet or buy through eBay doesn't make you a VIP. It just moves you from the General Admission line into the slightly shorter line. Get there early if you only want to pay the lowest cover charge.
(2.) The real VIP "ticket" (no waiting, immediate "front of the line" entry) usually costs double ...sometimes more ($40 to $50) It just gets you in quicker. Without it, you'll be waiting in the long lines with thousands of other frustrated would-be partiers. But even then, once you get in, you will probably have to stand up and just wander around. Not bad if Brittany Spears, Paris Hilton ...or other celebrities are there too. And sometimes they are! Available public tables are snapped up fast.
(3.) The third pricing tier is the "bottle or table service" ...at the nightclubs and "ultra-lounges" ...as in ultra-sophisticated lounge. In Vegas, you pay a lot of bucks to sit down. Table/bottle service gets you admission to a velvet roped-off area within a club when you purchase a bottle of liquor for $200 to $400 ... along with immediate entry for four people, a table and free mixers. There are different bottle service plans. But basically they all work the same way. Club goers pour their own drinks and they can invite friends over to the table. (Read this Forbes article on bottle Service.)
Bottle service in Las Vegas, as well as table minimums, are established in one of two basic ways. First, you may have to spend a certain amount of money per number of people at your table. On average, you will need to purchase one bottle per three people at your table. The second way involves supply and demand. If it's a major holiday weekend or a popular entertainer is playing at the club, there will obviously be a higher demand for tables. This means that clubs will raise the price for table space.
Pricing during special events can greatly fluctuate based on the size of your group and the location within the club. You can expect tables in the dancefloor area to start around $5,000. You will also want to consider any additional charges added to your bill at the end of the night. Table minimums do not include the addition of tax and gratuity, which typically ranges from 8.1 to 20 percent depending on the club. There may also be a live entertainment tax of 10 percent.
Getting VIP Treatment
A big mistake people make when visiting Las Vegas is not planning ahead. Ideally you should nail down an itinerary for every day of your trip. Don't wait until you get to Vegas to line up your shows, major meals and the attractions you want to see.
Getting into a hot night club can be difficult or impossible ...especially as it gets closer to midnight. By then, the good ones are packed wall-to-wall. No one wants to waste away half the night standing in line. A way around this is to use the services of a VIP host.
VIP hosted entry to hot clubs and hosted entry plus transportation is big business in Las Vegas. And it is getting bigger all the time, so big that it is hard to keep up with who is offering what. "Hosted Entry" is where, for a fee, a provider with the right contacts will get you fast entry into night clubs. Many will transport you there in a limousine. Some offer bachelor and bachelorette parties. You name it, someone provides it in Sin City!
Here are some online addresses of companies that offer hosted entry. Be aware that it is not cheap ...it can run $50 and more. And even when you pay the fee, it is still customary to tip the club doorman. ($10 is about right, more for special favors.) Click on any of these websites and decide if paying for guaranteed entry is worth the price. (Most have toll-free phone numbers. Call them and see what they can do for you.)
VegasVIP.com:Nightclub VIP reservation, you can call them at 1800-VEGASVIP for free information.
VegasVIPServices.com: Another VIP concierge service for the VIP entry to Vegas clubs.
Unless you know someone personally in the Las Vegas nightlife industry, your chances of getting into a club without hosted entry services are slim to none. This is especially true if you are in a large group of guys or a group consisting of mostly guys. Most clubs in Vegas want to see a decent ratio of guys and girls. Without a hot girl on your arm or a VIP host to walk you through the door, you could end up waiting in line for hours or not getting into the club at all.
What should I wear?
It makes a difference what sex you are when it comes to Las Vegas clubbing. Women get all the advantages! In order to improve the female/male ratio, girls are given a price break or other benefits ...such as ladies night, free to local girls, reduced cover charge, etc.
Unlike most everywhere else in Las Vegas, most dance clubs have dress codes. For women, the dress code is listed as: "Stylish nightlife attire" (which in everyday language means "sexy.") Most gals at the hot clubs dress to impress; they show a lot of skin and wear ultra-chic, fashionable dresses. The clubs want to be full of very hot girls, high rollers and celebrities, especially on Fridays and Saturdays. The host with the clipboard at the door controls entry ...and he is fussy.
So gals, look the part. Bring a black cocktail dress if you want to go clubbing at the hot lounges. (It can double as a fancy dress for one of those high dollar celebrity chef restaurants.) If you don't have one, make a trip to Victorias Secret before you come to Vegas and get one. (They have many sexy dresses at very reasonable prices: $50- $150. Click on the link)
And Guys: Bring a lot of money if you want to get in quickly ...and for that certain to be hefty bar tab. Tip: Men should go alone or with a gal! Three or more men usually end up outside looking in ...and never get inside! Male dress code is "business casual." You don't have to wear a tie, but dress like you are applying for a management position. (That means: no hats, tennis shoes/sandals/work boots, shorts, T-shirts, jerseys, athletic attire, denim jeans, baggy pants, etc.) Collared button-down shirt and nice slacks are ideal.
Quick Guide to Las Vegas Nightclubs
All clubs are open on Friday and Saturday and several are open Sunday through Thursday.
There's no shortage of amazing nightclubs in Las Vegas. Here are just a few you should check out:
Jewel at Aria Resort and Casino: Designed by the same guys who created Hakkasan Nightclub and Omnia, Jewel offers an intimate clubbing experience complete with oversized dance floor, granite VIP banquettes, leather upholstery, and huge dual-sided LED video screens.
1OAK at The Mirage: Arriving at 1OAK is a journey in itself, starting with a walk down a long entryway just to get to the club. The club is designed around the dance floor, making party-goers the focal point of the venue.
Drai's at the Cromwell: Both Drai's and Drai's After Hours at The Cromwell offer amazing live music and the perfect backdrop of The Strip. With dark mood lighting, the club has a laidback feel and a luxurious ambience.
Hakkasan at MGM Grand: There's no denying the lasting popularity of Hakkasan. The massive megaclub is home to some of the biggest DJs in the business, including Calvin Harris, Steve Aoki, and Tiesto.
Hyde Bellagio at Bellagio: With its Italian-style décor and old-world touches, Hyde is the epitome of class and sophistication. When you're not inside dancing, you'll be outside enjoying the amazing fountains parked right outside the club.
Light at Mandalay Bay: Light is something like a Cirque du Soleil show providing club-goers with a new show every night. The performances at light are unlike anything you've ever seen in a Las Vegas nightclub.
Marquee at The Cosmopolitan: Marquee isn't just a nightclub – it's multiple nightclubs inside an even bigger nightclub. With private spaces like the "Boombox" and the "Library," heavy rollers are able to enjoy themselves away from the crowds.
Omnia at Caesars Palace: While Omnia has only been around since 2015, it has quickly become one of the most popular nightclubs in Las Vegas. From the velvet curtains to the LED chandelier, no expense has been spared in the creation of the club.
Tao Nightclub at The Venetian: If you want to go to the best, hit the Tao Nightclub at the Venetian. It is a high energy DJ driven club. Tao has two main rooms and an outside terrace with a great view of The Strip. Features include attractive go-go dancers and state-of-the-art audio and lighting systems.
XS Nightclub at Encore at Wynn Las Vegas: With gold accents scattered throughout, XS emits extravagance at every turn. Just when you think you've seen it all, XS surprises you by opening its doors to the lavish pool just outside.
Las Vegas is known as a 24-hour city, and on any given weekend, you'll find thousands of partiers flocking to some of the city's most popular nightclubs. No two clubs are exactly the same, giving you the opportunity to find a venue that best reflects your unique vibe and musical tastes.
NEXT PAGE: 6.7 BARS, LOUNGES & STAND UP COMEDY.... ⇨