9.2 MONDAY: Center strip stroll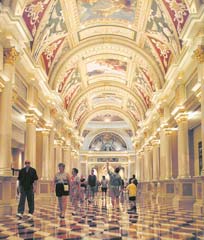 Walking the strip - otherwise known as the "casino crawl" - is the best way to experience Las Vegas. We will start by have a hearty buffet breakfast at a center strip hotel.
Our walking tour today will take us to a half a dozen different themed hotels. We will start at the Planet Hollywood, cross the street to the Bellagio ...and then to Caesars Palace, the Mirage, TI (previously known as Treasure Island). We'll cross the street again to the Venetian. We have allowed about an hour at each hotel, but you can go faster or slower if you like. (Don't be afraid to go faster because there is a lot to see!) If we have time, we'll snoop around Harrahs, the Imperial Palace, the Flamingo, Bally's and Paris Las Vegas on the east side of Las Vegas Boulevard.
Don't be afraid to ask for directions while in a casino. By design, all Las Vegas Casinos are very poor at giving exit directions. They want to keep you in their property ...especially the casino.
8:30 a.m. Planet Hollywood Hotel-Casino - (Theme: Arabian nights)
Breakfast: - Walk to the Planet Hollywood Hotel (3663 Las Vegas Blvd. S.) on the east side of the street. Their "Spice Market Buffet" is one of the better breakfast buffets. It costs $12.99 and there is a huge selection of better food. A second choice for breakfast is the "Le Village Buffet" at the Paris Hotel. Same price: $12.95. A third choice is "The Buffet at Bellagio." Cost is a dollar more: $13.95. These are "all you can eat" buffets so fill up. You won't be eating again until dinner.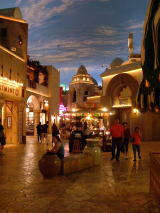 10:00 a.m. - Shopping: While at the Planet Hollywood, walk through its 130-store "Desert Passage" shopping mall which encircles the casino. Don't spend a lot of time here, since it is one of three hotel malls that we will be exploring today. The other two are the upscale Forum shops at Caesars and Venetian's Grand Canal Shoppes. You can return to the one you like best later.
Prices at the Desert Passage are a little more moderate than the other two. The theme here is "a desert marketplace in old Morocco" and belly dancers and acrobats frequently perform along its circular-shaped path. They even have an indoor thunderstorm complete with rain. While in the Desert Passage you will note the "Commander's Palace" restaurant. You will want to have one fine dinner while in Las Vegas (which will cost about $50 per person) and this restaurant is a definite candidate. Plan your fine dinner for either Monday, Tuesday or Wednesday night. Reservations at (702) 892-8272, Dinner: 5:30 to 9 p.m. This is a branch of the famous New Orleans Cajun and Creole cuisine restaurant with the same name.
11:00 a.m. Bellagio Hotel-Casino - (Theme: An Italian lakeside village.)
Cross Las Vegas Boulevard to the Bellagio. (Note: Be aware that only adults are allowed in this hotel.) Take the main walkway on the left side of the hotel. Head to the hotel registration desk. (You may have to ask where it is.) Note the "Fioro di Como" floral glass sculpture on the lobby ceiling by artist Dale Chihuly. Nearby is the Bellagio Conservatory & Botanical Gardens ...a definite must see!
This is a huge horticultural display that is changed with each season and major holiday. The Conservatory has a 50-foot glass domed ceiling which provides natural sunlight to row upon row of beautifully displayed exotic plants, flowers and trees. It takes a staff of over 100 designers and horticulturalists to prepare and maintain these gardens.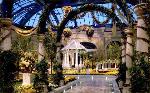 Located in the Conservatory & Botanical Gardens is Michael Mina, a very fine seafood restaurant. (It was formerly known as "Aqua.") - This is also a candidate for your splurge on a very fine restaurant. Reservations: (702) 693-7223.
As you exit the Conservatory, note the tram station off to your right. This provides quick (and free) transportation to the South strip.
Other stuff to see: The Bellagio is also home to the Strip-side Dancing Waters Fountain Show (which you probably saw last night as you toured the Strip) and "O" ...one of the best Cirque du Soleil shows in Las Vegas. In French, "O" (pronounced like the French word "eau") means water and the show is performed in, on and above water. It features an international cast of synchronized swimmers, divers, acrobats, and aerialists. Note that this show is "dark" on Monday and Tuesday so if you are on a Sunday through Thursday junket, you will have to see it on Sunday or Wednesday. (Two shows an evening: 7:30 and 10:30 p.m.) Hopefully you got your tickets ahead of time since it is always a sell-out. Tickets are indeed pricey! ($99 to $150.00 each.)
Fine restaurants are Bellagio's long suit. Among them (besides Michael Mina) are Picasso, Le Cirque, Circo, and Olives. All are excellent ...all are very expensive. Their "Light" nightclub is open Sunday night ...but not Monday-Wednesday.
Next we will head to Caesars Palace. To get there, we will go through the Via Bellagio shopping area (with its ultra-expensive stores) to get outside and then take the over-Flamingo street bridge into Caesars.
12:00 noon: Caesars Palace - (Theme: Ancient Rome)
We will be entering the left side of the hotel, walking through its casino to the Forum Shops.
Caesars is home to the 4,100 seat Colosseum Showroom which was custom-built for the Celine Dion stage show: "A New Day". The show was created by Franco Dragone, formerly with Cirque du Soleil and it has been playing for more than two years. Tickets here are VERY expensive ($87.50 to $225 each) ...and very hard to get. Elton John and "The Red Piano" show also performs there.
The new 26-story Augustus Tower with its 949 spacious (650-760 square foot) luxurious rooms even have flat-panel TVs in every bathroom. And a new lobby, twice the size of the original, welcomes all Caesars Palace guests.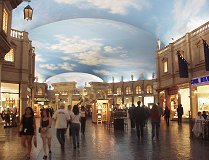 Along the way you will see Fall of Atlantis and Festival Fountain shows every hour on the hour - (Sun.-Thur., 10 a.m.-11 p.m.) These are talking animatronic statues. There is also a 50,000-gallon saltwater aquarium. The Forum Shops is also home to Wolfgang Puck's Night Club "OPM." (It is located on the second floor above one of his restaurants.)
It is very easy to get lost in the Forum Shops and you may have to ask which way it is to the street-side exit next to the Mirage hotel.
1:00 p.m.: Mirage Hotel-Casino - (Theme: Tropical South Seas rainforest.)
Once you get to the street, take a left into the Mirage. This is the hotel with the erupting volcano out front. (Eruptions occur every 15 minutes beginning at 7p.m.)
You will ride a moving walkway into the hotel. You will first pass white tigers on display and there is an interesting 50,000-gallon tank aquarium at the back of the front desk registration area.
At the rear of the hotel is Siegfried & Roy's Secret Garden and Dolphin Habitat where a family of Atlantic bottlenose dolphins swim around four connected (2.5-million-gallon) pools. (Opens at 10 a.m. - Admission: $15 adults/$10 children.)
The Mirage is home to "Danny Gans, The Man of Many Voices" ...one of Las Vegas' better shows. This one-man variety act takes place in the Danny Gans Theatre, built specifically for this production. (Tickets are pricey: $100.)
Next stop on our tour is Treasure Island ...now called TI. Exit Mirage at the North Exit ...just north of the rainforest atrium and the registration desk. Take the free tram to Treasure Island (next hotel.) It runs every 15 minutes beginning at 9 a.m.
2:00 p.m. - "TI" Treasure Island - (Theme: Used to have a kid's Pirate theme, now a more sexy version.)
You will be going down stairs after getting off the tram. Note the theater on the left at the foot of the stairs. This is where Mystére - a Cirque Du Soleil show is performed. It has been running more than 12 years and is perhaps the best production show in Vegas. It is basically a circus without animals featuring clowns, acrobats, dancers and aerialists. (Tickets cost $60 to $95.) Note that there are no shows on Monday or Tuesday night (and only one show on Sunday evening.)
TI has an excellent nightclub called "Tangerine" which is located near the front entrance overlooking "Siren's Cove." (Open: Tues.-Sat.; Closed: Sun.-Mon. Cover charge: Men: $20, Women: $10, Hotel guests: Free.) They also have four burlesque shows every evening hourly beginning at 10:45 p.m. TI's completely renovated "Dishes" buffet is very good as is their Kahunaville restaurant and bar. Both are moderately priced.
Head out the entrance (at the end of the main aisle.) This is where the free "Sirens of TI" show is held (in "Siren's Cove" front of the hotel.) Shows are 4 times an evening: 7:00, 8:30, 10:00 and 11:30 p.m.
Next cross the street and head to the Venetian. (You will note the new Wynn Las Vegas hotel on the left, We will visit that on Wednesday when we explore the North Strip.)
3:00 p.m. - The Venetian - (Theme: Renaissance Venice.)
The Venetian with its 4,000 rooms is one of the four best (that is, most luxurious) hotels in Las Vegas. (The others are Wynn Las Vegas, the Bellagio and the Mandalay Bay.) It cost close to $3 billion to build. This world class hotel features indoor gondola rides similar to those of Venice.
Its expensive gourmet restaurants feature well known celebrity chefs such as Emeril LaGasse (Delmonico New Orleans Style Steakhouse) and Wolfgang Puck (Postrio San Francisco Style Seafood.) This hotel is a favorite of business people attending conventions. Venetian's lavish rooms are among the largest in Las Vegas ...more than 650 square feet and all are suites.
Enter the Venetian from the right side of the hotel on the moving sidewalk. You will note the Las Vegas version of London's world famous wax museum, Madame Tussauds on the right where about 100 lifelike figures are featured. You will also pass the Guggeheim Hermitage Museum (whose gallery houses masterpieces) on your way into the hotel. (Admission charge is about $20 each.) The casino is on the lower level.
Note the gorgeous hand-painted frescos on the ceiling in the "Great Hall!" The upper level is where the Venetian's 500,000 square foot upscale shopping mall, the Grand Canal Shoppes, begin.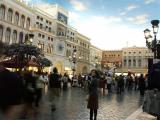 You will see strolling street performers. The authentic Venetian gondolas (rides are $15) leave from St. Marks Square and wind their way throughout the half-mile long mall ...a very romantic place and great for people watching.
"Vivid", Venetian's nightclub is located in a corner to the left of the "Great Hall."
That ends our tour of six center strip hotels, but if you have time, we recommend that you do a quick walk through of Harrahs (next door to the Venetian.)
Harrahs has an outdoor Carnaval Court lounge area (live entertainment in the evening) located in front of their hotel on Las Vegas Boulevard.
The Imperial Palace has a vintage Auto Collection of over 250 classic cars including a 1925 Rolls Royce, a 1930 Duesenberg, a 1933 silver Pierce Arrow and a Cadillac Eldorado once owned by Elvis Presley. It is the largest private collection of rare, antique and exotic automobiles in the world. The display (opens at 9:30 a.m.) is located on the fifth floor of the self-parking garage. (Print out a free admission coupon here!)
The Imperial Palace also hosts the Legends in Concert (celebrity impersonations) show which has been running for more than 20 years. Tickets: $39.95 to $59.95 ($3 off coupon here.) Performances: Mon.-Sat. at 7 and 10:30 p.m.
The Flamingo is home to the wildly popular Jimmy Buffet's Margaritaville ...a multi-level Caribbean-themed restaurant and nightclub featuring tropical food, fantastic fun, music and entertainment. Third floor balcony have tables that overlook the Strip. The Flamingo Hotel also has a landscaped wildlife habitat ...complete with live African penguins, Chilean Flamingos, ducks and huge fancy Koi goldfish.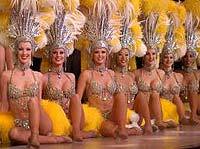 Ballys has one of the finest production shows in Vegas! Donn Arden's "Jubilee!" has been playing for more than 20 years. It features million-dollar sets, lavish costumes ...and the Jubilee dancers are the best in Las Vegas. Two shows daily. Late (10:30 p.m.) show is topless. Tickets: $60. They offer a backstage tour led by a Jubilee showgirl at 2 p.m. each Monday, Wednesday, and Saturday so you can see firsthand what it takes to bring this $50 million stage spectacular to life! ($15; $10 if you also purchase a Jubilee! ticket.)
You can take the connecting walkway between Ballys and its sister property, the Paris Las Vegas hotel next door. Here they have a 50-story half-scale replica of the Eiffel Tower. An elevator ride to its observation deck costs $9 ...a great photo opportunity. Paris' cobblestone "Le Boulevard" is lined with various boutique shops and their "Le Village Buffet" is better than average.
NEXT PAGE: 9.3 TUESDAY: SOUTH STRIP STROLL... ⇨