2.6 Las Vegas Vacation packages ...a great way to save!
Vacation packages combine at least two travel components together, usually "air and land" (although many include rental cars and entertainment) into one price. They also offer a way for hotels to sell rooms during low occupancy periods.
"Packages" uusually offer the most inexpensive way to go on vacation to a specific location. They are also a big time saver since you do not have to put the components together yourself.
Vacation packages are created by tour operators, online travel sites, hotels or airlines who purchase "inventory" (hotel rooms and/or airline seats) at low wholesale prices for resale.
The public never knows what the rooms or flights cost since they are hidden by a single vacation price package. The reason vacation packages are so much cheaper is because they combine wholesale rates ...not published or retail prices.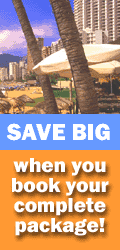 Another way to save is by purchasing a vacation package offered by a charter flight service. A disadvantage is that the number of flights and dates offered are limited.
Booking vacation packages online is a fairly new (and complicated) procedure since hotel and flight availability must be automated. But it has become a very big (multi-billion dollar) business. While complicated for the travel service, it usually is a fairly simple process for the vacationer.
The largest online vacation package designers that are not airlines or hotels are: Expedia, Orbitz and Travelocity. These firms allow you to choose flexible dates, additional nights and flight arrangements on trips to Las Vegas.
More vacationers choose a package deal when visiting Las Vegas than any other destination in the world. As a general rule, you'll save up to 50% when you book a flight and hotel combination. In many cases you will be able to pick up a package for the price you would pay for airfare or hotel alone. Packages normally require a minimum 2 night stay.
The airlines do the same thing ...that is, they add their inventory of hotel rooms to their Las Vegas flights. It is also a way for them to sell out their off peak flights. As mentioned in the previous chapter, Southwest Airlines and America West are the two largest carriers in Las Vegas.
It is important to know that the major online travel companies and airlines do not all have the same inventory, nor do they offer similar rooms at the same hotel at the same price. So you need to painstakingly check the hotel, airline and other vacation packages offered by each to get the best deal.
We always book the vacation package over the Internet and have never had a problem. Some vacation package providers offer additional savings when you book the flight and hotel yourself online without having to enlist the aid of a travel professional.
There are literally thousands of websites, hotels, travel agents, airlines, charter services and tour operators through which you can book your Las Vegas vacation. Many are "affiliates" ...that is they get a commission for referrng you to another online travel service. The larger ones are the most competitive and reliable.
Be aware that some package prices do not include a $3.10 federal excise tax per takeoff and landing, airport taxes of up to $18 round trip per person, or a federal September 11th Security Fee of up to $10 round trip per person. That can add about $20.00 to the published cost.
It is very important that you always pay for your vacation using a major credit card rather than a check. If you don't get what you paid for, you may be able to dispute the charges with the card issuer. (This saved me hundreds of dollars when National Airlines went bankrupt!)
Optional features at additional cost can usually be added to a vacation package, including ground transportation to and from the airport, travel protection plans (in case you can't go and have to cancel), rental cars, attraction tickets (such as tours and entertainment), and more.

How to tell the room cost:
The rule of thumb to determine package value is to:
Determine the lowest round trip airfare between your departure city and Las Vegas. This is usually the "super saver" price. I use pricing from Southwest Airlines and America West since they are the two largest air carriers at McCarran. A small quantity of these seats usually are available on every flight.
Multiply this air fare by two since packages are priced "Per Person Based on Double Occupancy."
Subtract this figure from the cost of two air-hotel packages.
Divide the remainder by the number of days you are staying to determine the actual hotel room price.
EXAMPLE:

The lowest roundtrip airfare between Dallas and Las Vegas might be $200 times two is $400. A single package costs $380 times two is $760 - less $400 equals $360 divided by 4 days leaves a hotel room cost of $90/day. Then compare this figure the lowest promotional room cost. Room deals become available about 60 to 90 days ahead of travel dates. I start doing "my home work" during this period ...soon as low airline seat and room deal pricing becomes known. Package pricing should ALWAYS be lower than if you booked the air and hotels separately.
Airline vacation package providers
As mentioned in the previous section, the largest airline Las Vegas vacation providers are Southwest, American Airlines, Delta and United Airlines.
Other large online vacation package providers:
Expedia is the world's largest online travel service. They do not partner with other tour operators. Instead they purchase their own flight and room inventory. Expedia, Hotwire and Hotels.com are owned by the same corporation (IAC/InterActiveCorp.) Experience has shown that Expedia is frequently (but not always) the best value. You can also make your vacation package reservation by telephone by calling (toll free) 1-(800)-766-6658 or 1-800-551-2534 (5 a.m. to 10 p.m. Pacific Time) seven days a week. (Expedia also has 24/7 customer service at 1-800-EXPEDIA or 1-404-728-8787.)
Hotwire.com will pick your airline flight for you. It will be a nonstop or a one connection jet and not a "red-eye" (late at night or early morning) flight. In order to negotiate special low airfares, Hotwire has agreed to let the airlines offer their prices anonymously. That means, they cannot reveal their name or the flight times until you complete a booking. By not showing you their name next to their prices, the airlines can give you deeply discounted prices that are below their published fares. Because of this, you should expect their prices to be lower.
Orbitz and Travelocity are Expedia's two main competitors. Orbitz was originally started by five airlines: American, Continental, Delta, Northwest and United. Its new owner is New York-based Cendant, now the nation's second largest online travel agency. CheapTickets.com is one of Cendant Corporation's brands.
Travelocity, a pioneer in online travel, is the the seventh largest travel service in the U.S. They are owned by Sabre Holdings which was once affiliated with American Airlines.
Priceline.com now lets you actually pick your flights, times and airlines. Previously you had to take what they offered.
MGM Mirage Vacations offers packages to their hotels. (Bellagio, MGM Grand, The Mirage, New York-New York and Treasure Island, now named TI.) It usually has rooms available at good prices ...as well as tickets to their shows which are among the best in Las Vegas.
As a general rule, I do not use sites which search multiple online vacation package sites. It might work on airline flights only, but these search sites (such as "Booking Buddy") seem to have rates higher (probably because of a commission) than if you used the individual online site itself. If you use them be sure to also compare their rate with the site they refer you to. It might be different.
In a rush and don't have time to search a lot of travel sites? Then search these three: Expedia, Southwest Airlines/Vacations and America West Airlnes/Vacations. They are the biggest in the Las Vegas market ...and the ones that other travel sites try to match or beat.
The cardinal rule of purchasing a vacation package: When you see a good deal, buy it! Inventory changes constantly for both air and hotel. A good deal might not be available later.
NEXT PAGE: 2.7 ARRIVED! GETTING TO THE HOTEL....⇨