2.3 OK. How do we get there?
Driving to Las Vegas
There are primarily two ways. Either you drive or fly. You could come in by bus or rail, but few do. Las Vegas is probably within driving distance of at least portions of Arizona, California, Colorado, Idaho, New Mexico, Oregon, Utah, Wyoming and, of course, Nevada. Vacationers from other states almost always fly in to McCarran International Airport.

It probably makes economic sense to drive if you live within 500 miles of Las Vegas. You can drive your own car or rent one for a week. You'll save on airfare and you will have a car to drive to some of the surrounding sights. If you live further away, you will have the added burden and expense of finding a hotel or motel en route. If you still want to drive we suggest you take a look at the "Free Trip" website since it will suggest the best route to take and where to stay overnight along the way
If you must drive, keep in mind that you will encounter a lot of unpopulated areas. While the state of Nevada is the seventh largest U.S. state in area (with 114,000 square miles), it ranks near the bottom (35th) in total population, about 2.4 million. That is about the population of Chicago which is packed into only 200 square miles. There are a lot of wide open spaces surrounding Las Vegas. That is not to say that Nevada's major cities are desolate. They are not. Most Nevada's residents live near Las Vegas and Reno. Las Vegas and its suburbs have more than doubled in population during the last ten years. And the state of Nevada leads the nation in growth. But there is not much outside of these cities.
Las Vegas is in the high elevation Mojave Desert which is named after an Indian tribe. It is also close to the lowest (at 282 feet below sea level) and hottest place in North America, Death Valley -- also in the Mojave Desert. Daily summer temperatures of 120 degrees and more in Death Valley are not uncommon ...as well as below freezing temperatures at night during the winter. Death Valley was made a National Park in 1994.
Nevada is not only the driest state in the nation but Las Vegas gets the least rainfall of any Nevada city, an average of less than four inches per year. If you drive in from California the chances are that you'll probably drive across Death Valley.
So it is important that you take your car in for a complete checkup before you head for Las Vegas. You would do well to carry extra water, travel food and spare tires on your trip. And pay particular attention to your car engine temperature and fuel level.
Flying in to Las Vegas
Some travelers fly into Los Angeles, rent a car, and drive four or five hours up hill across the Mojave Desert. You simply take Interstate 15 from LA for 272 miles right to the Las Vegas Strip. The LVCVA says that more than 38 thousand cars cross the NV/CA border on I-15 daily.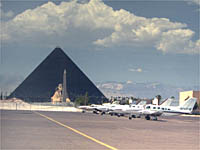 McCarran International Airport in Las Vegas is Nevada's biggest and busiest airport. Owned by Clark County, McCarran serves many major airlines - including American, Continental, Delta, and United - but Southwest and US Airways have the most flights and carry the most passengers. Many smaller airlines and charter flights also use the airport.
Nearly 40 million travelers went in and out of McCarran in 2010. Quite a contrast from 1970 when 4 million went through McCarran!
FLIGHT TIME FROM MAJOR CITIES
---
Atlanta - 3.5 hours
Boston - 6 hours
Chicago - 3.5 hours
Dallas/Ft. Worth - 2.5 hours
Denver - 1.5 hours
Detroit - 5.2 hours
Honolulu - 5.5 hours
Houston - 4 hours
Los Angeles - 1 hour
Miami - 5.5 hours
Orlando - 4.5 hours
Minneapolis - 4.5 hours
New York City - 5.5 hours
Philadelphia - 5.5 hours
Phoenix - 1 hour
San Diego - 1.5 hours
San Francisco - 1.5 hours
Seattle - 2.25 hours
Washington D.C. - 5 hours
---
Flying in, you will see the Las Vegas Strip and the high rise hotels that line Las Vegas Boulevard ...or the bright lights of the city if you come in at night. Don't be surprised if you see the Eiffel tower, an Egyptian pyramid, the canals of Venice or the Statue of Liberty. They are all there.
Negotiating the airports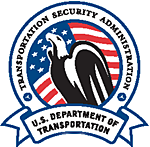 The airlines say you need to get to the airport an hour and a half before departure. This is so you will have time to negotiate the line at the ticket counter and the TSA (Transportation Security Administration) screening process. They also have a Consumers Section here.
Here are some hints that will make your journey through the airport a little easier:
If you wish to lock your baggage, use a TSA recognized lock so that screeners can open and re-lock these bags. TSA screeners have tools for all accepted and recognized locks. Screeners will always try to open a bag without breaking the lock. Most locks on the market are not TSA-recognized so you will have to leave your luggage unlocked. If a bag is locked, the TSA is allowed to cut the lock off. The TSA can also open most locked American Tourister and Samsonite luggage
Prohibited items are weapons, explosives, incendiaries, and items that are seemingly harmless but may be used as weapons - the so-called "dual-use" items. There are very specific rules as to what you can bring in checked and carry on luggage. And they are different! The TSA has a chart of items that are permitted and prohibited in your carry-on or checked baggage. For example: cigarette lighters and safety match books may not be checked, but are allowed in carry on luggage. Metal scissors and knives with pointed tips (blunt tips are OK), golf clubs, box cutters, tools (screwdrivers, wrenches, pliers, etc.) may be checked but are not allowed in carry-on luggage. Personal care items (such as nail clippers, nail files, safety razors, umbrellas, etc) may be either checked or carried on. Place valuables such as jewelry, cash, laptop computers, and cash in carry-on baggage only.
Metal items may set off the alarm on the metal detector. If possible, avoid wearing shoes, clothing, jewelry, and accessories that contain metal.
Place mobile phones, keys, loose change, money clips, PDA's, lighters, large amounts of jewelry, metal hair decorations, and large belt buckles IN your carry-on baggage prior to entering the screening checkpoint.
Do not pack wrapped gifts and do not bring wrapped gifts to the checkpoint. Wrap on arrival or ship your gifts prior to your departure. TSA may have to unwrap packages for security reasons.
Put all undeveloped film and cameras with film in your carry-on baggage. Checked luggage screening equipment will damage undeveloped film. Also carry on any medication that you may need during your trip.
Keep your airline boarding pass and government-issued photo ID available for each adult traveler until you exit the security checkpoint.
Take your laptop and video cameras with cassettes OUT of their cases.
Be aware that it may be necessary to "pat down" passengers to detect explosives at the security checkpoints. TSA policy is that screeners must use the back of the hand when screening sensitive body areas. For non-sensitive areas, screeners will use the front of the hand.
Jokes or statements regarding bombs and/or threats during the screening process are taken very seriously. They may be grounds for both civil and criminal penalties, and could cause you to miss your flight.
Check to determine your airline's baggage policy, including number of pieces you can bring and any size or weight limitations. Carry-on baggage is limited to one carry-on bag plus one personal item such as a handbag or briefcase. Be sure to remove any old destination tags from your luggage. You certainly don't want your bags ending up in the wrong city!
Do not overpack bags. If screeners have to open them, closing overstuffed bags can be difficult and may result in that checked bag being delayed until a later flight.
Remember to put identification tags in and on all baggage including laptops. Many bags look alike! Try marking your luggage with something unique ...such as a colorful ribbon or a fun sticker. This will make it easier for you to identify and more difficult for someone else to mistake as theirs. This will also come in handy if you lose your bags and need to describe them to an agent
Want to determine if there are any delays at any airport? The FAA posts a neat Airport Status and Delay Information map here.
NEXT PAGE: 2.4 WHAT SHOULD I BRING WITH ME ? ⇨