3.9 Slot machines & casinos everywhere
The only way to make money in a casino is to own one. They don't build these ritzy mega-resorts and cruise-to-nowhere river boats on winners.

...Steve Wynn of Wynn Resorts
Welcome to Las Vegas ...what it is really like.
You will find that most of the main floor in every Las Vegas hotel is taken up by a huge casino. About two-thirds of the gaming floor is normally earmarked for slot machines of all kinds. If you have seen one casino, you have seen them all, comes to mind.
That is not exactly true, of course, but they all seem to be almost identical. Moving sidewalks - one-way people movers - whisk you into a casino, but are no where to be found when you want to get out.
There are no clocks or windows. Noon and midnight always look the same. Casinos are large and sort of dark ...except for the dozens of rows of brightly lit, flashing slot machines and gaudy signs. Hundreds of tourists sit on padded stools in front of their hungry machines while cocktail waitresses mill about slowly serving them free weak drinks.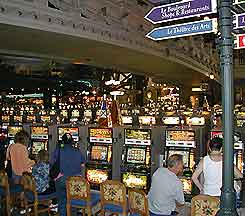 Once you enter a casino it is difficult to get out. There are few direction or exit signs. Once in, you lose track of where the entrance was. Connections to the outside world somehow appear missing. You walk in circles and it is easy to get lost ...all part of a casinos strategy to keep you inside. It is impossible to tell if it is day or night. You wonder how everyone will get out if there is a fire. The roped off table game areas all look alike ...dealers and pit bosses inside, players outside.
The casino layout has been designed to keep players within the casino and to keep them gambling. Around the perimeter are shops and showrooms ...and separate rooms for the high stakes gamblers. The buffet luncheons and any freebies are located towards the back of the casino to make you walk its length ...and hopefully get lost and stay.
Everything seems to operate like a machine. You get the feeling you are being manipulated ...and you are. Players hope to get lucky. Casinos dont care about luck. They don't need it. All they care about is keeping you there and the wagering volume ...the more gambling that takes place, the more profit. There are no games where the house does not have an advantage. Some have lower house cuts than others. More on that in Chapter 11.
One armed bandits

No place on earth has more slot machines than Las Vegas. They come in all sorts of colors, styles, themes and payouts. They are very popular ...probably because they require no skill to play. And there can be no doubt that they are what keeps the city going and casinos profitable. The larger casinos have each more than 2,000 of them. According to the Nevada Gaming Control Board there are more than 200,000 slot machines operating in Nevada ...and most are in Las Vegas.
Slot machines have been around for over a hundred years. They were invented in 1897, just before the turn of the century by a San Francisco automobile mechanic named Charles A. Fey (1862-1944). The first one, named the Liberty Bell, had three mechanical spinning wheels each with nine diamonds, horseshoes, spades, hearts and one Liberty bell ...a total of 1,000 possible combinations. (Ten times ten times ten equals one thousand.)
Three bells in a row and you won the jackpot of 750 coins ...a house advantage of 25%. The first Liberty Bell machine is still around and is now on display at the Liberty Bell Saloon and Restaurant in Reno, Nevada. Eventually the number of symbols on each wheel was increased to 20 ...8,000 combinations.
Originally, slot machines were installed to keep the women busy while their men gambled at the tables. They were a huge success and Fey couldn't build them fast enough. Mechanical "poker card machines" ...the ancestor of todays video poker machines are even older than slot machines. Mechanical slot machines were powered by springs and "stoppers."
About 40 years ago, electrical slot machines powered by motors and magnetic solenoids made their appearance. By the 1970's, all sorts of coin operated slot and video poker machines were available in Las Vegas casinos.
Today, most slot machines still have the look, feel and sound of their one-armed mechanical ancestors. The action of pulling the handle, the sound of the reels falling into line and the clanging of coins falling into the metal hopper have all been retained. But they are really electronic machines with computer chips that must be programmed. The newest trend get's rid of the coins with winnings being paid against paper vouchers spewed out by the Slots. Who wins and how much is based on a random number generator, the reel layout and a predetermined payout for a certain combination.
A random number generator is just that. It's a computer program that randomly generates a number that determines how the symbols line up on the reels and sees to it that the pay back money is won randomly. While winning is random, the payout percentage is fixed. That is, slot machines are configured to pay out whatever percentages the casino wants.
Long term payback percentages on slot machines are a known statistical figure which, over time, does not vary. Casino manufacturers and casino floor executives know which are the "loose" machines. The gambler does not. Its a well kept secret.
The Nevada Gaming Control Board requires that all gaming devices be equipped with "coin in" and "coin out" meters. The machine simply keeps track of the total money paid out and the total amount wagered and this is converted to a percent. It is that simple! A gambling tax of 6.75% on all gross revenues (profits) goes to the State of Nevada plus there is an $250 annual fee per machine.
Nevada law requires that payback percentages be set at least at 75 percent. But because of competition, most Las Vegas casinos pay an overall higher percentage ...probably an average as high as 95 percent. Individual machines within a casino can be set to a lower or higher percentage. For example: from 80 to 99 percent is customary averaged over a long period of time.
We will have more to say in Chapter 11 about strategy and where (which casinos) you should play the slots and why. Make no mistake about it, however, like all Las Vegas gambling if you play long enough, you will eventually lose. So gambling should be considered entertainment.
According to a survey by Harrahs, three fourths of all casino players prefer to play slot machines and video poker (women prefer them more: 81%, men: 67%.) Only 14 percent prefer table games (men: 20%, women: 8%.) Blackjack is the most popular. Another survey found that only 4% of casino gamblers that's one person in 25 actually go home winners.
Slot machines are the biggest moneymakers and now account for about half of the profits made in a Las Vegas casino. Slot machine revenue (profit) varies but we heard that $100 a day per machine is about average. Do the math: 200,000 machines times 365 days times $100. That's a lot of money.
NEXT PAGE: 4.1 GETTING FROM HERE TO THERE.... ⇨