6.3 Best long running shows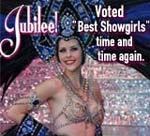 Las Vegas is famous for its long running production shows. Most run for several years ...or decades! They are not inexpensive ....many of them cost more than $100 per ticket. Still, we recommend that you see at least one of them on your first trip to Sin City. It is difficult to keep up with ticket prices, but to get the best rates, always book through the show's box office. You can do this by telephone. Tickets are non-refundable and non-exchangeable and seats are assigned on a best available basis. (You can find a list of all Las Vegas shows here.)
Reserve your tickets well in advance for the best available seating. The most popular shows are sold out on the weekends. (Sometimes you can get discounts at various websites that have purchased tickets in bulk. Search around using Google and Bing search engines.) [I also have included my rating on a scale from 1 to 5 with 5 being best.] Here are our recommendations:
Las Vegas "Showgirl" extravaganzas
These are adult shows.
Best bet! JUBILEE! at Bally's - 3645 Las Vegas Blvd. - Tel. (800) 237-SHOW (7469) or 702-967-4567 - has been running for three decades. It features gorgeous showgirls and lavish costumes, spectacular million dollar sets, a hundred performers and world class musical numbers. It is a Parisian-style show with a Ziegfeld touch. See the Titanic sink right on stage. A real classic old fashioned Vegas show and a must see! Late show includes 50 stunning topless Jubilee! dancers, voted "Best Showgirls" by the Las Vegas Review-Journal every year since 2000. Show schedule: Saturday - Thursday at 7:30 p.m. (Not topless) and 10:30 p.m. (Topless) Ticket prices: $63.54 to $129.43 (plus tax/fees). ($97.50 seats are recommended.) Cameras are not allowed. [My rating: 5. This probably the best overall show in Las Vegas.] (Jubilee website.)
Also offered is a one hour backstage walking tour hosted by a real, live Jubilee showgirl so you can see firsthand what it takes to bring this $50 million stage spectacular to life! Tour times: Monday, Wednesday and Saturday at 11:00 a.m. Ticket price is $15.00, but if you purchase a Jubilee! ticket and backstage tour, the price of the tour is only $10.00. Reservations: (702) 946-4567.
PEEP SHOW at Planet Hollywood. (3667 Las Vegas Blvd) Stars blond-bombshell Holly Madison (best known for her TV series Holly's World and The Girls Next Door) alongside the Strip's hottest dancers. A large-scale production show with dazzling sets, lighting, costumes. Vegas' only striptease spectacular. Adults 18 and over only. Monday, Tuesday, Thursday, Friday, Sunday at 9:00 p.m. Saturday at 8 & 10:30 p.m. Tickets: $89.90 to 159.40 (plus tax). Call Ticketmaster at (800) 745-3000 or visit the box office. [My rating: 4.] (Peepshow website.)
Cirque du Soleil spectaculars
The French-speaking, Montreal-based Cirque du Soleil (Circus of the Sun) production company dominates entertainment in Las Vegas. From a group of 20 street performers at its beginnings in 1984, Cirque du Soleil is now a major international organization providing high-quality artistic entertainment. Their shows feature acrobats, jugglers, aerialists and gymnasts but no animals. And (except for Zumanity) have no naked showgirls.
There are currently seven completely different permanent showsplaying in Las Vegas. These well done, wildly popular shows are all held in specially built multi-million dollar hotel theaters. Book these shows early as sold out performances are generally the rule ...and tickets though expensive are hard to get. I am listing these with the best one first and least desirable last. ( I also rate each from 1 to 5, with 5 besting the best. Remember, these are my ratings; other people may see it differently.)
Best bet! "BEATLES LOVE" at the Mirage - (3400 Las Vegas Blvd.) - Tel. (800) 963-9634 or 702-792-7777. Based on the music of The Beatles, the show explores the content of the songs as interpreted by a cast of 60 and traces The Beatles' biography. Show has been performing since 2006. Combines the music of The Beatles with an interpretive, circus-based artistic and athletic stage performance. Plays in a specially built 2,000 seat theatre with more than 6,000 speakers set around a central stage. (Each seat is fitted with three speakers, including a pair in the headrest.) The stage includes nine lifts and eight automated tracks and trolleys. Tickets: $84.85 to $173.95 (plus tax/fees.) Show Times: 7:00 p.m. & 9:30 p.m. Dark Tuesday and Wednesday. [My rating: 5 - best Cirque du Soleil show in Las Vegas.] (Beatle's Love website.)
MYSTÈRE at Treasure Island - (3300 Las Vegas Blvd.) - Tel. (800) 392-1999 or 702-894-7722 - Is the longest running Cirque du Soleil show is Vegas with more than 8000 performances before 12.2 million people in the last 18 years. It is basically a circus without animals ...a surrealistic celebration of music, dance, acrobatics, magic and street theatre-style comedy. Full of amazing feats. Honored eight times as "Best Production Show" by the Las Vegas Review-Journal. International cast of 72 performers. Definitely worth the time and money. Family friendly. Showtime: 7:00 p.m. & 9:30 p.m. Saturday through Wednesday. (Dark: Thursday & Friday.) Arrive 30 minutes early for pre-show entertainment. Ticket Price: $89.85 to $133.85. (Plus taxes/fees.) Mid-week discounts sometimes available. [My ratinhg: 5] (Mystère website.)
"O" AN AQUATIC EXTRAVAGANZA at the Bellagio - (3600 Las Vegas Blvd) - Tel. (888) 987-7111 or (702) 796-9999 - In French, "O" (pronounced like the French word "eau") means water and the show is performed in, on and above water. The stage at the Bellagio contains a 1.5 million gallon swimming pool, from which cast of 85 acrobats, synchronized swimmers and divers emerge and retreat to. This incredibly impressive show has been playing for 13 years (more than 6, 000 performances before 10 million spectators) grossing over a billion dollars! Show schedule: Wednesday to Sunday at 7:30 p.m. and 10:00 p.m. (Dark on Monday and Tuesday.) Ticket Prices are $93.50 to $150 (plus tax). No children younger than 5 allowed; those younger than 18 must be accompanied by an adult. [My rating: 5.] ("O" website.)
KÀ at the MGM Grand - (3799 Las Vegas Blvd .) - Tel. (866) 740-7711 or (702) 531-3826 - is about two separated Imperial Twins on a dreamy perilous journey to fulfill their destinies. Along the way, the twins confront characters and events representing the opposing forces of good and evil. The $165 million spectacle features acrobatic performances, martial arts, puppetry, multimedia and pyrotechnics. Show schedule: Tuesday to Saturday at 7:00 p.m. and 9:30 p.m. (Dark on Sunday and Monday.) Ticket Prices: $84.85 to $173.95 (Plus taxes and fees) No children younger than 5 allowed; those younger than 18 must be accompanied by an adult. [My rating: 4 - sometimes show is difficult to follow.] (Kà website.)
"VIVA ELVIS" at the Aria Resort and Casino in City Center - (3730 Las Vegas Blvd.) - Tel. 877-25 ELVIS or 702-590-7760 - A musical tribute to Elvis Presley and his life. It is enjoyable but not a typical Cirque du Soleil show with a lot of acrobats. Strangely, there is no Elvis impersonator. Cirque's creative team set a standard for itself with the Beatles-driven "Love" show which "Elvis" does not equal. The singing, dancing, sound system and live rock'n roll band, however, are excellent. Tickets: $69 to $175.00. Two shows nightly at 7:00 p.m. & 9:30 p.m.; dark Sunday & Monday. (Viva ELVIS Official Trailery). - [My rating: 3 - Does not live up to my expectations.] - (Viva Elvis website.)
ZUMANITY at New York New York - (3790 S. Las Vegas Blvd.) - Tel. (866) 606-7111 or (702) 740-6815 - is an erotic adult-themed 90 minute production with some topless and naked performers. This show explores the different realms of sexuality through stunning imagery, aerialists, comical vignettes and sultry dancing. Unlike other Cirque du Soleil productions, Zumanity has no storyline. Before the show starts, characters appear in the audience for some playful interaction. This show is definitely not for everyone ...don't go if you embarrass easily! Zumanity is part burlesque, part cabaret, and fully uninhibited. (Zumanity trailer.) Show schedule: 7:30 p.m. & 10:00 p.m. Friday to Sunday. Dark on Wednesday & Thursday. Ticket Prices: $84.85 to $146.45 sofa seating (plus tax/fees.) An adult show; you must be 18 or older to attend. [My rating: 3] - (Zumanity website.)
LE REVE at the Wynn - (3131 Las Vegas Blvd.) - Tel. (888) 320-7110 or (702) 770-WYNN - Held in a domed aqua theater-in-the-round with no seat further than 40 feet from the stage. Le Rêve takes you through a young woman's dream, and features aerial acrobats, synchronized swimming and diving. The cast of 85 captures the imagination with their outrageous antics and daring feats of strength and agility. Live music and elaborate special effects. Showtimes: 7:00 p.m. & 9:30 p.m. Friday through Tuesday - Dark Wednesdays & Thursdays - Tickets: $117.15 to $222.75 (plus tax/fee.) - This show is not really a Cirque du Soleil show, but was developed by a former Cirque producer. [My rating: 2 - Go see "O" at the Bellagio instead.] (Le Rêve website.)
BELIEVE at the Luxor - (3900 Las Vegas Blvd.) - Tel. (877) 386-4658 - Based on the magic of Criss Angel. The 90-minute production includes some of the most amazing illusions ever-presented on stage from feats that Harry Houdini dared decades ago, to the newest of illusions straight from the creation of Criss Angel. (Video preview) - Show Times: 7 p.m. Tuesday to Saturday, 7 p.m. and 9:30 p.m. Tuesday, Friday and Saturday. Dark Sunday and Monday. Tickets: $73.85 to $184.95 (plus tax/fees). Reviews of this show have not been good and tickets can be had for a lot less. [My rating: 1. Save your money and go see David Copperfield when he is in town.] (Believe website)
Magic shows
DAVID COPPERFIELD at the Hollywood Theatre, MGM Grand - (3799 Las Vegas Blvd.) - Tel. (800) 929-1111 or (702) 891-7777 - One of the world's most famous magicians. David Copperfield has been hailed by audiences and critics alike as the greatest illusionist of our time. Some of his best known illusions are making the Statue of Liberty disappear, walking through the Great Wall of China and flying over the audience (which he does nightly.) David Copperfield's "An Intimate Evening of Grand Illusions" at The MGM Grand has become a Las Vegas staple. Ticket prices: $83.40 to $116.40 (plus tax/fees.) Show times: Sunday to Saturday 7:30pm & 10pm, Saturday matinee 4:30pm. [Rating: 5] (David Copperfield website.)
PENN AND TELLER at the Rio All-Suite Hotel & Casino - (3700 W Flamingo Rd) - Tel: (888) 746-7784 or (702) 777-7776. An outrageous blending of comedy and magic. Known as the "Bad Boys of Magic," for supposedly revealing the secrets to their tricks, they may show you how it´s done, but they still manage to leave you startled. Showtime: 9 p.m. Saturday to Thursday. Dark Friday. Ticket price: $88.64 to $110.64 (plus tax/fees.) [Rating: 4] (Penn & Teller website.)
Best comedy shows
BLUE MAN GROUP at the Venetian - (866) 641-7469 or (702) 414-1000 - is a New York City based troupe that had been performing in Las Vegas for more than 10 years in a show that almost defies description. The show is a unique combination of comedy, percussion music played on drums, PVC pipe tubes and other wacky instruments, weird antics, unusual choreography, juggling, sounds, lighting and colors. The cast of three silent pranksters in skullcaps and blue greasepaint look like aliens. Most of the music is original. One thing for sure; it is deliriously fun and goofy. There is nothing like it anywhere and you will either think the show is great ...or lousy. There seems to be no in-between. Most think it is worth the money. Show schedule: Monday through Sunday (7 days) at 7:00 p.m and 10:00 p.m. Ticket Prices: $74.90 to $147.50 (plus tax/fees.) Some of the seats near the stage are called "poncho seats" which means you may get wet! (Blue Man Group website.)
TERRY FATOR, Ventriloquism In Concert at the Mirage - (3400 Las Vegas Blvd.) Tel. 702-792-7777 - Fator is capable of doing over 100 ventriloquist impersonations, and uses 16 different puppets in his act. He was the winner of Season 2 of America's Got Talent, and received the million dollar prize. - Ticket Prices: $74.93 to $151.93 - Showtimes: 7:30 p.m. Tuesday to Saturday. Dark Sunday & Monday. (Terry Fator website)
Broadway musicals
PHANTOM, The Las Vegas Spectacular at the Venetian - (3355 Las Vegas Blvd) - Tel. (866)-641-7469 or (702) 414-9000) - Based on Andrew Lloyd Webber's Phantom of the Opera - 95 minutes. - The Las Vegas Review Journal has named Phantom the Best Show in Las Vegas for 2011. - Ticket Prices: $79 to $175 (plus tax/fees) - Showtimes: Monday to Saturday 7:00 p.m. (9:30 p.m. show Monday and Saturday.) Dark: Sunday. (Phantom website)
LION KING at Mandalay Bay - (3950 Las Vegas Blvd.) - Tel. 877-632-7400 - Disney's The Lion King opened on May 15, 2009. Its run will end in 2011 to make way for Michael Jackson: The Immortal World Tour, a Cirque du Soleil show in 2013 - Lion King Showtimes: Monday to Thursday 7:30 p.m.; Saturday & Sunday, 4 p.m. and 8 p.m. Dark Friday - Ticket Prices: $75 to $168.50 (plus tax/fees) (Lion King website.)
MENOPAUSE: THE MUSICAL at the Luxor - (3900 Las Vegas Blvd.) - Tel. (800) 557-7428 - The hilarious celebration of women and "The Change." -Ticket Prices: $59.95 to $76.50 (plus tax/fees) - Showtimes: 5:30 p.m. Wednesday to Monday, 8 p.m. on Tuesday (Menopause website.)
JERSEY BOYS at The Palazzo - (3339 S. Las Vegas) - Tel. (866) 641-7469 or (702) 414-9000 - A documentary-style musical, based on the lives of one of the most successful 1960s rock 'n roll groups, the Four Seasons. - Ticket Prices: $73.10 to $260.10 - Showtimes: Tuesday 6:30 p.m. & 9:30 p.m., Wednesday to Friday 7:00 p.m., Saturday 6:30 p.m. & 9:30 p.m. and Sunday 7:00 p.m. Dark Monday. (Jersey Boys website.)
NEXT PAGE: 6.4 OTHER SHOWS AND SPECIAL DEALS.... ⇨