6.5 Headliners & Concerts: Who's playing Now
Las Vegas hosts some of the most spectacular shows in the world. From international music legend Elton John to the dynamic duo of show business, Donny and Marie Osmond, Vegas has no shortage of concerts and headliners that draw in crowds night after night. While many of these shows come and go, many remain regulars in some of Las Vegas' most popular event centers and concert venues.
Nearly every night of the week you can catch one of the city's epic concerts or headliners. Best of all, there's something that everyone will enjoy. Whether you're into music, comedy, or innovative choreography, you'll find exactly what you're looking for in one of these classic Vegas shows. Here is a look at some of the biggest names in the industry now offering shows in Las Vegas.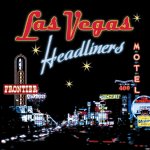 Most Las Vegas "production" shows run for months ...some even for years (or decades as in the case of Jubilee! which is closed after 34 years run.) But the list of production shows, headliners and concerts is constantly changing. Finding an up-to-date list of them can be a chore. Many are not kept current. Here are some websites that we consider fairly accurate:
Show search engine at the LVCVA (Las Vegas Convention & Visitors Authority.)
This search engine is HIGHLY RECOMMENDED. It lists all the shows, and tells you the cost and when it is available. It is the most accurate of any show list we have found. You can select only Comedy, Holiday Events, Impersonators & Tribute shows, Magic and Musical shows ...or all of them.
Long Running Headliners

Many Las Vegas shows run for months, and some even years. However, only the best maintains a spot as a regular in Vegas. The city is no stranger to amazing headliners, ranging from the famous Wayne Newton to the ever popular Boyz II Men. Each of these incredible headliners has their own unique performance style that makes them a hit among audience members from all over the world. Here is a closer look at some of the longest running headliners in Las Vegas and why you should grab tickets to their shows while they're still available.
Donny & Marie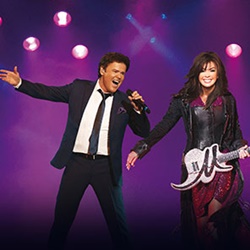 Family-friendly variety show incorporating dancing, humor and all of their hit songs. These icons of music and television dazzle and delight audiences of all ages. Watch as Donny and Marie Osmond perform their greatest hits at the popular Flamingo Las Vegas. In the Donny and Marie Show, the brother-sister duo showcases their vocal talents while also giving the audience their undeniable charm and wit. During the show, you can expect to hear some of their chart-topping hits, such as "Paper Roses," "Puppy Love," "I'm Leavin' it (All) Up to You," "Morning Side of the Mountain," and "Soldier of Love." The exciting 90 minute show chronicles five decades as the Osmond's go a little country and a little rock 'n' roll. After some shows, Donny and Marie also offer a Meet & Greet. - (Donny & Marie website.)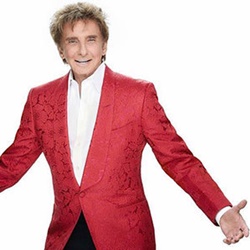 Barry & Manilow
He is a singer-songwriter, musician, arranger and producer with a career that has spanned more than 50 years. He is back to Las Vegas Westgate International Theater, although this is his touring show, not permanent, you could get lucky seeing him in Vegas on one of his occasional performances. With more than 80 million records sold worldwide and a career spanning more than 35 years, renowned singer-songwriter Barry Manilow is a music icon. - (Manilow website.) The show was previously performed at Harras Hotel, as he is getting old I would recommend to see his show, this could be the last series.
Terry Fator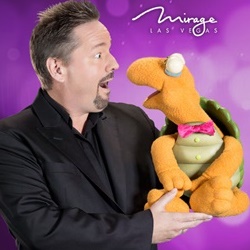 Ventriloquist, comedian, impressionist, and singer, Terry Fator, is known as the 'Voice of Entertainment' in Las Vegas. During his show at the Mirage Las Vegas, Terry does incredible celebrity impersonations using up to 15 different puppets in his act. Terry and his fun crew of 'dummies' take the stage to impersonate a range of celebrities, such as Aretha Franklin and Lady Gaga. However, one of his favorite celebs to impersonate is none other than Mr. Elvis Presley. Get ready to experience a show like no other when you reserve your tickets for the one-of-a-kind 'Terry Factor: The Voice of Entertainment.'
Boys II Men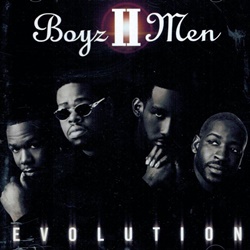 Join Nathan Morris, Wanya Morris, and Shawn Stockman as they bring fun and energy to The Mirage in Las Vegas. Boyz II Men is much more than your typical Las Vegas show. Joining the ranks of Celine Dion, Guns N' Roses, Faith Hill, and other major celebs that have had residencies in Vegas, Boyz II Men has earned the spot as one of the top headliners in the city. Watch as the four-time Grammy Award winning R&B group brings Motown Philly back again. With their old-school vibe and modern twists, Boyz II Men appeals to fans across all generations.
Raiding the Rock Vault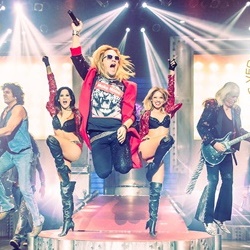 Head to Las Vegas and treat yourself to the ultimate rock concert experience. Raiding the Rock Vault tells the intriguing story of classic rock starting from the 1960s and spanning to the 1980s. The headlining show is performed by members of some of the greatest rock bands in history. Raiding the Rock Vault includes classic anthems from The Rolling Stones, Jimi Hendrix, The Doors, Eagles, Deep Purple, Queen, Aerosmith, AC/DC, Foreigner, Bon Jovi, and many more. Watch rock 'n' roll history come to life as some of your favorite tunes of all time are played by members of history's greatest rock bands
Wayne Newton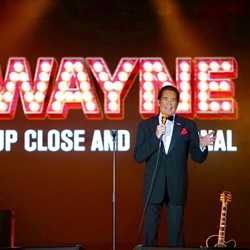 Singer, actor, and entertainment legend Wayne Newton is no stranger to the Las Vegas entertainment scene. After more than five years, Wayne has made his way back to the stage with a fresh, new production. His original show, "Wayne Newton: Up Close and Personal," can be seen at Caesars Palace at Cleopatra's Barge. Come and see Wayne perform some of his biggest songs, including "Danke Schoen" which was a platinum record hit. Wayne Newton has been named 'Best Entertainer' for eight years in a row and the reason is clear. After having performed more than 30,000 shows in Las Vegas, Wayne Newton is an on-stage pro.
The Scintas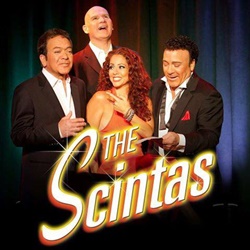 The Scintas offers a unique show of the comedy and musical variety. Whether you're into comedy, music, or both, The Scintas has something in their performance that appeals to everyone. The show is always original and no two shows are ever the same. While musician Joey Scinta unfortunately passed away in late 2017, the show still goes on. See the Scintas perform a hilarious imitation of Joe Cocker or Frank Sinatra live on stage. You'll think you're standing in front of the real thing. Grab your tickets for The Scintas and enjoy this exciting headliner.
Gordie Brown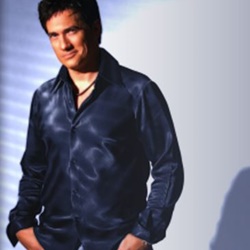 Comedian, impressionist, and musician Gordie Brown has been voted 'Best Entertainer' and 'Best Comedian' time and time again. This Las Vegas staple impresses audiences of thousands with his comedy and musical acts that far outweigh other acts of its kind. The popular Las Vegas show is relevant to audiences of all ages and is sure to have you laughing. Watch as Gordie pokes fun at various stars, such as Jay Leno, Bob Dylan, Ozzy Osbourne, Clint Eastwood, Vanilla Ice, and Elton John. Starting out as an opening act for stars such as Barry Manilow and Paul Anka, Gordie now has his own show in Vegas that sells out regularly.
When most people think about Las Vegas, their thoughts often wander to the magnificent shows, concerts, and headliners. Vegas is where people from all over the world go to see their favorite singers or performers live on stage. Now you can too. If you are planning an upcoming trip to Las Vegas or want to see one of these major stars perform in person, you've come to the right place. Tickets are now available for many of these shows but remember that they sell out fast. Be sure to grab yours today.
Top Concerts

Las Vegas is well-known as the entertainment capital of the world, not only for its amazing nightlife scene, fine dining, and shopping, but also for its unsurpassed concerts. Musical performers from all genres can be seen on the main stage delivering their timeless tunes in front of thousands of onlookers. With some of the biggest names in music performing incredible shows for both locals and tourists alike, it's no surprise that these concerts sell out quickly. If you're planning a trip to Las Vegas, take an evening to enjoy one of the city's most talked-about musical performers in person.
Celine Dion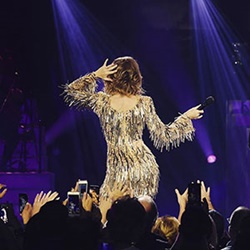 After many consecutive years of sold-out performances followed by three years away from Sin City, Celine Dion returns to Las Vegas' Caesars Palace for her new show and three-year engagement. - Features full 31 musician orchestra. - The 4,300-seat Colosseum resembles the Colosseum in Rome. One of the best-selling female artists in history is back in Las Vegas at Caesars Palace. Celine Dion delivers her greatest hits in a powerful rendition that you must see to believe. Celine's Las Vegas show has been called "the show of shows" by The Las Vegas Review-Journal. Newsweek called it "Las Vegas' biggest act since Elvis." Celine Dion has won five Grammy Awards, including Best Pop Album for 'Falling Into You' in 1996 and 'Album of the Year.' Her incredible voice has also led her to win two Academy Awards. Get tickets to hear her sing some of her most recognized ballads, such as "My Heart Will Go On." (Celine Dion website.)
Elton John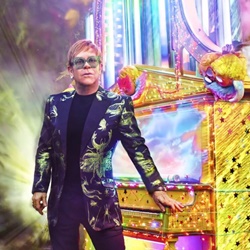 World-renowned singer and songwriter Elton John presents "The Million Dollar Piano" at The Colosseum inside Caesars Palace. The must-see show includes more than 68 LED video screens that provide visuals of Elton's grand performances. While his piano remains front and center on stage, it's his talent that gains the most attention. With Davey Johnstone on guitar, Nigel Olsson on drums, John Mahon on percussion, and Kim Bullard on keyboards, Elton John and his longtime band keep audiences on the edge of their seats as they play beloved tunes such as "Benny and the Jets," "Rocket Man," "Crocodile Rock," and "Tiny Dancer." Come see one of the top-selling solo artists of all time perform live on stage.
Jennifer Lopez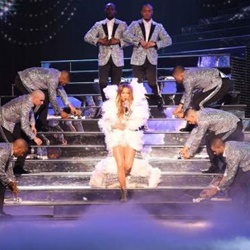 With her glitz and glamour, global superstar Jennifer Lopez has dazzled audience on the Las Vegas stage for months and months. Her critically-acclaimed residency named "Jennifer Lopez: All I Have" is one of the hottest on the strip. Throughout the show, Jennifer makes seven costume changes as she pays homage to her Latin roots through song. The 90-minute show is filled with singing and dancing as Jennifer performs some of her most impressive hits. Her Las Vegas show has been seen by more than 300,000 adoring guests thus far
Cher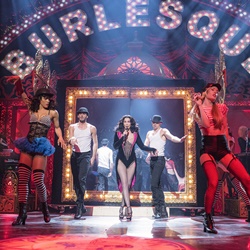 Cher is no doubt a worldwide superstar with more than 100 million records sold during her career. Now you can see her perform her chart-topping hits in Las Vegas at the Park Theater. The Emmy, Oscar, Grammy, and Golden Globe Award-Winning pop goddess is a legendary talent that you won't want to miss. See her perform some of her top hits, such as "Believe," "If I Could Turn Back Time,", "The Shoop Shoop Song (It's in His Kiss)," "Gypsies, Tramps & Thieves," and "I Got You Babe (Sonny & Cher)." The one and only Cher won't be around for long so get your tickets today.
Rod Stewart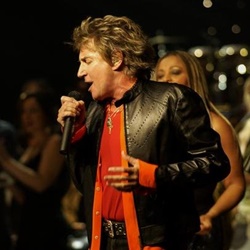 Rod Stewart has returned to Caesars Palace to deliver audience members with more awe-inspiring performances. Backed by his 13-piece band, the world-renowned legendary rocker performs his greatest his in "Rod Stewart: The Hits." Come and see him perform some of his top songs, such as "You Wear It Well," "Maggie May," and "You're in My Heart." Rod also performs some of his newer songs, showing off his ability to maintain a name in the entertainment industry. The Grammy award winner has sold a whopping 250 million albums over his career and continues to delight music lovers with his soulful voice and memorable on-stage presence.
Gwen Stefani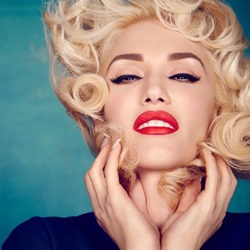 Formally of No Doubt, Gwen Stefani started her headlining residency in Las Vegas on June 27, 2018. The global icon and multi-platinum recording artist's new show "Gwen Stefani – Just a Girl" can be seen inside the Zappos Theater at Planet Hollywood Resort and Casino. As a three-time Grammy Award winner, Gwen is an accomplished singer, songwriter, performer, and recording artist who has sold more than 30 million albums worldwide. Grab tickets to see her perform some of your favorites, such as "Rich Girl," "What Are You Waiting For?" and "Sweet Escape."
Christina Aguilera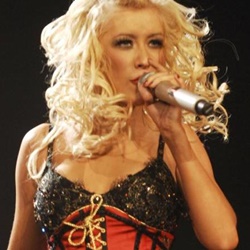 Talented singer and songwriter Christina Aguilera started her exclusive residency show in Las Vegas on Friday, March 31, 2019. The show is called "Christina Aguilera: The Xperience," and can be found in the Zappos Theater inside Planet Hollywood Resort and Casino. Watch in awe as Christina sings and dances along with her chart-topping hits, such as "Gennie in a Bottle," "Come on Over," and "What a Girl Wants." Christina is a master of her craft with five No. 1 Billboard hits and more than 43 million records sold.
Reba, Brooks & Dunn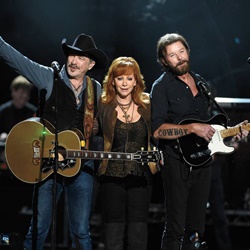 Watch as three of country music's biggest stars come together to bring Las Vegas a show that they won't soon forget. "Reba, Brooks & Dunn: Together in Vegas" is a one- of-a-kind residency featuring some of the biggest legends in the music business. Entertainment mogul Reba has had 35 No. 1 singles and has sold more than 56 million albums worldwide. Celebrity duo Brooks & Dunn have released four No. 1 singles with hits like "Only in America" and "Boot Scootin' Boogie."
Def Leppard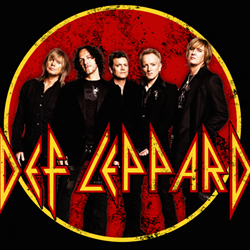 Starting August 14, 2019, "Def Leppard Hits Vegas: The Sin City Residency" will hit Las Vegas at the Zappos Theater inside Planet Hollywood Resort & Casino. The group features Joe Elliott on vocals, Phil Collen on guitar, Rick "Sav" Savage on bass, Vivian Campbell on guitar, and Rick Allen on drums. Grab tickets now to hear some of your favorite songs live, such as "Rock of Ages" and "Pour Some Sugar on Me."
NEXT PAGE: 6.6 THE HOT LAS VEGAS NIGHT CLUBS.... ⇨