6.5 Headliners & Concerts: Who's playing now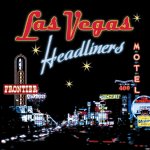 Most Las Vegas "production" shows run for months ...some even for years (or decades as in the case of Jubilee!.) But the list of production shows, headliners and concerts is constantly changing. Finding an up-to-date list of them can be a chore. Many are not kept current. Here are some websites that we consider fairly accurate:
Show search engine at the LVCVA (Las Vegas Convention & Visitors Authority.)
This search search engine is HIGHLY RECOMMENDED. It lists all the shows, and tells you the cost and when it is available. It is the most accurate of any show list we have found. You can select only Comedy, Holiday Events, Impersonators & Tribute shows, Magic and Musical shows ...or all of them.
These next three websites are somewhat accurate, but are not as good as the LVCVA search engine.
Long running headliners
DONNY & MARIE (Osborn) - at the Flamingo - (3555 Las Vegas Blvd.) - Tel: (800) 221-7299 and (702) 733-3333 - Family-friendly variety show incorporating dancing, humor and all of their hit songs. These icons of music and television dazzle and delight audiences of all ages. Ticket prices: $113.63 to $295.13 (plus tax/fees.) - Showtimes: [Beginning Sept. 6] Tuesday to Saturday at 7:30 p.m. Dark: Monday & Tuesday - (Donny & Marie website.)
BARRY MANILOW at the Le Theatre des Arts, Paris hotel - (3655 S. Las Vegas Blvd.) - (Tel. (800) 745-3000) - With more than 80 million records sold worldwide and a career spanning more than 35 years, renowned singer-songwriter Barry Manilow is a music icon. - Showtimes: [Check website, schedule varies.] Friday to Sunday at 8:00 p.m. (Dark: Monday thru Thursday.) - Ticket prices: from $82.50 to $327.75 (plus tax/fees) - (Manilow website.) Sometime in 2012, the Manilow show will move to Harrahs.

CELINE DION - at Caesars Palace in the Colosseum - (3570 Las Vegas Blvd.) - Tel. (877)-4CELINE (423-5463) - Showtimes: [Check website, schedule varies.] Tuesday/Wednesday and Saturday/Sunday at 7:30 p.m. - Ticket price: $72.25 to $277.50 (plus tax/fees.) - After five consecutive years of sold-out performances followed by three years away from Sin City, Celine Dion returns to Las Vegas' Ceasars Palace for her new show and three-year engagement. - Features full 31 musician orchestra. - The 4,300-seat Colosseum resembles the Colosseum in Rome. (Celine Dion website.)
GLADYS KNIGHT at the Tropicana - (3801 Las Vegas Blvd. - Tel. (800) 829-9034 or (702) 739-2411. - Soul singer Gladys Knight, a seven-time Grammy Award-winning performer, has dazzled fans since the 1960s when she first toured as Gladys Knight & the Pips. - Showtimes: Tuesday to Saturday at 8:00 p.m. (Plus tax/fees) - (Video preview) - Ticket prices: $53.00 to $124.50. (Gladys Knight website.)
NEXT PAGE: 6.6 THE HOT LAS VEGAS NIGHT CLUBS.... ⇨