8.1 Shopping malls on (or near) the strip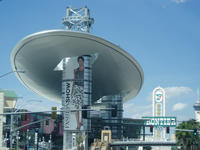 It used to be that legalized gambling was the main reason that people went to Las Vegas. But this changed in the 1990's when Vegas redirected its emphasis toward being a vacation spot. Surveys showed that most visitors wanted better dining, entertainment, sightseeing and shopping opportunities. There are two large shopping malls on or near the strip. In addition most of the larger casinos have themed upscale shopping malls.
Shopping malls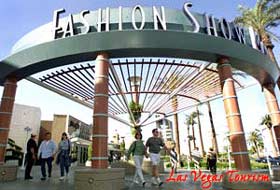 The Fashion Show mall (3200 Las Vegas Blvd. S.; Las Vegas, NV 89109) Tel. (702) 369-8382 - is a huge stand-alone theme-less shopping mall directly across the street from Wynn Las Vegas. Nordstrom, Bloomingdales, Neiman Marcus, Robinsons-May, Dillard's and Saks Fifth Avenue serve as anchors.
The more than 250 smaller stores and boutiques occupying more than 2 million square feet make it one of the largest shopping centers in the U.S. Its most recognizable landmark is an eight-million-pound all-steel architectural structure called "The Cloud" which becomes a giant projection surface at night. It is the only traditional shopping center on the strip and worth a visit on your first trip to Vegas.

The Boulevard Mall at 3528 S. Maryland Parkway is Las Vegas' second largest shopping center with 1.2 million square feet and 150 stores, shops and restaurants. Not as classy as the Fashion Show Mall but its prices are more affordable. Tel. (702) 732-8949.
Anchored by Macy's, J.C. Penney, Dillard's, Marshalls and Sears. Open: Mon.-Sat., 10 a.m.-9 p.m.; Sun., 11 a.m.-6 p.m. - (Located a couple of miles east of the strip just north of UNLV. Directions from center strip: Take E. Flamingo Road east to S. Maryland Parkway and go north.)
NEXT PAGE: 8.2 HOTEL SHOPPING MALLS.... ⇨