11.2 Heading to the airport
Rental Car Return
Did you rent a car at the hotel at McCarran airport? If so, determine where the drop off point is if you need to turn in a rental car. All rental car return areas are located outside of the terminals and every rental agency provides a courtesy shuttle service to transport customers to and from their lots. Find out when you rent the car where it must be turned in and be sure to allow enough time to make your flight.
The on-site car rental customer counters are located between the two main baggage claim areas. Some of the off-airport rental services may be accessed through the free telephones located in the baggage claim area.

Return Airport Shuttle - Limousine Service
If you got a round trip shuttle bus ticket when you arrived in Las Vegas, call the shuttle company the day before leaving to determine your pickup time and where you will be met at the hotel. (Some shuttle companies will allow you to call on the day you are to be picked up. In that event, call at least two hours before the time you want to arrive at the airport.)
The telephone number will be on the return portion of the ticket. Pickup will usually be at the hotel's special tour bus arrival-departure location. Find out where it is. The phone numbers are:
Bell Trans Shuttle
Tel:(702) 739-7990 - Operates 24 hour
CLS Shuttle
Tel: (702) 740-4545, (702) 740-4050 -Operates 24 Hours
Grayline, Coach USA,
Express Shuttle
Tel: (702) 739-5700 - Operates 7:00 a.m. - 1:30 a.m.
Las Vegas Limousine
(702) 736-1419 - Operates 7:00 a.m. - 2:00 a.m.
ODS Limousine
Tel: (702) 876-2222 - Operates 24 Hours
Star Shuttle
Tel: 702-261-3230 - Operates 24 Hours
Showtime
Tel:(702) 261-6101 - Operates 7:00 a.m. - 11:30 p.m.
Taxi

The bellman in front of your hotel will get a taxicab for your trip to the airport. Please note taxis will not accept credit card payments. The maximum number of passengers allowed in any taxi is 5 including infants and children
The average fare from the center strip to McCarran is $12 to $15. Instruct the driver to go via Paradise and Tropicana rather than the freeway. This will reduce the length of the journey.
Taxi meters will accumulate charges at "waiting time" ($22.00/hr) if the taxi is not moving or going less than 8-12 mph. Above that, the rate is $1.80 per mile which is divided into 1/9th mile segments of $.20 each.
Clearing Airport Security
Las Vegas McCarran Airport has the second largest number of origination and destination passengers in the entire nation which means that it processes more people through TSA security checkpoints than any other airport except Los Angeles.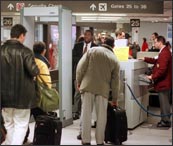 The worst days of the week to fly out of Las Vegas are Sunday and Thursday. Make sure, especially if your traveling on those days, that you get to the airport early.
Security is as tight in Las Vegas as it is in any other airport in the United States. Have your identification and boarding passes with you, and give yourself plenty of time when flying out of McCarran Airport to get through the various checkpoints and screening.
The Transportation Security Administration(TSA) recently increased the number of airport screeners (there are now over 1,000) and security lanes at McCarran to alleviate some of what were the longest lines in the USA. Even so, you should give yourself at least an hour and a half to clear airport security.
For more information on the airport, layout, ground transportation, services, and just about everything else, visit McCarran.com.
Using your laptop computer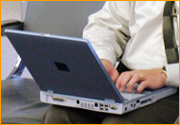 Have time to kill while waiting for your flight? McCarran Airport is unique in that it has more than 1,000 slot machines. They are available in all gates areas once you get past the security checkpoints ...also in the baggage claim and in the main terminal "Esplanade." These slots are notoriously "tight" ...that is their percentage payout is not the best. A better idea is to surf the Internet.
McCarran Airport has deployed a wireless network across its nearly 2 million square feet to provide free wireless "Wi-Fi" Internet access to the over 40 million passengers who pass through its domestic and international terminals annually. Unlike other airports, McCarran is able to provide the free service because the Clark County Department of Aviation owns and operates its own airport-wide telecommunications.
What the future holds
Some airlines have started placing RFID (radio frequency identification) tags on checked baggage. RFID interrogators (readers), mounted on conveyors that bring the luggage through an explosive-detection system, read the tags, identifying each bag before it is checked for explosives.
The tag, a passive UHF RFID smart label, then routes each piece of luggage to the appropriate plane or, if the explosives detector finds suspect contents, to another security-screening station.

RFID is a favorable alternative to bar-coding for luggage identification because the tag does not require line-of-sight with the reader and are, therefore, much more easily and accurately read. (Less than one-half of one percent are misread.) RFID will eventually be expanded to all airlines serving Las Vegas.
In addition, McCarran is working with several Las Vegas hotels to deploy an early check-in system. Under this new system, guests would check in for flights at their hotel, while their luggage would be tagged and brought to a remote site for security screening before being loaded onto the appropriate plane.